The manufacturing and service sectors have experienced disparate levels of growth, which has affected stock performance
By Nick Kalivas, Senior Equity Product Strategist, Invesco PowerShares Capital Management LLC
The U.S. added another 215,000 jobs in July and has tacked on an average of 235,000 jobs per month since May.1 While the jobs figures are generally in-line with analyst expectations, recently released business surveys from the Institute for Supply Management (ISM) point to significant divergence in U.S. economic activity, with manufacturing showing weakness relative to the service sector.
ISM's Non-Manufacturing ISM Report on Business rose 4.3 percentage points in July to a strong 60.3% - the 66th consecutive month of service-sector growth.2 This is significant, as service-providing sectors make up more than two-thirds of U.S. output.3 As illustrated in the chart below, the spread between ISM's manufacturing and non-manufacturing indices has widened to levels not seen since the Institute for Supply Management began publishing its non-manufacturing index in July 1997. (Typically, the higher the line, the stronger the outperformance by the service sector.)
Spread between ISM Non-Manufacturing Index / ISM Manufacturing Index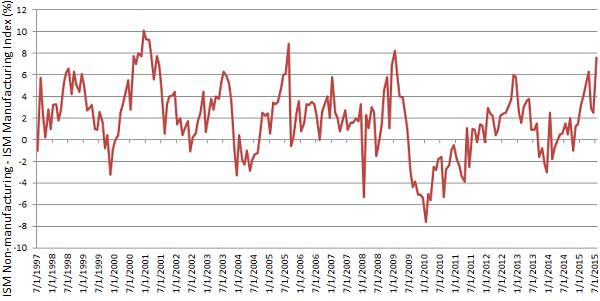 Source: Bloomberg L.P., August 7, 2015
The relative weakness of manufacturing activity in the United States underscores several obstacles to global economic growth:
Inventory overhang. U.S. inventories rose to $124 billion in the second quarter - their highest level in nearly five years.4 Growth in inventory-to-sales ratios is also high, but stabilizing. We believe high inventory levels could weigh on industrial activity in the coming months, as firms clear out excess stockpiles, rather than making the investments necessary to replenish inventories. This overhang is especially acute in portions of the information technology (IT) sector, which have seen little to no increase in capital spending over the past three years.
Weak commodity prices. Commodity prices have plunged as a result of the strong the U.S. dollar and excess supply - particularly in crude oil reserves. While this is good for companies purchasing raw materials, weak commodity prices pose a challenge for economies dependent on the production of commodities.
Overseas disruptions. On top of uncertainty over a possible Greek debt accord with creditors, a decline in the Chinese stock market is working its way through the global economy and having an adverse impact on cyclical stocks.
Given these trends, it's not surprising to see that economically sensitive sectors like materials and energy have lagged over the first half of the year, while the consumer discretionary, financial, and health care sectors have flourished by comparison.
The divergent nature of the U.S. economy is beginning to make its way into the equity markets, as evidenced by the S&P 500 Low Volatility Index, which has outperformed the S&P 500 High Beta Index measurably in recent weeks. In fact, as shown in the graphic below, the total-return spread between the two has reached the highest level since the summer of 2013.
Ratio of S&P 500 Low Volatility Index to S&P 500 High Beta Index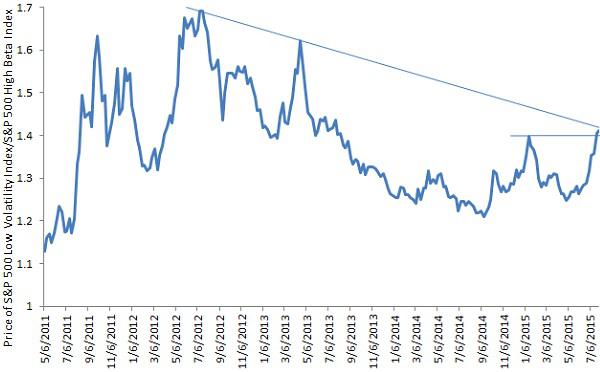 Source: Bloomberg L.P., August 7, 2015
Note that the spread has pierced the down trend line coming off of its June 2012 highs. Technically, a movement above the horizontal resistance line could signal a breakout for low volatility strategies, in my view. Why the outperformance? The unconstrained construction of the S&P 500 Low Volatility Index, which underlies the PowerShares S&P 500 Low Volatility Portfolio (NYSE:SPLV), has allowed it to dynamically rotate out of materials and into financial and consumer staples shares, as stocks in these sectors become more attractively valued. By contrast, the S&P 500 High Beta Index-the index underlying the PowerShares S&P 500® High Beta Portfolio (NYSE:SPHB) - has been weighed down by exposure to energy, industrials, and information technology shares.
The divergent returns between high beta and low volatility factors demonstrate how smart beta strategies can be meaningfully affected by both sector exposure and underlying index methodology. Generally speaking, pockets of recent weakness in the economy, including personal computers, chips, handsets, commodities and industrials, have played themselves out in a lot of high beta names. I believe that lower inventories and stable commodity prices could provide support for high beta holdings. Regardless, it may take a few more months before companies begin ramping up spending to replenish inventory.
Contrarian investors looking for a cyclical turnaround in the economy and higher commodity prices in the future may wish to examine high beta investing in the form of the PowerShares S&P 500® High Beta Portfolio. Investors expecting to see a continued divergence in economic activity and who seek to mitigate volatility may want to speak with their advisors about low volatility strategies, such as those used in the PowerShares S&P 500 Low Volatility Portfolio.
Sources
Bureau of Labor Statistics, August 7, 2015
Institute for Supply Management, August 5, 2015
Bureau of Labor Statistics, December 2013
Bloomberg L.P., August 7, 2015
Important information
Beta is a measure of risk representing how a security is expected to respond to general market movements.
Capital spending is the use of company funds acquire or upgrade physical assets such as property, industrial buildings or equipment.
A spread is the difference in price between two securities or indexes
Price ratio compares the price of one security (or basket or securities) to another security (or basket of securities). In this case, the prices of two indexes are compared.
The ISM Non-Manufacturing Index is based on surveys of more than 400 non-manufacturing firms' purchasing and supply executives, within 60 sectors across the nation, by the Institute of Supply Management (ISM). The index tracks economic data, like the ISM Non-Manufacturing Business Activity Index. A composite diffusion index is created based on the data from these surveys that monitors economic conditions of the nation.
The ISM Manufacturing Index is based on surveys of more than 300 manufacturing firms by the Institute of Supply Management. The index monitors employment, production inventories, new orders and supplier deliveries. A composite diffusion index is created that monitors conditions in national manufacturing based on the data from these surveys.
The S&P 500® High Beta Index consists of the 100 stocks from the S&P 500® Index with the highest sensitivity to market movements, or beta, over the past 12 months.
The S&P 500® Low Volatility Index consists of the 100 stocks from the S&P 500® Index with the lowest realized volatility over the past 12 months.
Investments focused in a particular industry or sector are subject to greater risk, and are more greatly impacted by market volatility, than more diversified investments.
Commodities may subject an investor to greater volatility than traditional securities such as stocks and bonds and can fluctuate significantly based on weather, political, tax, and other regulatory and market developments.
The risks of investing in securities of foreign issuers can include fluctuations in foreign currencies, political and economic instability, and foreign taxation issues.
The performance of an investment concentrated in issuers of a certain region or country is expected to be closely tied to conditions within that region and to be more volatile than more geographically diversified investments.
There are risks involved with investing in ETFs, including possible loss of money. Shares are not actively managed and are subject to risks similar to those of stocks, including those regarding short selling and margin maintenance requirements. Ordinary brokerage commissions apply. The Fund's return may not match the return of the Underlying Index.
SPHB:
Beta investing entails investing in securities that are more volatile based on historical market index data.
The Fund is non-diversified and may experience greater volatility than a more diversified investment.
SPLV:
The Fund is non-diversified and may experience greater volatility than a more diversified investment.
There is no assurance that the Fund will provide low volatility.
Shares are not individually redeemable and owners of the Shares may acquire those Shares from the Funds and tender those shares for redemption to the Funds in Creation Unit aggregations only, typically consisting of 50,000, 75,000, 100,000 or 200,000 Shares.
The information provided is for educational purposes only and does not constitute a recommendation of the suitability of any investment strategy for a particular investor. Invesco does not provide tax advice. The tax information contained herein is general and is not exhaustive by nature. Federal and state tax laws are complex and constantly changing. Investors should always consult their own legal or tax professional for information concerning their individual situation. The opinions expressed are those of the authors, are based on current market conditions and are subject to change without notice. These opinions may differ from those of other Invesco investment professionals.
| | | |
| --- | --- | --- |
| NOT FDIC INSURED | MAY LOSE VALUE | NO BANK GUARANTEE |
All data provided by Invesco unless otherwise noted.
Invesco Distributors, Inc. is the U.S. distributor for Invesco Ltd.'s retail products and collective trust funds. Invesco Advisers, Inc. and other affiliated investment advisers mentioned provide investment advisory services and do not sell securities. Invesco Unit Investment Trusts are distributed by the sponsor, Invesco Capital Markets, Inc., and broker-dealers including Invesco Distributors, Inc. PowerShares® is a registered trademark of Invesco PowerShares Capital Management LLC (Invesco PowerShares). Each entity is an indirect, wholly owned subsidiary of Invesco Ltd.
©2015 Invesco Ltd. All rights reserved.
A tale of two sectors by Invesco Blog
Before investing, investors should carefully read the prospectus/summary prospectus and carefully consider the investment objectives, risks, charges and expenses. For this and more complete information about the Funds visit invescopowershares.com for prospectus/summary prospectus.