The current rooftop solar industry is dominated by the third party ownership(TPO) model, which currently accounts for ~72% of all rooftop solar installations. While the TPO model still has some momentum going for it, the rooftop solar industry is clearly making a shift towards loans. With the top rooftop solar companies, i.e. SolarCity (SCTY), Vivint Solar (NYSE:VSLR), Sunrun (NASDAQ:RUN), and NRG Energy (NYSE:NRG), all disproportionately engaged in the TPO model, many have argued that the rise of solar loans will ultimately topple the current leading rooftop solar companies.
Although it makes sense that the TPO model will eventually make up for a smaller portion of the rooftop solar industry, this does not mean that the large/integrated rooftop solar companies will suffer. The largest rooftop solar companies have proven to be extremely adaptable, which is not surprising given the fast-changing nature of distributed solar. While the current tax equity financing model of the largest rooftop solar companies are set up for the lease/PPA business, these companies are already preparing for the transition to loans. The move towards loans should not dampen the prospects of large rooftop solar companies in any significant manner.
Ahead Of The Curve
Although the top rooftop solar companies are overwhelmingly focused on the lease/PPA model, this is more a result of the models profitability as opposed to these companies' inability to break into the loan market. Most of the top rooftop solar companies are prepared for a likely transition to loans in case the lease/PPA market dries up. In fact, SolarCity has already released a sophisticated loan product, which should account for approximately 30% of the company's 2015 business. Even companies that are not currently in the loan market like Vivint Solar are planning to release loan products within the next few quarters.
As the lease/PPA model still has some room to grow, leading solar companies can still extract an enormous amount of value from this market. Even the large players that decide to stubbornly cling to the TPO model should be fine as there will likely always be a sizable lease/PPA market for rooftop solar. Regardless, these large rooftop solar companies are highly capable of making a successful transition to loans as they still hold several advantages in the loan market. The belief that scale and integration advantages will disappear in a loan market is misguided.
Scale/Integration Benefits Remain
Large rooftop solar companies like SolarCity or Vivint Solar will still experience advantages in a market dominated by loans. On the financing end, these companies can acquire capital at better rates than their smaller counterparts. In addition, the benefits of vertical integration remain in a loan market. With the industry's move towards module manufacturing integration, smaller companies should have an even harder time competing in general. There is no reason to believe that the benefits offered from extensive vertical integration are not translated into the loan market.
While a transition to loan products will almost certainly lower profit margins in the long-run(partly due to increased financial transparency on the customers end), this is somewhat counterbalanced by a widening of the addressable market. Loan products would undoubtedly interest many that would have otherwise been uninterested in lease/PPA products. As long as the leading solar companies are aware of the potential for loans(which is clearly the case), investors should not worry about such a transition. Although the loan model is still extremely young and relatively untested, there is little reason to doubt that the current leading rooftop solar companies will also dominate this market.
The TPO Model Will Remain Vital
The lease/PPA model will likely remain a core market for rooftop solar companies. While growth is slowing down in this arena, the TPO model will clearly dominate for at least a few more years. As such, the current lease/PPA businesses of companies like SolarCity, Vivint Solar, Sunrun, will likely remain vital for growth. In fact, GTM Research predicts that TPO will still make up ~50% of the market in a half-decades time. Even in the unlikely event that larger companies lose out to smaller/local installers in the loan market, these companies will still have an enormous TPO market to profit from. With the projected size of the general rooftop solar market, large rooftop solar players should outperform regardless of how quickly the market transitions to loans.
While a transition to loans is likely unavoidable, the leasing/PPA markets should remain a large part of the equation for the foreseeable future.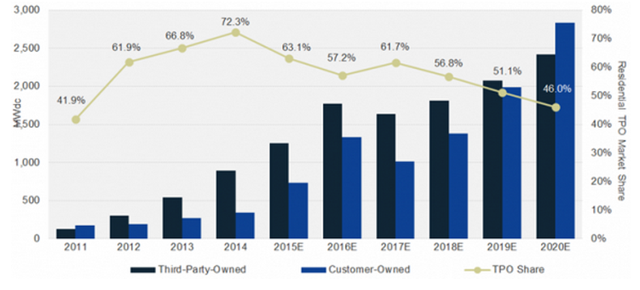 Source: GTM Research
Conclusion
The modern rooftop solar industry is still extremely young, so major changes are still very likely to occur in the market. However, large rooftop solar companies will likely continue to gain market share given the inherent advantages of scale. Analysts are likely too pessimistic on the effects of changing rooftop solar dynamics on large companies like SolarCity and Vivint Solar. These large rooftop solar companies still have tremendous room to grow, especially at their current valuations. With the benefits of size and vertical integration becoming more clear by the day, large players represent the future of the rooftop solar industry.
Disclosure: I am/we are long SCTY.
I wrote this article myself, and it expresses my own opinions. I am not receiving compensation for it (other than from Seeking Alpha). I have no business relationship with any company whose stock is mentioned in this article.