Barron's recently published an article "Time to Buy Commodities."
Sentiment on energy and gold - and oil and metals stocks - may be nearing capitulation. Now is a good time to lean against the wind and start to buy."
Time will tell, but new trends developing in the U.S. oil market imply that now may not be the time. The oil market is likely to get uglier in the months ahead, as today's 5-percent drop portends.
U.S. refinery utilization is a seasonal business, because refineries require maintenance. It appears that crude oil runs have peaked for this cycle, given the 254,000 barrel a day (mbd) drop from the week before. Refiners had been maxing out production, given the highly profitable margins they had enjoyed at the expense of oil producers.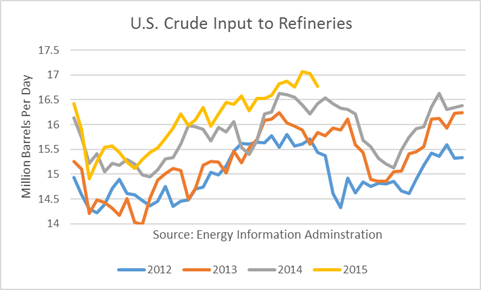 As refinery runs slow, the demand for crude drops. All other things being equal, crude inventories rise.
With crude production beginning to decline, all else is not equal. The problem is that production is currently projected to drop about 500 mbd between now and the end of 2015. In the interim, crude oil inputs to refineries may drop about 2 million barrels per day (mmbd). Unless crude imports are reduced, crude stocks will climb back to the 500 million barrel (mmb) range.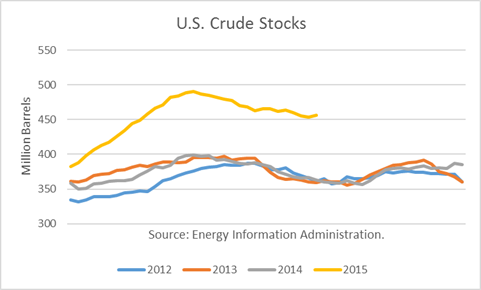 During this same period, petroleum product demand declines due to seasonal factors. The summer driving peak ends, and winter fuel demand is still months away.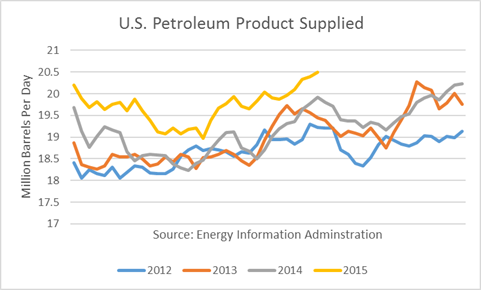 Product stocks build.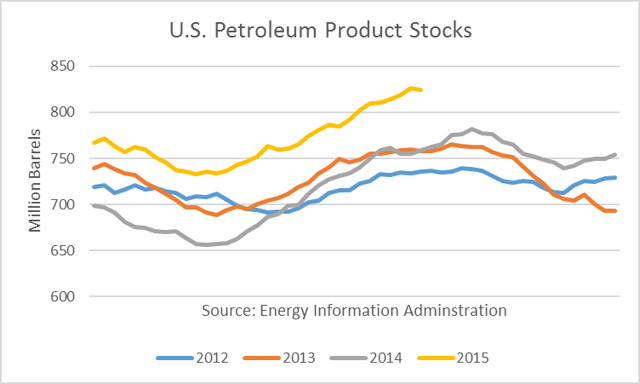 Total petroleum inventories are already the highest they have ever been collectively. And they will go higher in the weeks ahead.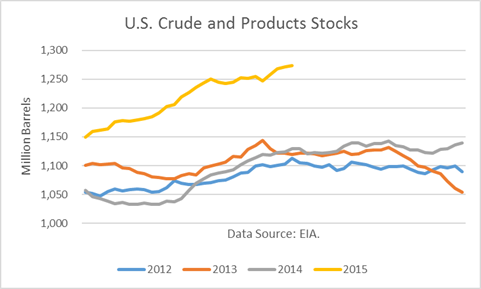 Barron's advises it is time to "lean against the wind." But the risk is being blown away by a gale-force hurricane.
My BRS Crude Oil Price Index remains short.
Disclosure: I/we have no positions in any stocks mentioned, and no plans to initiate any positions within the next 72 hours.
I wrote this article myself, and it expresses my own opinions. I am not receiving compensation for it (other than from Seeking Alpha). I have no business relationship with any company whose stock is mentioned in this article.