For a Columbus, Georgia-based company that derives three-quarters of its revenues in Japan, the idea of Aflac (NYSE:AFL) having a European problem itself is provocative. However, regressing the daily returns of AFL's stock in 2011 against the Japanese stock market yielded a correlation coefficient of only 0.17, but regressing AFL's returns versus the Italian stock index yielded a correlation coefficient of 0.67.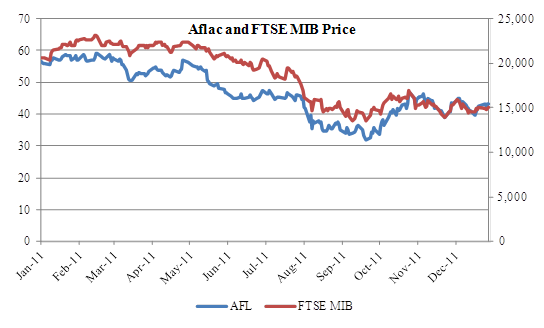 The reason for the strong linkage with Europe was buried in the company's quarterly earnings release filed last week - $522 million of investment losses, largely from holdings in European financials, and partially obstructed from view by $355mm of investment gains on rallying U.S. and Japanese government bonds. Aflac has frequently appeared on lists of investors' picks for 2012 due to both its low price to book ratio, and/or its relatively large and growing dividend yield. It is important that current or potential investors in AFL understand its European tail risk.
European Holdings
Given the topical nature of its exposure to financial institutions in general, and European banks in particular, Aflac's investor relations website updates these holdings quarterly. Its investments in the debt instruments of global financial institutions total $26.6bn of its $103bn investment portfolio. At year-end 2010, the largest 25 life and health insurers in the United States had bonds of financial institutions comprising 26% of their corporate bond portfolio and 11% of total fixed income investments. Aflac's exposure to financials is an outsized 26% of its total portfolio alone.
Of the $26 billion of financial company bonds held by Aflac, many of the securities are deeply subordinated in the capital structure of the issuer. Aflac had investments totaling $2.75 billion par of Tier 1 perpetual securities. Tier 1 capital is the core measure of a bank's financial strength in the eyes of the Basel accords and global regulators, and includes the bank's common stock, and non-redeemable, non-cumulative (can defer interest payments without accruing them to principal once repayment begins) preferred stock. Aflac's exposure is in these hybrid preferred stock instruments that combine elements of bonds and equity. Aflac's Tier 1 portfolio was trading at an average price of 67 cents on the dollar at year-end 2011. The unrealized loss on these securities totaled $423 million dollars with the vast majority held in European banks. Aflac has $4.86bn par of upper tier 2 securities, which trade at a smaller $41mm unrealized loss to their $4.29bn book value.
Due to their business model, insurance companies have tremendous investment leverage. The $7bn of subordinated exposures in financials though is a far outsized proportion of its investment portfolio as compared to other insurers. At over 30% of the market capitalization of the holding company equity, the variability in the pricing of these securities has led to the aforementioned close linkage with Eurozone markets.
ALM Mistake
Aflac's outsized portfolio of European financial hybrid securities is oddly a function of its exposure to the Japanese market. Given the absence of much Japanese government debt beyond the ten-year maturity, there is a limited long duration corporate bond market in Japan. Given the long duration liability profile of its Japanese business, and Aflac's desire to match the duration of its assets and liabilities to immunize the portfolio against interest rate risk, Aflac flocked to yen-denominated perpetual preferred stock placed by financial institutions around the world. By hoping to reduce its risk profile through better asset-liability matching, Aflac unwittingly exposed itself to a potentially debilitating amount of credit risk.
This exposure to European financials led Aflac to recently bring in Eric Kirsch from Goldman Sachs Asset Management to lead its investment process, functionally demoting former head Jerry Jeffery to head of fixed income. The insurer has also continued to pare down its European financial exposures as markets have come off their autumn lows, and indicated on its recent earnings call that it would continue to try and work through issues in its investment portfolio.
While Aflac may prove to be cheap on the basis of its continued strong operating earnings, its low valuation relative to its book value or dividend stream, the dispersion of outcomes on the stock is too wide to know if the price is currently discounting this risk correctly. Aflac relies on dividends from its Japanese operating subsidiary to pay those shareholder dividends. Whether the Japanese regulators allow Aflac to continue to upstream capital from its Japanese operating company to the holding company will depend on the performance of its European financial hybrids.
If you are concerned about the European situation, Aflac is not the investment for you, and despite its continued efforts to right-size these exposures, this will be an ongoing process and will lower future earnings as Aflac is forced to reinvest the proceeds in a low rate environment. If you think we are at an inflection point in the Eurozone crisis, and see markets stabilizing, then Aflac is likely to see its equity rebound. Just know that in an odd twist of fate, the European credit markets will be the central driver of AFL's equity performance in 2012.
Disclosure: I have no positions in any stocks mentioned, and no plans to initiate any positions within the next 72 hours.