Thesis
Breeze-Eastern (NYSE: NYSEMKT:BZC) is a manufacturer of mission-critical rescue hoists, along with cargo hooks/winches, weapons-handling systems, tie down equipment, etc. The company has a market cap of just $133 million and little to no analyst coverage, leaving it significantly underfollowed. I believe this has led to a mispricing that fails to account for Breeze-Eastern's highly probable runway of long term, high margin growth. With a strong balance sheet, significant competitive advantages, and an improving narrative from a management/capital allocation standpoint, I believe Breeze-Eastern is a buy at these prices.
Company Overview
Breeze-Eastern makes most of its money from helicopter rescue hoists, an industry that is currently a duopoly. The company competes with Goodrich Corporation, a subsidiary of United Technologies (technically there is also a Russian hoist manufacturer, but it's pretty insignificant on a global scale, only serving Russia and some Eastern European countries). The following bullets give a breakdown of the company's division of revenue in 2015:
Products (new equipment, spares): 77%
--Helicopter hoist/winch products: 60%
--Cargo hook products: 14%
--Weapons handling products: 3%
Services (overhaul, repair, and engineering): 23%
--Overhaul, Repair, Maintenance Services: 21%
--Engineering: 2%
Also, as illustrated by the table below (taken from the 10-K), the company derives most of its sales from the U.S. and Europe (mainly NATO nations):

A few more important notes:
Sales (directly or indirectly) for government end use were 74% of revenues in 2015.
19% of 2015 sales were to the U.S. Government (direct), United Technologies Corporation (UTX), Airbus Defense & Space ((OTCPK:EADSF), (OTCPK:EADSY)), and Finmeccanica SpA ((OTCPK:FINMF), (OTCPK:FINMY)). With the exception of Finmeccanica, most of these sales were associated with the U.S. military or defense organization of other countries.
All of the company's production is done in a New Jersey facility.
Long Runway For High ROIC Growth
First I would like to touch a bit on industry dynamics. As I mentioned before, the company operates in a duopoly. Unsurprisingly, this gives the company significant pricing power in its negotiations with customers. I believe the industry is likely to remain a duopoly for quite some time. The main drivers behind this idea is the heavy initial investment required to successfully design rescue hoists, as well as regulations and strong customer relationships that provide further barriers to entry. An important aspect of the business to address is that once a customer selects a company to buy its rescue hoists from, they will outfit their whole fleet with that company's hoists for the duration of the fleet's life. Due to the switching costs involved (as well as the fact that no other company can make replacement parts for Breeze-Eastern/Goodrich hoists other than the company itself), rescue hoists tend to be a very sticky product for customers.
Due to industry dynamics discussed above, it is reasonable to believe that Breeze-Eastern will continue to be a leader in its highly niche market for the foreseeable future. As it continually makes more sales, though, it means that there will be more Breeze-Eastern hoist units out in the market that will need replacement parts. And the only company capable of providing these is Breeze-Eastern, which makes for a strong moat that gives the company significant pricing power, especially in the aftermarket. With a growing installed base, higher margins from aftermarket parts should serve as a significant catalyst going forward in terms of increasing ROIC.
Another strength of the company is its balance sheet, the improvement of which has been extremely impressive as illustrated by the chart below. The company currently has no debt, and so has plenty of room to finance future expansion. Considering that most of the company's heavy investment is behind it, it is unclear when or if the company will need to lever up significantly again.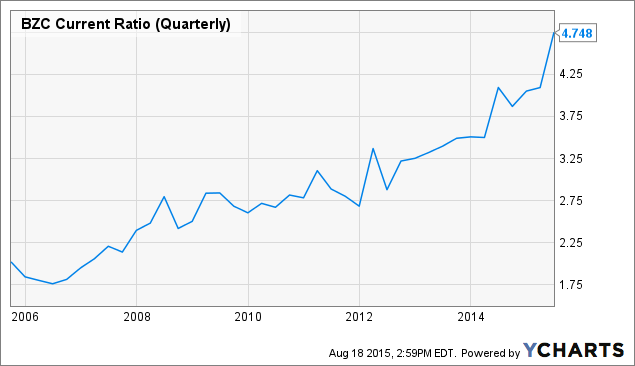 BZC Current Ratio (Quarterly) data by YCharts
On the topic of debt, I am reasonably confident that capital allocation from here on out will be more conservative not just because of where Breeze-Eastern is in its lifecycle, but because of the people at the helm. Although they've had a few CEO switches over the course of the past few years, I believe it was truly a capital allocation issue. The company had heavy investments in product design throughout 2000-2010, a lot of which was financed through debt. This left the company with a debt to equity ratio of around 3.5 back in 2006, not exactly a comfortable position. Now, though, the company is owned by three value oriented funds. I believe this will have a significant positive effect on the firm's capital allocation going forward. The funds, and their ownership, are as follows. It's also worth noting that directors and executives have their interests well aligned with shareholders:
Tinicum Capital Partners: 33.5%
Wynnefield Partners Small Cap Value: 21.48%
VN Capital Fund: 12.46%
Directors and Executive Officers as a group (9 people): 29.87%
Breeze-Eastern should continue to see steady demand for its products despite the recent slowdown in defense spending as well as the offshore oil and gas market, both large sources of revenue for the company. Despite these declines, the nature of the search and rescue market results in consistent demand. Breeze-Eastern's customers include fire departments, police departments, and other organizations that have to regularly not only prepare, but train for, rescue operations. With this constant training, as well as the need for replacement parts, Breeze-Eastern should see stable demand.
Due to the highly niche nature of the market, rescue hoist manufacturers usually do not have significant amounts of inventory on hand. This can make for less than favorable shipping times when it comes to replacement parts, which are often needed urgently because helicopters remain grounded (and thus are unavailable in emergencies) when maintenance is required. Luckily, though, Breeze-Eastern has managed to turn this weakness into a strength. It recently cut its spare part delivery time from around 90 days all the way down to 30, which is a significant source of advantage for the company. The most commonly ordered spares can come in as little as two weeks. This is an especially encouraging sign, because it shows that Breeze-Eastern is really focused on putting the customers first. When customers like dealing with a company, it tends to stick around for a while. CEO Brad Pedersen remarked, "Everything we are doing is designed to bring us closer to the customer and better support the mission... We have a dedicated group of people who genuinely care about helping the customer."
Risks
The company has a somewhat concentrated customer base. As discussed, there are a few primary ones and overall the company is largely dependent on the U.S. and other NATO nation governments.
Breeze-Eastern faces headwinds related to the slowdown in defense spending and the offshore oil and gas market.
Valuation
Likely a result of being underfollowed, I believe the company is significantly undervalued at current prices. Considering that it operates in a niche market and thus has no perfect comparables, I made a DCF. I assumed a modest 5-year revenue growth rate of 4% annually and operating margins of 18%. This resulted in 2016 FCF of almost $8 million, a reasonable mid-cycle estimate (although with recent higher margins, FCF has also been much higher, it's at almost $15 million for the trailing twelve months). The terminal value is based on my 2020 EBITDA estimate of about $22 million. This yielded the following sensitivity table:

Even just looking at basic metrics, you can tell this stock is a bit on the cheap side at around $14 a share. According to Yahoo! Finance, it trades at just 8 times earnings, 1.55 times sales, 2 times book, and has an EV/EBITDA of just 6.31. These are all significantly low when compared with the rest of the aerospace and defense industry. This fact, along with the high probability of a future consisting of long lasting, high ROIC growth leads me to believe the stock is a buy.