Over the past several weeks, news has been stirring throughout Wall Street and Silicon Valley of whether Apple (AAPL) will deploy its $100 billion in cash in the form of a dividend. These reports are valid due to most companies wanting to reward stockholders in the form of dividends, but Apple is not just any company. Apple is a company that is able to turn a dollar in research and development into revolutionary new ideas that generate incremental sales. An investor in Apple is not investing for the purpose of taking Apple money and putting it somewhere else, but rather an investor is buying a stake in the company because the APPL team has the ability to come up with product after product that eats at its competition and changes the way everyday people compute. In just the past year, Apple has been able to launch a new Mac Air, iPad 2, Iphone 4S, and bring Apple TV one step closer to being a "real" component of its business. Tim Cook, APPL CEO, has to ask the question: Is our investors' money better off in our pocket or in theirs? The answer is most definitely in Tim Cook's, and he knows it.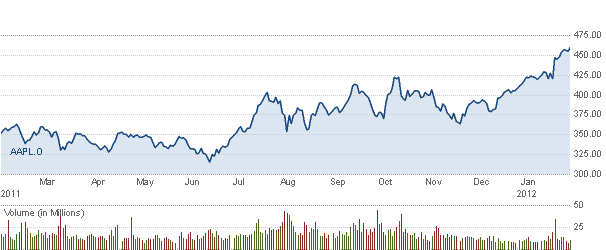 (CNBC)
Why Apple is better with money than you are:
Return on Equity:
A company's ROE is the amount of net income returned as a percentage of shareholders equity. For most companies in the tech field this percentage is hovering around 20, but for Apple this percentage is a whopping 41.6. This is staggering and speaks to the ability Apple has to turn R&D dollars into tangible and revolutionary ideas that add to profit, market share, and revenue. Eric Jackson of Ironfire Capital states, "I think Apple could make the argument that a high ROE is its way of saying it knows what is best for its cash." This is absolutely true and there is no question that the cash Apple has is best suited within its pocket rather than its investors. If Apple were to pay, for argument sake, a $10 dividend to stockholders, the company would be saying that an individual can generate a better return. Although Apple paying a dividend would not kill innovation or bring the company to its knees, it is only logical for investors to want Apple to invest in its own future and reap the rewards of appreciation in stock price, rather than risk Apple falling behind the pack.
ROE as compared to other tech heavyweights:
Need for innovation:
In the wake of Steve Jobs' passing and the company becoming the largest in the world, many have begun to wonder whether Apple can continue to grow at the rapid pace it has over the past 10 years. From the iPod to iPhone to iPad the company has had one hit after another. This level of growth and innovation is unsustainable for tens of years, but it is sustainable for years to come if the company can enter into new fields like television and media. Apple also needs to secure and invest in its current businesses and this requires large amounts of capital.
Tablet: The iPad provides an incredible growth story, but it may just have begun. Tim Cook stated, "there will come a day that the tablet market is larger than the PC market." Apple knows that right now it has the upper hand in this sector, selling more iPad's than HP (NYSE:HPQ) sold computers last quarter, but that does not mean Apple should rest of its laurels. In the same way Microsoft (NASDAQ:MSFT) lost out in the past decade by not staying ahead of the trend,

Apple needs to invest in the iPad to make sure it stays ahead of the Sony Tablet S, Samsung Galaxy, and the Barnes & Noble Nook.

Retail Stores: In 2001, Apple opened its first retail store, which revolutionized the company and brought the innovative product line to cities around the world. Today, the company operates 361 stores and that number is ever growing. These stores allow Apple to provide service to its customers and make its products come alive in an Apple engineered environment. There is a great deal of room for growth both domestically and internationally and this will be very costly. The other cost that will continue to arise is refreshing the company's current stores.

Apple cash will allow them to build brand recognition through these retail outlets. This increase in profit and incremental sales is worth more from an investor perspective than a dividend.

Apple TV/Things we have not thought of: In order for

Apple to stay cutting edge, it will need to continue to beak into new markets both physically (mentioned above) and in product lines. With $100 billion in cash, the company can explore new options and new industries like TV that have the potential to add incremental sales and solidify the company's place in peoples everyday lives.
To think the unthinkable:
Even since the 1980's, Apple has been thinking the unthinkable. From the laptop to the packaging for the product, Apple has dabbled in nearly every aspect of its product line and company. In an article I wrote last month I stated, "In business, money is king but in tech, people are." I want to add to this now. In Apple, the unthinkable is the key to success. As investors, it is important to note that the future of Apple and what the company is capable of is not determined by outside sources, but an elite group of designers and thinkers. There will be ideas in the future that come to life through the Apple brand that are not imaginable now. The company's cash reserves will allow these ideas to take hold and rise to their full potential. A few ideas on what these could look like are an entrance into telecommunication to create na "Apple Network" or an entrance into television (more likely) that will redefine Apple and most likely how we envision TV.
Conclusion/Financials:
The beauty of Apple, from an investor perspective, is that it does not trade at an obscene price/earnings ratio or PEG value. These values are 9.71 and .56, respectively. This marks a company that is undervalued by any measure. The only way for Apple to rise to its true market value is for the company to introduce another incredible product line, expand its retail stores and presence to other countries, or rethink the way we think about something. What Apple does not need to do is pay its shareholders a dividend that they will invest elsewhere, because Apple has the most potential of any company in the world. With an ROE of 41.67%, there is no reason for Cook to be humble and think that investors can do better than he can, because he would be wrong, we can't.
Disclosure: I have no positions in any stocks mentioned, and no plans to initiate any positions within the next 72 hours.