New Data Bodes Well For Fitbit, But Not Apple
Summary
FIT has answered its critics and has proven that it can survive and thrive regardless of AAPL's entrance in the wearables space.
New research based on social data suggests the Apple Watch has taken yet another step lower while FIT's performance remains near an all-time high.
This social data has had a correlation with actual revenue and growth in the past, and likely will in the future.
My complete change of heart in favor of Fitbit (NYSE:FIT) after its second quarter earnings still baffles me. While I pride myself on being open minded and willing to revisit a thesis, never have I had such a drastic reversal for a company's outlook so quickly. However, data is data, and when all signs point to a certain direction, you are insane not to follow, or at least think openly about what that data means. After Fitbit's second quarter, that open thinking led me to change my outlook to positive, and after exploring yet more, somewhat untraditional information, I believe the stage is set for longevity with Fitbit and the end to a brief, but bright light for the Apple (AAPL) Watch.
Since Fitbit's IPO, I have looked at data from NPD Group, IDC and Slice, which told a story of expected industry growth for both basic and smart wearables, a controlling presence for Fitbit in the basic space, and a rapid decline in sales momentum for the Apple Watch. This data was especially telling, but in looking ahead I turned to social data from a research associate, Jacobs Allen, at startup TickerTags.com. Surprisingly, this data has not only accurately predicted past sales performance but is giving investors a good idea of what to expect in the future.
TickerTags.com uses data analytics to chart the social mention frequency of words and word groupings that represent a company's relevant products, brands, people or trending topics across Twitter. In other words, it tracks what people are talking about everyday consumers. As an investor, this is somewhat interesting to me, especially in predicting the sales performance of consumer electronics. Below is a chart from TickerTags.com that I found to be very interesting.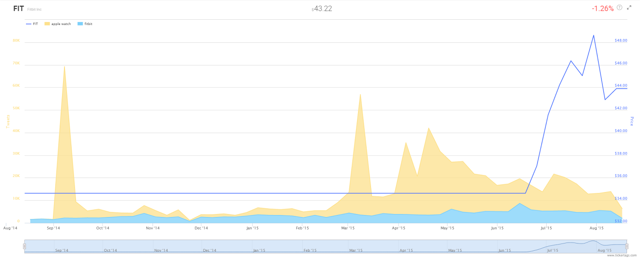 First and foremost, investors should expect that words and phrases related to "Apple Watch" would be far more prevalent than "Fitbit" as the latter is a much smaller company with less brand power and a network that's a fraction the size of Apple's ecosystem. Nonetheless, the chart shows a variety of data points that are very interesting, which further shows how the Apple Watch had a strong start but has since fizzled out, and that Fitbit continues to maintain very impressive momentum in spite of the Apple Watch's existence. Notably, there were many, such as myself, who thought the Apple Watch would be the death of Fitbit. However, that's not the case, and I was wrong.
That said, the data intervals in the above chart are in seven days of combined volume. Thus, data for September 7 includes that day and the seven days that follow, and so on. "Apple Watch" had its highest mention volume on the week beginning September 7, which is no surprise since the Watch was presented on September 7. Since that week, mentions have declined 87%.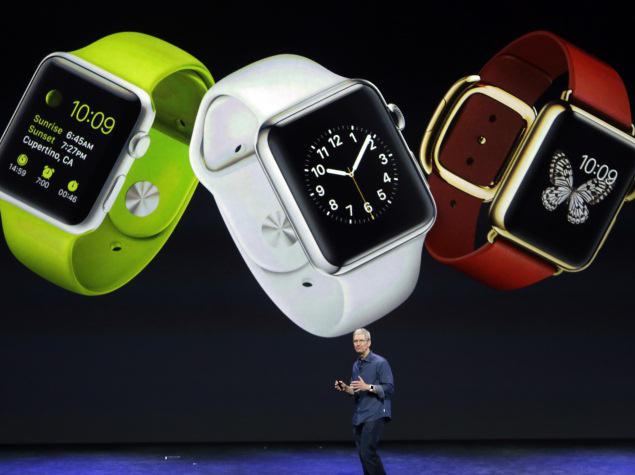 Source: NDTV.com
On the week of March 8, mentions once more jumped. This is likely a reflection of the Apple Watch event that took place on March 9. Since then, mentions have declined 84%. Since Apple's actual launch week on April 19 mentions have fallen nearly 80%. According to research from Slice, Apple sold 200,000 watches per day during its launch week, but that figure has since declined to just 20,000, a 90% decline. So, one might conclude that there is a correlation between social discussion and actual sales, seeing as how the declines from Apple's launch week are fairly similar for both social mentions and actual sales.
In contrast, Fitbit's performance has been the complete opposite. If we look at the exact same periods, September 7, March 8 and April 19, mentions related to Fitbit have jumped 136%, 48% and 51%, respectively, through the week of August 9. That first span between September 7 and August 9 covers nearly one year, and ironically, its 136% increase in social discussion is very similar to the 164% unit growth that Fitbit saw in the second quarter of this year compared to last year and the 120% revenue growth that Fitbit expects for the full year. My point is that there seems to be a connection between social discussion and actual sales, which is kind of the premise that TickerTags.com was founded on.
With all things considered, all of the information thus far has been leading up to what I consider is the "big bang" if you will. If in fact that correlation is real, then investors should be rather concerned or happy depending on the company you are invested in. In the month between July 5 and August 9, Apple Watch mentions declined a whopping 47%. Keep in mind that sales had already fallen considerably in the weeks following the launch, but my question moving forward is whether analysts and investors are both prepared and realize how quickly the Apple Watch is losing all momentum.
Granted, Apple didn't even announce Watch sales during its last quarter, and Apple's stock remains very much an iPhone story. However, the Apple Watch was Apple's chance to capitalize on something new and move into a different product category that likely has very high margins. According to Bloomberg, the Apple Watch had an average selling price around $499 during the company's last quarter. That's lower than the average price of $660 for the iPhone but significantly higher than the iPad's $415 price. In other words, the Apple Watch's margins are likely somewhere above the iPad but slightly lower than the iPhone, meaning strong sales could have actually driven Apple's EPS higher over time. But, with sales dwindling so rapidly, chances are the Apple Watch won't amount to much on the company's income statement, probably ever.
With that said, this information does nothing to change my outlook on Apple. I still think Apple is an iPhone, ecosystem and IoT story at a bargain price, so I view the Apple Watch as more of a lost opportunity than a potential risk to the stock. However, this data further supports my theory that Fitbit is here to stay. Specifically, I think its stock will move up sooner rather than later and that Fitbit's third quarter will be a surprise to the upside.
Based on Fitbit's midpoint guidance for revenue of $350 million in the third quarter, it's expecting a double-digit decline from the second quarter's $400 million in sales. However, discussions and mentions regarding Fitbit are up since the second quarter, and since July, mentions are essentially flat. Seeing as how social activity has been a good indication of operating performance thus far, I wouldn't be surprised if Fitbit is selling itself short and guiding light. Regardless, the bottom line is that Fitbit's social momentum remains at an all-time high whereas the Apple Watch continues to fall off a social cliff, two facts that are very likely to have a strong correlation with future sales performance.
This article was written by
Analyst's Disclosure: I am/we are long AAPL, FIT. I wrote this article myself, and it expresses my own opinions. I am not receiving compensation for it (other than from Seeking Alpha). I have no business relationship with any company whose stock is mentioned in this article.
Seeking Alpha's Disclosure: Past performance is no guarantee of future results. No recommendation or advice is being given as to whether any investment is suitable for a particular investor. Any views or opinions expressed above may not reflect those of Seeking Alpha as a whole. Seeking Alpha is not a licensed securities dealer, broker or US investment adviser or investment bank. Our analysts are third party authors that include both professional investors and individual investors who may not be licensed or certified by any institute or regulatory body.