Yesterday, on August 19, the weekly EIA Petroleum Inventories numbers came in. Crude oil inventories in the US grew by 2.6M barrels, above estimates of a decline of 0.8M barrels. Meanwhile, gasoline inventories fell by 2.7M barrels, compared to estimates of a decline of 1.6M barrels. While distillates inventories rose by 0.6M barrels, versus estimates of an 1.3M barrel increase.
While both the gasoline and distillate numbers were bullish, the markets read the report as an extremely bearish number focusing almost entirely on the crude oil increase. WTI fell 4% for the day, threatening to fall below $40 per barrel.
The report was modestly bullish
While the market is clearly being driven by momentum traders, if one were to look at the fundamentals, the EIA report is modestly bullish for crude oil.
First, it is quite obvious that the increase in crude oil inventories came as a result of a combination of higher imports, refinery outages, offset by lower US domestic production. Imports increased by 465K BPD and are now above 8.0M BPD, one of the highest amounts in 2015. This increase largely came from Canada, Saudi Arabia, and Venezuela. These 3 countries combined boosted their exports into the US by nearly 900K BPD.
As for what is driving higher imports, it could be from refiners buying up cheap crude oil to lock in a cheaper feedstock. Refiners are earning as much as $17 per barrel at these prices, up from $11 per barrel last year. In addition, there is some contango going on, with traders earning as much as $1 per barrel to hold oil until selling later in the year, which far exceeds the cost of leasing the storage space.
Furthermore, the decline in gasoline stockpiles indicates that demand remains strong for crude oil. US refineries are running at or near record levels, taking advantage of record crack spreads.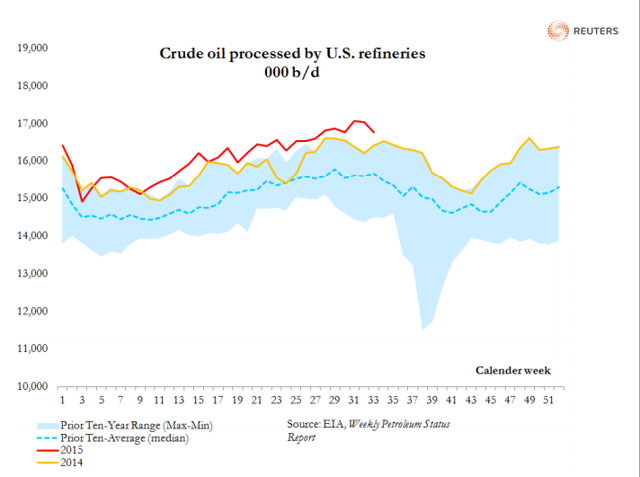 Source: Reuters
Yet, they have not been able to quench the increased demand for gasoline due to lower prices. Indeed, as shown below, the amount of gasoline supplied to the markets is high, yet there are very real declines in the stockpiles, especially along the West Coast.
Source: Reuters
In other words, both crude oil supply and demand are robust. If gasoline demand is any indication, we could actually see certain markets suffering from shortages, especially as refinery output declines in Q3 due to planned maintenance.
Short sellers gone wild
Lastly, a few words on who is actually causing oil to fall -- short sellers.
According to Reuters, a relatively small group of hedge fund managers have placed a record bearish bets on U.S. oil prices. As of August 11, these funds have an estimated 179 million barrels gross short position, more than TRIPLE the 59 million barrel short position on June 2. Indeed, the size of the short position far exceeds that of the 2008/2009 oil price fall.
If you do not think these short sellers are driving the price action, the following chart should convince you. As shown, the accumulation and liquidation by these hedge funds is what pretty much inline with the movement seen in the price of WTI.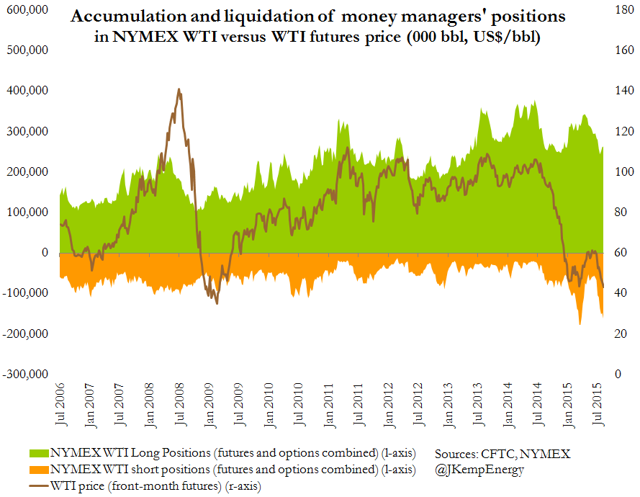 Source: Reuters
Do note that the large long positions in WTI is to be expected. After all, WTI is constantly produced and consumed. However, short-sellers are pure speculators, with no intention to sell physical crude oil or take delivery, being instead forced to buy back their positions or roll over into longer dated contracts. This actually will create a key tailwind for crude oil prices in the not too distant future.
Conclusion
While there is a modest oil glut out there, the fundamentals are not that bad. Instead, the price action has been taken over by hedge funds who are out to make money on the bearish sentiment. Make no mistake, these groups are talking their book, calling for oil to go even lower only to exit their positions. As shown, oil rallied to above $60 per barrel earlier this year due to these short sellers locking in profits. The same scenario is likely to repeat soon enough.
As to how to play an eventually oil price recovery, the go to ETFs are the United States Oil Fund (NYSEARCA:USO) and the Energy Select SPDR ETF (NYSEARCA:XLE). Likewise, if looking for a less risky way to go long, some of the oil majors such as Exxon Mobil (NYSE:XOM) Chevron (CVX), ConocoPhillips (COP), EOG Resources (NYSE:EOG) offer very good value.
As for a winner if oil prices stay flat and gasoline demand strong, I suggest the refiners, Phillips 66 (NYSE:PSX) Valero (NYSE:VLO), Marathon Petroleum (NYSE:MPC), which are pretty much printing money at current crack spreads.
Disclaimer: The opinions in this article are for informational purposes only and should not be construed as a recommendation to buy or sell the stocks mentioned. Please do your own due diligence before making any investment decision.
Disclosure: I am/we are long COP, PSX.
I wrote this article myself, and it expresses my own opinions. I am not receiving compensation for it (other than from Seeking Alpha). I have no business relationship with any company whose stock is mentioned in this article.