Many rare earth element stocks have taken on new life in 2012 as investors and traders have scrambled to speculate on some of 2011′s poor-performing stocks. The current run-up has been remarkably well-correlated (inversely) to 2011′s performance. The examples below follow this key=> Company and stock name: 2011 annual performance vs. 2012 year-to-date performance.
Avalon Rare Metals (NYSEMKT:AVL): -62% vs 36%
Great Western Mineral (OTCPK:GWMGF): -19% vs 60%
Lynas Corp (OTCPK:LYSCF): -51% vs 45%
Molycorp (MCP): -52% vs 16%
Rare Element Resources (NYSEMKT:REE): -80% vs 119%
Stans Energy Corp (OTCPK:HREEF): -46% vs 73% (was as high as 119%)
Ucore Rare Metals (OTCQX:UURAF): -49% vs 44%
I have used 2012′s rally to unload most of my latest round of holdings in REE stocks. I am back to respecting the highly speculative nature of these companies and stocks and am dialing back the risk exposure. I am keeping my core holding in Molycorp and have been more aggressive in selling calls against the position along with purchasing puts. My one guilty speculative pleasure remains UURAF.
The rallies in most of these rare stocks have now stalled and taken a pause. The charts below show how most of them have stopped cold at key technical resistance. If they overcome, the rallies could persist even longer until the next wave of fear over the global economy sends these stocks hurtling downward again.
Avalon Rare Metals has one of the stronger charts of the group, forming what actually looks like a firm base off the 2011 lows.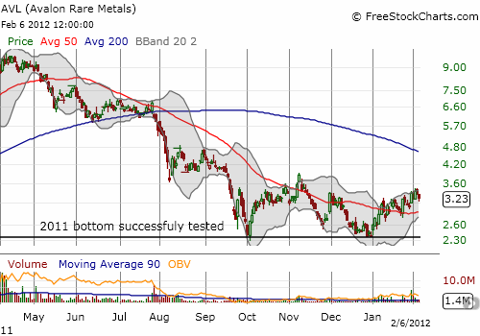 Aavlon tries to form a base off 2011 lows
Great Western Mineral has spiked sharply in two bursts. This latest one follows several weeks sticking close to the 50-day moving average. It is now stopped cold right at the 200DMA. The company has finally pursued financing deals, likely disciplined by the sharp decline in its stock heading into 2011′s October lows. The recent bounce has brought the stock price above the levels of November's financing deal.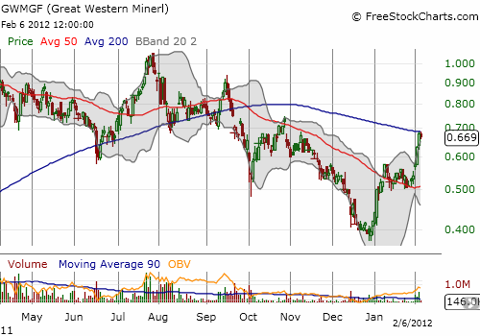 Great Western takes a hard pause at critical resistance from the 200DMA
Lynas Corp looks like another victim of stiff resistance at the 200DMA. Big news for Lynas came on February 1st when it received its official permit to operate in Malaysia. The company must still resolve issues with waste removal. From the NY Times:
The Malaysian Atomic Energy Licensing Board said in a statement late Wednesday that Lynas, the Australian company that is building the refinery, must within 10 months specify a location and submit detailed plans for permanent disposal of the more than 1,000 tons a month of low-level radioactive waste that the refinery will produce. Although the issue is not expected to delay the plant's opening, it will put pressure on the company to find a solution to the waste problem.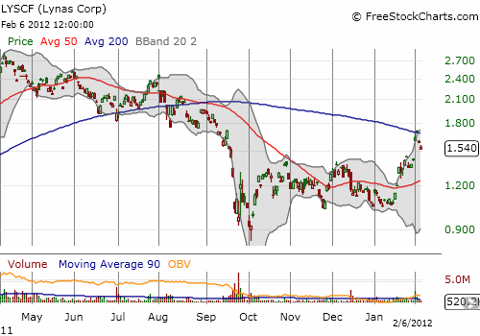 Lynas falls back from its 200DMA resistance
Molycorp has reported strong earnings and is on schedule to ramp up production this year. However, the stock has performed relatively poorly in response to this news. When JPMorgan dropped its price target on MCP from $57 to $39 in late December, the stock lost 14% in one day and broke down through a significant support line. MCP was around $27 when it formed a base from October to December, 2010 that launched a significant rally to close that year. I even called it the last line of strong support. Fortunately, the slide abruptly ended there.
However, news on February 1st of a dilutive transaction with Molibdenos y Metales S.A. (Molymet) has sent the stock sinking all over again. This news was very disappointing to me, especially because it seemed to undervalue the company to a large degree. Even MCP mega-bull Dahlman Rose felt compelled to drop its price target from $70 to $50. Once again, I am left bewildered at why MCP CEO and Chairman Mark Smith has been buying company stock ahead of such poor stock performance.
I am currently reading through a three-part article series by Seeking Alpha contributor "The Strategist" titled "Molycorp: A Second Chance" to revitalize my longer-term interest in this company.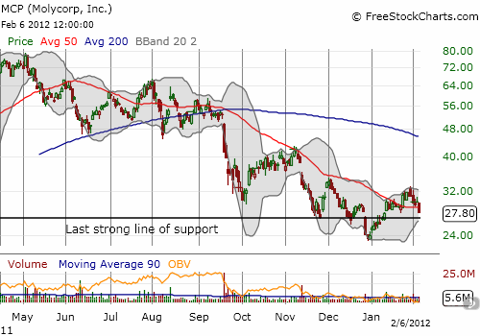 After a brief jump over the 50DMA, MCP has got that sinking feeling again
Rare Element Resources is yet another victim of resistance at the 200DMA.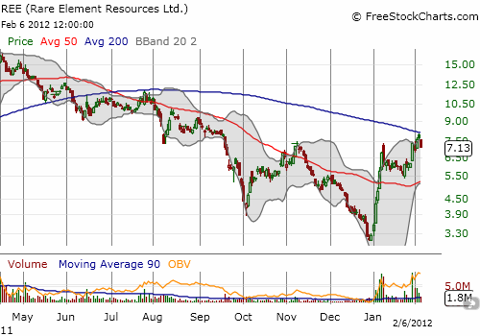 REE stopped cold at the 200DMA
Stans Energy Corp has startled me the most this year. It broke right through its 200DMA in January but has now sunk back to retest this critical line of support. A bounce from here could signal a more sustained rally is underway. Stans has had some interesting news of late but nothing I can really identify as a catalyst for such a strong move year-to-date.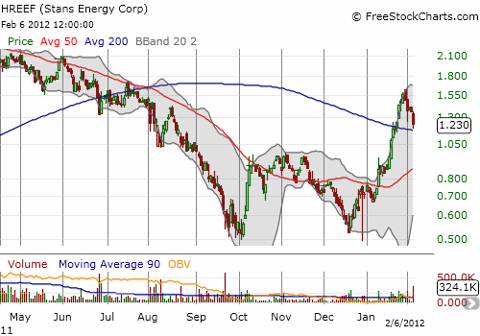 Can Stans Energy survive this important test?
Finally, Ucore Rare Metals has sent me from hopeful expectations to resigned circumspection. The company continues to generate highly promotional news releases and has even recently created apps for the iPhone and iPad. Unfortunately, production of profits remains far in the distance.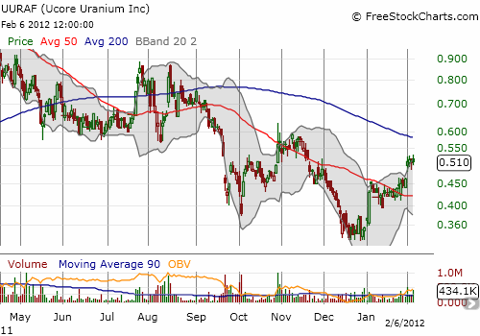 UCore meanders between the 50 and 200DMAs
Be careful out there!
Disclosure: I am long MCP, OTCQX:UURAF.