Despite some seemingly disappointing housing data earlier in August, there seems to be plenty of life in existing home sales sector. For the month of July, the National Association of Realtors noted that sales rose by a much stronger-than-expected 2.0% to a seasonally adjusted annual rate, SAAR, of 5.59 million units. Most importantly demand remains well ahead of supply levels, which are at multi-month lows. At the current rate approximately 4.8 months worth of supply remain versus 4.9 in June, 5.1 in May and a whopping 5.6 at the same time last year. Total existing home inventories came in at a SAAR of 2.24 million, down from 2.25 million units in the prior month. The chart below shows the relationship between current sales and inventory since the peak of the recession, and the spread between sales and inventories is certainly beginning to improve.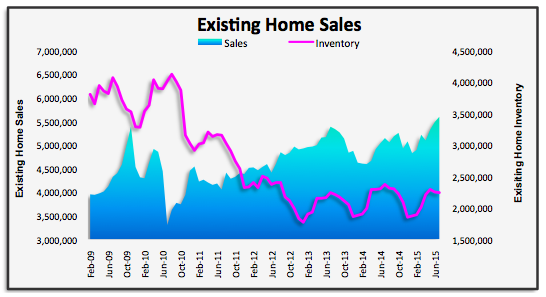 Within the report, overall sales are up 10.3% over the prior year and the median price is up 5.6% year-over-year to $234,000. This discrepancy is quite important as it indicates that with such a thin supply there may finally be some stronger pricing power for houses.
Probably the most optimistic of all is that single-family homes were the standout of the report, gaining 2.7% over the prior month for a total annual rate of 4.960 million units. On the other hand, condos actually fell by 3.1% in July to an annual rate of 630,000 units. However, demand for new condos was substantially higher, meaning that pricing strength is also recovering since new units will command a higher premium. Year-over-year, existing single-family unit sales have risen by 11.0% while condos have grown just 5.0%.
On a regional basis, the South dominated in existing home sales rising by 4.1% over the prior month, followed by the West at 3.2%. In the Midwest, sales were unchanged over the prior month and sales in the Northeast actually declined by 2.8%. Nevertheless, on a year-over-year basis sales across all four regions were up roughly 10%.
All in all this report was quite impressive, and despite weakness across the consumer and manufacturing sectors, housing data may actually give the economy a lift in the second half of the year. Additionally, since the Fed is holding off on raising interest rates, there may be stronger home-buying volume into the fall for consumers who were waiting on the Fed's decision.
Disclosure: I/we have no positions in any stocks mentioned, and no plans to initiate any positions within the next 72 hours.
I wrote this article myself, and it expresses my own opinions. I am not receiving compensation for it (other than from Seeking Alpha). I have no business relationship with any company whose stock is mentioned in this article.