People have speculated that Salesforce.com (NYSE:CRM) has been a bubble for some time now. With the stock dropping below $100 in December, many thought that the end of Salesforce.com's joy ride was near. However, the stock has rebounded over the past month and closed at $123.23 on February 6th. With earnings coming up at the end of the month, I will show how Salesforce.com may be ready for its bubble to burst very soon.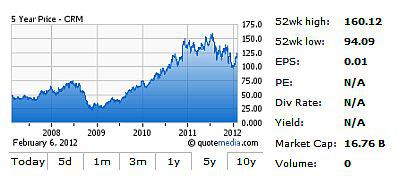 Salesforce.com's expected earnings can in no way justify its stock price. Its earnings in the next year are expected to be an adjusted $1.63 per share and probably around $0.50 per share after executive compensation, which Salesforce.com does not include in its earnings reports. With so many competitors trying to encroach on the cloud space including Apple (NASDAQ:AAPL), IBM (NYSE:IBM), Microsoft (NASDAQ:MSFT), and Citrix (NASDAQ:CTXS), I don't believe that Salesforce.com will ever have the earnings to justify a price over $120.
Salesforce.com has been able to maintain such a high price off of high institutional ownership (96%) and a shortage of stocks that are fully invested in the cloud. The top six institutional shareholders (FMR, Sands Capital Management, Jennison Associates, Vanguard, State Street, and Baillie Gifford) own about 37% of outstanding shares and the CEO, Mark Beinoff, has owned as much as 10 million shares, and tends to sell off shares in mass quantities. The market has had relatively little access to the stock, and this has been keeping prices artificially high.
Click to enlarge: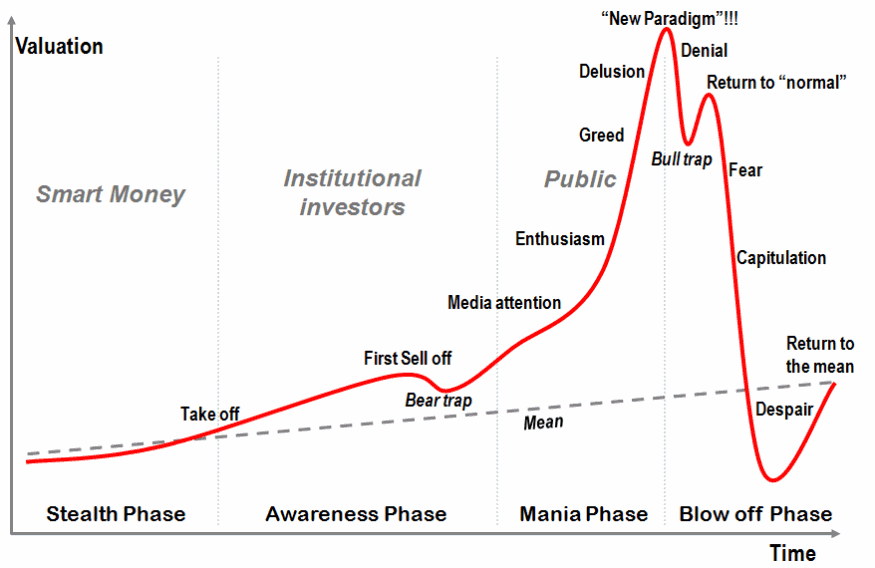 The last point that I want to make is how Saleforce.com's recent performance has mirrored the stages of a bubble over the past 5 years. In late 2008, the stock took a dip with the rest of the market, signifying the "First Sell Off". Its spike to "New Paradigm" occurred from early 2009 to July of 2011 when the stock eclipsed $150. Its "Denial" stage happened after its last earnings report dropped the stock below $100 and its bullish activity over the last month signifies its "Return to Normal". What's next according to the chart is the big drop. With earnings coming at the end of the month, it may be smart to short Salesforce.com as a bad earnings report may be what triggers its fall to around $50. Just be sure to cover before it rebounds again.
Disclosure: I am long IBM.