Seventy million Americans will turn 65 in the next 20 years. This demographic shift is good news for pharmacies, because people over 65 usually fill more than 25 prescriptions annually, three times the national average. Seventy-five percent of the US population lives within three miles of a CVS Caremark (NYSE:CVS) pharmacy, and they are usually one of the most visible stores in town. More than four million customers already visit CVS pharmacy stores every day, at over 7,200 locations, making CVS Caremark the biggest drugstore operator in the US.
'MinuteClinics', staffed by nurse practitioners and physicians' assistants, for treatment of common ailments and routine vaccinations without appointments, feature in 645 of those stores across 25 states. Additionally, the pharmacy benefit management service, for health insurance plans and their members, links to a nationwide network of 65,000 pharmacies, fills prescriptions by mail and offers face-to-face clinical expertise for the pharmaceutical treatment of a range of chronic diseases. The company fills or manages more than 1 billion prescriptions annually, and its loyalty program has more than 68 million active customers.
The November 3 2011 Q3 earnings call provided an opportunity for Larry Merlo, CVS Caremark president and CEO, to call attention to the 98% retention rate for the 70% of 2012 contract renewals completed to date, and the $4.8 billion of new business wins, both healthy signs for the pharmacy services sector. He added that the contracts acquired from Universal American are expected to contribute $5.5 billion in additional revenue in 2012. Responding to questions posed about any beneficial effect for CVS from the ongoing rift between pharmacy benefits manager Express Scripts (NASDAQ:ESRX) and Walgreens (WAG) drugstores, Mr Merlo responded that it was too early to say, but that CVS would be well positioned to service Express Scripts members in 2012 if the contract standoff continued. A net 150 new retail stores should be open by the end of the year. The MinuteClinic program is on track to play an important role in providing care to the 32 million newly insured customers expected by 2014.
CVS Caremark is also a leading supplier of generic prescription medicines, delivering cost savings not just for end users but also for health plans. The benefits are reaped by CVS in significantly higher margins, and, as the nation's largest pharmaceuticals buyer, it will derive considerable advantage from the $90 billion of branded drugs whose patents will expire in the next few years. Lower revenues but higher margins also apply to the many non-medical CVS-brand products available in their retail stores. The company is a leader too in the fast-growing sector of specialty drugs, whose administration and side effects require a closer interaction between pharmacist and patient. This market is already generating annual revenues in excess of $11 billion for CVS. The company is also pursuing the burgeoning market for genetically-targeted therapies through its majority stake in Generation Health Inc.
In spite of this, CVS Caremark endured a tough year in 2010. After four years of spectacular growth, year-on-year revenues fell by 2.4% to $96.4 billion, and operating profit dropped 4.3% to $6.2 billion. The pharmacy benefit management division recorded a 6.4% drop in revenue. Contract losses in this highly competitive and price-driven sector, especially in the Medicare Part D federal subsidy program, created a major problem, but since then CVS has signed a 12-year agreement with health insurance company Aetna (NYSE:AET). CVS will manage the bulk of Aetna's pharmacy operations and serve 9 million of its members. Additionally, CVS has purchased the Medicare Part D business of Universal American (NYSE:UAM) for $1.25 billion. Although operating profit in pharmacy benefit management is expected to decline again in 2011, the company is in the process of streamlining the sector following extensive acquisition activity, and says its long term prospects are good. On the retail side, a net 152 new stores were opened during 2010, and the division gained market share as well as increasing its revenue by 3.6%. (CVS Caremark facts, 2010 annual report (pdf))
While health care reform will introduce pharmaceutical coverage to more than 32 million people who are currently uninsured, it will only increase the competition for benefit management contracts and the additional pharmacy revenue. Those competitors include the giant Walgreens, Express Scripts , Rite Aid (NYSE:RAD), Medco Health Solutions (NYSE:MHS), and even chain stores with their own pharmacies like Wal-Mart (NYSE:WMT).
During 2011 CVS completed the sale of its biotech and pharmaceutical commercialization services subsidiary TheraCom, to the drug wholesaler AmerisourceBergen (NYSE:ABC). Excluding revenue from this discontinued operation, the Q3 2011 earnings news release (pdf) shows revenue for the nine months ended September 30 2011 to be $78.8 billion, 11% up on 2010. So the company's prospects do indeed seem to have returned to their former buoyancy. The highlight was pharmacy services revenue, which grew by 22%, mainly as a result of the Aetna contract and the Medicare Part D business purchase. Overall operating profit was steady at $4.4 billion. The company now expects full year adjusted EPS from continuing operations to be in the range $2.77 to $2.81.
After a growth hiatus in 2010, caused by pharmacy benefit management contract losses, CVS Caremark has recovered its confidence and its stock price has mimicked that confidence with a 34% increase over the last year as shown below: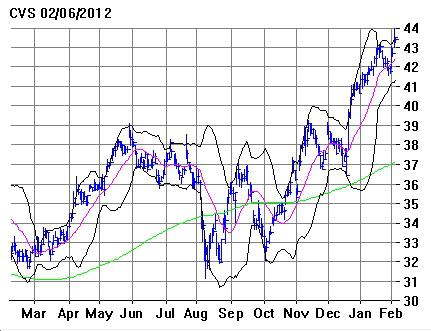 With CVS's ballistic stock price, any negative news released with CVS Caremark's upcoming earnings report on Wednesday, February 8, 2012, could result in the stock's price dropping to previous support level around the $37 range. An investor might consider hedging a position CVS by entering a collar position. A collar position may be entered by selling a call option against the stock with some of the proceeds from selling the call option used to purchase a put option for protection.
Using PowerOptions tools, a collar position was found for CVS with a potential return of 2.1% (7.4% annualized) and a maximum potential loss of 5.9%, even if the price of the stock goes to zero. The potential return and maximum loss assume a dividend payment of $0.16 during the timeframe for holding the collar. The specific call option to sell is the 2012 May 44 at $1.80 and the put option to purchase is the 2012 May 40 at $1.08. A profit/loss graph for one contract of the collar position is shown below: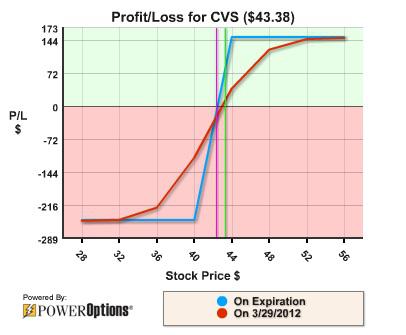 As a bonus, if the price of the stock is greater than or equal to the $44 strike price of the call option at expiration, the position will return 3.5% (12.4% annualized). If the price of the stock drops below the $40 strike price of the put option, the value of the collar position will remain unchanged with a maximum potential loss of 5.9%.
Disclosure: I have no positions in any stocks mentioned, and no plans to initiate any positions within the next 72 hours.