Since I first presented my bullish piece on Sara Lee (SLE) here, the stock has risen by 15%, beating the Dow Jones by 467 bps. The company is now rated a "hold" on the Street - in-line with the rating for ConAgra (NYSE:CAG) but below the "strong buy" rating for Kraft Foods (KFT). Based on my multiples analysis and DCF model, I share this sentiment.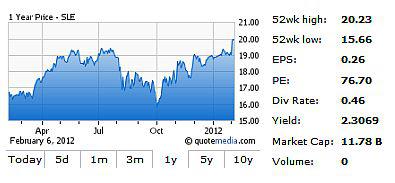 From a multiples perspective, ConAgra is the cheapest of the three. It trades at a respective 14.8x and 13.7x past and forward earnings with a dividend yield of 3.6%. Kraft and Sara Lee trade at a respective 15.4x and 19.4x forward earnings. Given its strong brand name and solid fundamentals, Kraft is the least volatile with a beta of 0.6.
At the third quarter earnings call, Kraft Foods' management noted strong performance:
On the bottom line, we grew our underlying operating income at a double-digit rate, both in the third quarter and through 9 months. We did this by effectively managing our input costs through pricing and productivity while leveraging overheads and driving integration savings.

Our profit growth is broad-based. We're delivering higher profits in every geography. This reflects the virtuous cycle across the portfolio. We're also growing operating EPS double digits. And we're doing this even as we increase investments to drive future growth. But what gives me even greater confidence as we look ahead is the excellent momentum on each of the businesses that will comprise the new North American Grocery and Global Snacks companies.
The third quarter was strong with solid top line and bottom line momentum in all geographies. Advertising, in particular, worked out well with product innovation. Volumes held up well despite pricing increase and operating income grew in the double-digit as productivity sequentially improved.
Consensus estimates for Kraft's EPS forecast that it will grow by 12.9% to $2.28 in 2011 and then by 10.5% and 10.7% in the following two years. Even if the multiple plummets to 16x and 2012 EPS turns out to be 2% below consensus, the stock would still manage to rise.
Sara Lee's recent M&A activity will result in cash holdings being below management's original target for cash holdings. To add liquidity, Sara Lee should consider divesting its frozen baked goods or Australian fresh bakery businesses. The tax-free spin off approval by the IRS represents a catalyst, but management could help reduce volatility by providing greater clarity over the delay and special dividend issuance. In terms of operations, the company will be able to better offset raw materials in beverages through improved flexibility over prices. It is further launching new products next month and in early 2013. If the success of recent new products are any indication, this upcoming innovation offers an opportunity for greater upside.
Consensus estimates for Sara Lee's EPS forecast that it will grow by 17.9% to $0.92 in 2012 and then by 12% and 14.6% in the following two years. Modeling a CAGR of 14.8% for EPS over the next three years and then discounting backwards by a WACC of 9% yields a fair value figure of $14.93, implying 25.4% upside. While confidence in the firm's brands will help prevent such erosion, it may not be enough to drive further value creation, let alone outperformance.
Disclosure: I have no positions in any stocks mentioned, and no plans to initiate any positions within the next 72 hours.