Over the last several years, I have repeatedly heard professional investors refer to the average cost of mining gold as being around $1,200. (Here, here, here, and here are examples.) I had been out of the sector for a while and didn't think much about it, until I researched and wrote about my favorite gold producer, Polyus Gold (OTC:PLZLY) earlier this year. (Note: PLZLY - not the OTC ticker OTC:PGILF - is the most liquid option for U.S. investors.)
I quickly uncovered the fact that most of the largest producers have average all in sustaining costs ("AISC") of below $1,000 an ounce. The following table shows the 2014 production and AISC numbers for ten of the largest producers:
|   | 2014 Production | 2014 AISC |
| --- | --- | --- |
| Polyus Gold | 1,686,000 | $825 |
| Barrick Gold (NYSE:ABX) | 6,249,000 | $864 |
| Newmont Mining (NYSE:NEM) | 4,845,000 | $1,002 |
| AngloGold Ashanti (NYSE:AU) | 4,436,000 | $1,026 |
| Goldcorp (NYSE:GG) | 2,871,000 | $949 |
| Kinross Gold (NYSE:KGC) | 2,710,000 | $973 |
| Newcrest Mining (OTCPK:NCMGY) | 2,396,000 | $897 |
| Gold Fields (NYSE:GFI) | 2,219,000 | $1,087 |
| Harmony (NYSE:HMY) | 1,172,000 | $1,242 |
| Eldorado Gold (NYSE:EGO) | 789,000 | $779 |
|   |   |   |
| Total | 29,373,000 |   |
The 29.4 million ounces of gold produced by these ten companies was roughly 1/3 of the total 2014 global production and comes from all over the world, so this is a good representative sample of the whole industry. The weighted average AISC for these 29.4 million ounces of production was $960. Quality analysis from other researchers corroborates with my findings. A 2013 article from Visual Capitalist calculated the average AISC for the top 50 producing gold mines to be $919. Indeed, the average AISC for gold now being produced is well below $1,200.
What Many Gold Investors are Missing
I suspect that the average AISC for the entire gold mining industry is now below $900 and headed lower, possibly much lower. There are two important reasons why:
1. Cost depreciation due to falling local currencies
Only about 7% of the world's gold production comes from the United States. In 2014, the ten largest producing nations were (in order):
China
Australia
Russia
United States
Canada
Peru
South Africa
Uzbekistan
Mexico
Ghana
The question that needs to be asked is, "By how much has the local currencies of the other major producing nations fallen?" This is critical, because if these currencies are substantially lower than the dollar, then some pieces of the cost structure of the firms operating in these locals will come down. Here is the answer for each for the last twelve months:
As you can see, these currencies have been slaughtered. These declines have or will continue to add to the miner's cost depreciation across the globe. (Some of the declines are offset though by higher local inflation.)
2. Substantially lower diesel fuel costs
All readers are well aware that crude oil prices have collapsed over the last twelve months (see chart below).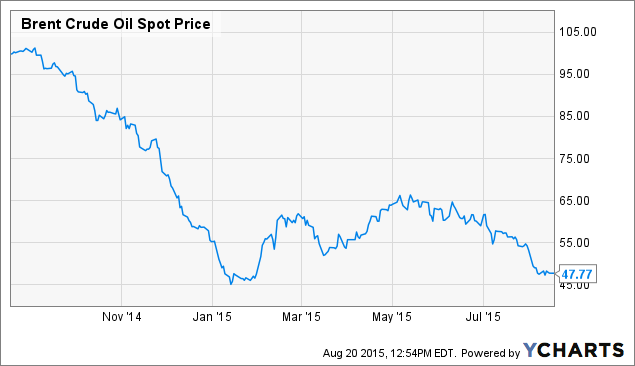 Brent Crude Oil Spot Price data by YCharts
The collapse in Brent crude has correlated into a similar collapse in the price of diesel fuel. For example, Polyus Gold's fuel costs fell 58% in the first half of 2015 vs. the first half of 2014.
The advantage the miners operating outside of the U.S. have is that their sales are mostly in U.S. dollars. So even if the price of gold continues to stagnate around $1,100, their profitability will increase as their costs continue to come down. Importantly, this means that they may be less inclined to cut production or curtail projects.
The extreme examples are the Russian producers, Polyus Gold being the largest. Polyus' AISC fell 32% to $617 per ounce in the first half of 2015 vs. the first half of 2014. The company also generated higher net income and higher free cash flow during the first half of 2015 vs. the first half of 2014. The stock is holding up well this year (see chart) and strong dividend payouts will continue.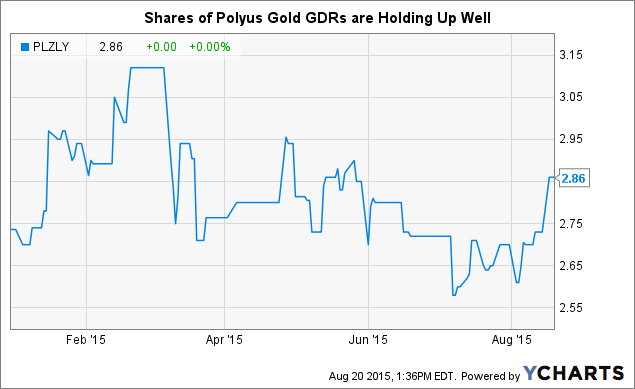 PLZLY data by YCharts
Implications
The continuation of the present trend would really hurt miners operating in the U.S. They may be forced to continue to cut production while miners in locales such as Australia and Russia keep right on rolling (and rolling and rolling), as the price of gold continues to fall in U.S. dollars due to no net global production declines. These dynamics are critical for gold investors to understand. Don't fall for "the price of gold is below the cost of production" fallacy that is thrown around so often. Gold investors should be prepared for the potential for even lower prices over the next three years due to this dynamic.
If you must invest in the sector, I recommend looking into the Australian and Russian miners. One can also apply the same logic with silver and other metals. This is one reason why I recently recommended the 2019 bonds of Fortescue (OTCQX:FSUGY).
Similarly, if I was running an emerging market debt fund, I would be scooping up the bonds of companies with predominantly U.S. dollar revenues and local currency expenses, such as Odebrecht (I have bought some in portfolios I manage).
My Outlook
Currently, I do not hold shares of any large precious metals miners in the portfolios I manage, because I am expecting an imminent crisis in the Middle East to temporarily turn the current trend of falling crude oil and a rising U.S. dollar on its head (hyper-volatility, here we come). I would expect this scenario to help the price of gold; however, costs would also start rising quickly. As the price of crude settles down, I then expect the current trend to resume for several more years.
Important Regulatory Disclosures: I am a Registered Investment Advisor in the State of Pennsylvania. I screen electronic communications from prospective clients in other states to ensure that I do not communicate directly with any prospect in another state where I have not met the registration requirements or do not have an applicable exemption.
Positive comments made regarding this article should not be construed by readers to be an endorsement of my abilities to act as an investment adviser.
Editor's Note: This article discusses one or more securities that do not trade on a major U.S. exchange. Please be aware of the risks associated with these stocks.
Disclosure: I/we have no positions in any stocks mentioned, and no plans to initiate any positions within the next 72 hours.
I wrote this article myself, and it expresses my own opinions. I am not receiving compensation for it (other than from Seeking Alpha). I have no business relationship with any company whose stock is mentioned in this article.
Editor's Note: This article discusses one or more securities that do not trade on a major U.S. exchange. Please be aware of the risks associated with these stocks.