On Thursday, August 20, the market plunged and had the worst day of 2015. The Dow Jones (DJI) lost roughly 358 points and also had triple digit losses the day before. As the chart below shows, the Dow Index has lost about 1,000 points just in the last month or so: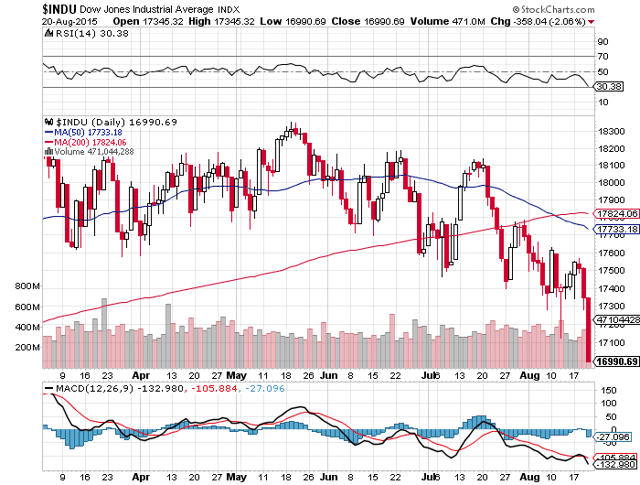 It appears that investors are suddenly ridden with fear over the timing of an interest rate hike as well as over the recent pullback in Chinese equities. Many investors and analysts believe the Federal Reserve is poised to raise rates in September as the U.S. economy shows continued signs of recovery. However, things are not that robust in the U.S. or the global economy and inflation is also missing. Because of this, I doubt there will be a rate hike in September, in which case, the markets could rebound sharply. On the other hand, I also feel the Fed could go ahead and raise rates and the markets might also rally. This is because any rate hike is likely to be a paltry 1/4 point and it is also likely to be accompanied by language that lets the market know any further rate increases will be very minimal and could take a very long time to implement. The hand-wringing over a potential 1/4 point move in interest rates appears to be a case where the bark is much worse than the bite. This means that the fear of a rate hike is probably terribly overblown now. I also think fears about China might be overdone and some analysts agree. A recent CNBC article states:
"I think the markets are overly pessimistic," said Anthony Valeri, investment strategist at LPL Financial. "I think this sentiment is panicking over news from China, the Fed [and] oil at six-year lows."
Here is why I think some investors are overly panicked about China: The iShares China Large Cap ETF (NYSEARCA:FXI) experienced a very strong rally over the past few months, and has now seen a pullback back to the levels it was trading at in November and December of last year. As we know, the world did not end when the Chinese market traded at this level not that long ago; in fact, it was a great buying opportunity. Right now, it is possible that the Chinese market is putting in a technically bullish "double bottom" (see chart below):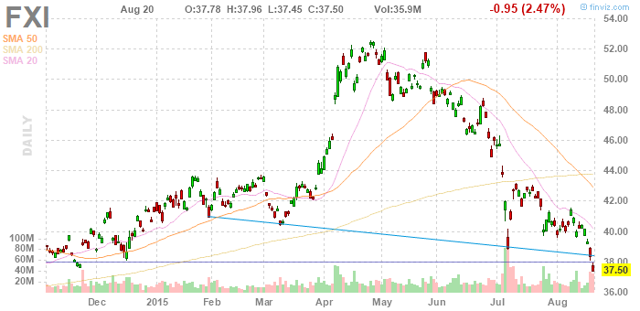 I believe there is too much fear and even some panic selling in the market now. This is evidenced by a huge spike in the Volatility Index (VIX) which has nearly doubled in just the past several days. Typically, it pays to buy when the market is gripped with fears and looses several hundred points in just a couple days. I believe this case will be no different. I was in Europe for many weeks this Summer where I saw numerous "Keep Calm and Carry On" T-shirts. I feel is solid advice for this current market rout. In this case I think cool-headed investors who keep calm and put some cash to work buying stocks that are suddenly much cheaper, will probably be rewarded in the long run.
I don't believe the world is ending nor do I think that the rate increase (if any) will make stocks less attractive. I also think that China will continue to grow and that Chinese stocks will bounce back or at least stabilize soon. With this in mind, it makes sense to be pulling out a shopping list of stocks to buy. Here are a few stocks that have experienced sharp pullbacks making them attractive buying opportunities now:
Genworth Financial (NYSE:GNW) is a stock I recently wrote about in this article. Because of this I will not go into as much detail other than to say this stock looks extremely undervalued at just about 5 times earnings. Investors sold off this stock after the company took a charge for its long term care policies. However, the mortgage insurance business is strong and the company continues to report profits. I also like that the CEO just bought 30,000 shares, another officer bought 15,000 shares and a third officer, Michael S. Laming bought 20,000 shares on August 18, at $5.20 per share. I am not alone in believing that the recent pullback in Genworth represents an extraordinary buying opportunity. The Booth Laird Investment Partnership has a history of deep value stock picks that produce significant gains (including in the insurance industry). Just recently, analysts at this firm released a very bullish investment analysis for Genworth that suggests the current pullback is excessive and that the stock should be worth $16 per share. This analysis provides details as to why Genworth is significantly undervalued and what the catalysts are for a substantial rebound.
Kohl's Corp. (NYSE:KSS) shares were trading for about $64 just a couple weeks ago and now go for around $54 per share. The selloff was due to an earnings miss and the general market pullback. However, as explained in this article the "earnings miss" appears to be primarily due to the delay of a sales tax holiday by a number of states and therefore was not necessarily a fundamental or long lasting issue, but rather a one-time setback. This stock now yields well over 3% and the next quarterly dividend of 45 cents per share is scheduled in September. Kohl's shares now trade for just about 11 times earnings which is cheap when compared to the S&P 500 Index (NYSEARCA:SPY). This stock also looks undervalued when compared to other value oriented retailers. For example, Walmart (NYSE:WMT) is expected to post $4.57 per share in earnings this year (similar to estimates for Kohl's) and yet that stock trades for about $69 per share. Meanwhile, Ross Stores (NASDAQ:ROST) is trading for about $50 per share and is only expected to earn about $2.45 per share this year. This means Kohl's is trading for nearly half the price to earnings ratio that Ross Stores shares currently offer and that is way to much of a disparity.
The Walt Disney Company (NYSE:DIS) has an amazing group of assets and a strong management team. This stock recently hit new 52-week highs of about $122 per share but have since dropped sharply and now trade for just $100, due to a market pullback and an analyst downgrade. The analyst downgrade was based on fears about affiliate fees which is not really a new concern, plus Disney is a well diversified company so fee concerns are overblown in terms of the big picture. Furthermore, the analyst only downgraded the stock to a "market perform" which is not a sell, even though that is what many panicked investors did. Disney is on a roll with a number of box office hits this Summer, plus the next episode of Star Wars will be out later this year. Lost in all this market negativity is the fact that Disney just announced it will build two massive Star Wars themed parks that will be located in Anaheim, California and Florida. I believe Disney shares will rebound as a top growth stock pick because of this company is extremely well managed and also because people want to own stock in companies that they love and believe in. Analysts should not underestimate the power of millions of Star Wars fans (or the Force) who will want to own a piece of this incredible movie franchise and now theme park.
Note: Data sourced from Yahoo Finance.
Disclaimer: No guarantees or representations are made. Hawkinvest is not a registered investment advisor and does not provide specific investment advice. The information is for informational purposes only. You should always consult a financial advisor.
Disclosure: I am/we are long DIS, GNW, KSS.
I wrote this article myself, and it expresses my own opinions. I am not receiving compensation for it (other than from Seeking Alpha). I have no business relationship with any company whose stock is mentioned in this article.