Trying to find a place to invest these days is like trying to find a needle in the haystack. It's getting harder and harder. This week we finally saw capitulation in the U.S. stock market (NYSEARCA:SPY). For months the S&P 500 has been ignoring the crisis in Greece, the selloff in Chinese stocks (NYSEARCA:FXI) and other emerging markets (NYSEARCA:EEM), the collapse in oil (NYSEARCA:USO) and other commodities, a surging U.S. dollar (NYSEARCA:UUP), and an impending Fed rate hike. However, this week the market could not ignore the devaluation of the yuan (NYSEARCA:CYB), a weak NY Empire State Manufacturing Index reading, and dovish FOMC minutes. It turns out that all is not all rosy and investors finally realized it was time to bail out of U.S. stocks. Buying the dip did not work this week.
Where I expect to see more pain is in emerging markets. I think many are discounting the yuan devaluation, but I am not. I see the move by Chinese authorities as a game changer and the ramifications will be felt worldwide. The reason it is such a big deal is that once a country starts devaluing, it keeps going. It's the same with central banks and rate hikes, cuts or QE. Once a central bank starts, more follows. We are already seeing that this week when Kazakhstan allowed its currency the tenge to trade freely. The result was a 23% plunge in the value of the tenge.
Vietnam (NYSEARCA:VNM) also devalued its currency the dong this week. It marked the third time this year that Vietnam has intervened in its currency. Vietnam's actions are especially noteworthy because Vietnam has emerged as competitor to China on the global export market as manufacturers have relocated to Vietnam from China to take advantage of its cheaper labor and lower costs.
The reality is that a currency war is truly happening and none of us know how it will end. I'm afraid that we're going to see another possible redux of the 1997 Asian financial crisis. Over the past year we have seen extreme moves in several currencies. In Malaysia (NYSEARCA:EWM) a year ago US$100,000 got you 310,000 ringgit. Now that same US$100,000 gets you 410,000 ringgit. This is a significant devaluation for a country as developed as Malaysia. I've spent a great deal of time there and it is not a third world country. Its infrastructure is on par with the U.S. and in many areas better. The country has used its oil wealth over the last 10 years to build a thriving metropolis around the capital of Kuala Lumpur.
The problem today in Malaysia is that the morale on the ground is very bad. Most Malaysian citizens are upset with their leader Prime Minister Najib Razak over allegations of corruption. The weak ringgit has hurt exporters and the country's coffers have been hit trying to boost the ringgit and from weak oil prices. The country's national oil company Petronas is not making the money it was a year ago when oil was over $100.
In neighboring Thailand (NYSEARCA:THD), the Thai baht has weakened, but not as bad as the ringgit. The Thai baht has gone from roughly 32 baht to the US dollar to over 35 today. Against the ringgit, the baht has actually strengthened as 1 ringgit is now worth 8.56 baht. A year ago, it was around 10. This is a problem for Thailand as it competes not only in terms of exports, but also as a tourist destination with Malaysia. This is especially true between Bangkok and Kuala Lumpur in terms of shopping malls and getting tourists to spend. Tourists will go where they can get the most for their money and currently that's in Kuala Lumpur. Making things worse for Thailand was the recent bomb scare in Bangkok. Many trips got cancelled as a result and many shoppers will instead go to Malaysia.
In terms of performance, Malaysia has fared the worst with a year-to-date drop of 24%, Thailand down 15%, and Vietnam down 15% as well.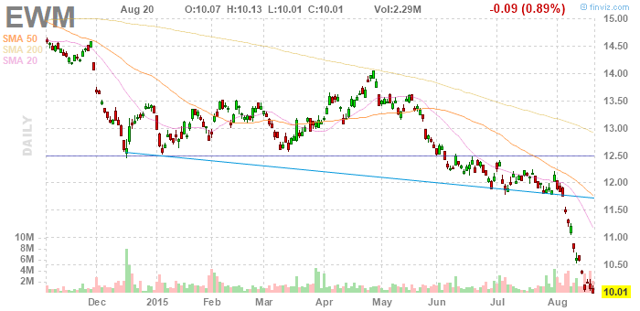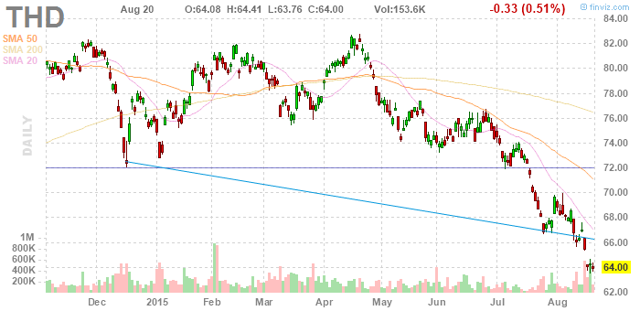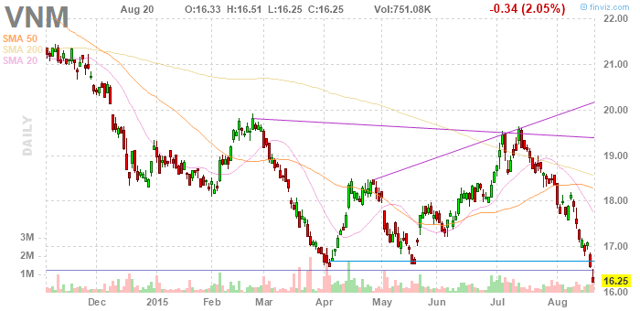 I expect all three markets to continue to drop for several reasons. All three will be affected by the yuan devaluation. All three countries rely heavily on tourism and a weaker yuan already has travel companies concerned that Chinese travelers will cancel trips because of a weaker yuan. I expect Malaysia to continue to be the worst performer of the three as oil prices look set to fall further and political uncertainty remains over the country the longer Prime Minister Najib Razak stays in office. However, with the weaker ringgit and the well-built infrastructure that Malaysia has in place, it looks attractive from a real estate perspective. A U.S dollar cash buyer gets 30% more than a year ago.
The one bright spot in Southeast Asia has been the Philippines (NYSEARCA:EPHE). Its stock market is only down 5% so far this year.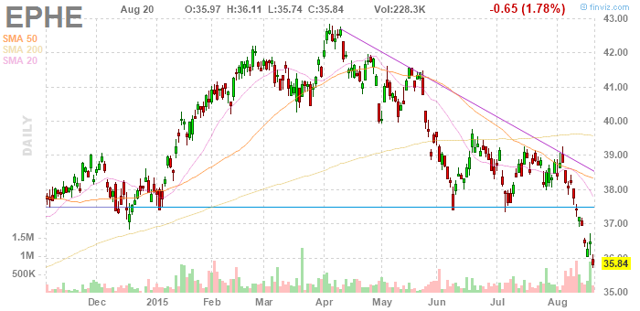 In the last year, the Philippines' economy has proven to be quite resilient. The country benefits from strong domestic spending as overseas workers remit a good portion of their wages back home. Plus the country has benefited from a more stable political environment than Thailand or Malaysia. Because of that, I think the Philippines has been able to attract investment and manufacturers that might have considered Thailand, Vietnam or Malaysia. Remember Vietnam is still communist and the Philippines benefits because English is an official language.
Bottom line
I still see further weakness in these four Southeast Asian economies and their stock markets. However, I think the Philippines will hold up better than the other three. I see another currency war developing and it will be especially hard on countries that rely on exports and compete with China. Investors will want to avoid investing in Thailand, Vietnam, Malaysia, and Philippines in the short term.
Disclosure: I/we have no positions in any stocks mentioned, and no plans to initiate any positions within the next 72 hours.
I wrote this article myself, and it expresses my own opinions. I am not receiving compensation for it (other than from Seeking Alpha). I have no business relationship with any company whose stock is mentioned in this article.