This Friday marked one of the largest single day declines in the equity markets in the past 18 months, and posted its largest weekly decline since 2011.
For the week, here are the numbers.
| | | | |
| --- | --- | --- | --- |
| | Close | Gain/Loss | On Week |
| Dow | 16459.75 | -3.12% | -5.82% |
| Nasdaq | 4706.03 | -3.52% | -6.78% |
| S&P | 1970.89 | -3.19% | -5.77% |
Many pundits are attributing this stock market decline to China's recent Yuan devaluation. They claim this will make American products more expensive, and thereby reducing company sales and profits. The reason I disagree with this assessment is because of past price movements in the commodities market.
Contrary to popular belief, the commodities market crash did not start this year, it actually started to crash in 2013. In 2013, the price of gold declined by 28 percent, and the price of silver declined by 36 percent. In 2014, the price of oil declined by 44 percent, while Copper also declined rapidly in 2014.
Now personally, I am a copper bear because of the sluggish economy, and this sluggish economy will lead to a decrease in demand for copper. But my main point isn't to argue whether copper will be a good investment or not, but that the commodities market as a whole has been declining due to the expectations of a Fed rate hike. Now I am not saying that's the only reason, but in my opinion, a future Fed rate hike does play a large part in the reasons the commodities market as a whole has crashed.
It's not just the commodities market that has declined due to the expectations of a Fed rate hike. The emerging markets capital flows have also declined because of the expectations of a fed rate hike. In the year 2014, private sector capital flows to the emerging markets declined by $1.1 trillion dollars, and now the emerging markets are experiencing their largest outflows since 2009.
With all these markets declining based upon the expectations of a future Fed rate hike, it's only natural that the stock market start its decline as well. Especially since the US stock market has benefited the most from the Fed's QE, and zero interest rate policy (ZIRP).
But what most people fail to understand about this bull run in stocks, is that this bull market was artificial in nature. None of the bull market was generated by real organic economic growth. This recent Bull Market was fueled by QE and zero interest rates, which made debt cheap. What companies did since debt became cheap in 2009, was issue debt (which is now at record levels) and then used the money that was raised by issuing debt, to purchase company stock, thus reducing its share count. Take a look at this chart below.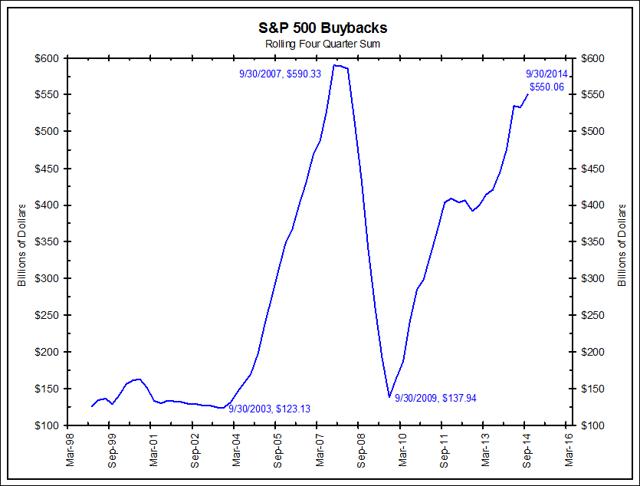 Chart bought to you by fortune.com
These actions have created a misallocation of capital within the markets, and formed one of the largest stock market bubbles in history; in fact, it may be the largest. If the Fed were to normalize rates, those share buy-backs would quickly turn to share issuances as a means to raise cash, and pay down debt. The earnings would then tank due to the large increase in the number of shares trading on the market, and then the value of the shares would decline rapidly.
Officially we are in correction mode when it comes to the stock market. If the Fed were to follow through on their promise to try and normalize rates, the market would go from correction mode to crash mode, and all those large green numbers in one's brokerage account, will then turn into large red numbers.
This is why I don't believe the Fed will normalize rates. They may try to attempt a rate hike as a symbol of the economic recovery taking place, but we are already seeing the effects of what the mere talks of raising interest rates are doing. Imagine what will happen if they actually raised rates. Do you think the Fed would let the market crash again?
Disclosure: I/we have no positions in any stocks mentioned, and no plans to initiate any positions within the next 72 hours.
I wrote this article myself, and it expresses my own opinions. I am not receiving compensation for it (other than from Seeking Alpha). I have no business relationship with any company whose stock is mentioned in this article.