The current sell-off in the S&P 500 is making investors wonder if this may become more than a correction, and could mark the top of the current six-year bull market.
Technically, it isn't a correction yet for the S&P500 index since it is only about 7.5% down from its May 20 peak of 2134. However, the Dow Jones Industrial Average is in correction territory and the Nasdaq Composite is close at 9.6% down.
We are seeing the index slowing down, and moving sideways. Some factors for the decline could be seasonal with lower volume trading moving the market more than regular. Concerns about the Chinese stock market can also sour market sentiment here even if the effects are contained in the China market.
To get a handle on the current strength of the market, there is one indicator that sheds light on its relative value. It's basically the market capitalization of corporate equity to the US GDP. Just like investors use a price/earnings ratio (NYSE:PE) to get a feel for the relative value for a stock, this indicator gauges the overall market value by taking a proxy value for corporate equities as a whole and dividing it by the gross domestic product, which in this case is like the "earnings" of the whole US. Here's the chart from the Federal Reserve Bank of St. Louis website.
Corporate Equities vs GDP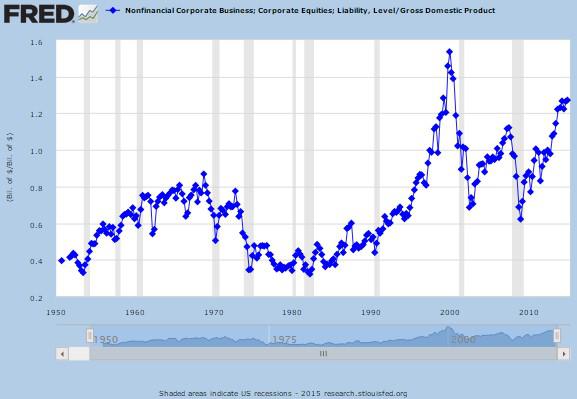 Source: Federal Reserve Bank of St. Louis FRED graph
For example, the S&P 500 has been pretty much rising since 2009 following the GFC, and six years is a long time for a bull market. Some have lasted longer, but even after all the gain, is it expensive or overvalued? The chart below shows the "Corporate Equities vs GDP" indicator as a ratio of how many times bigger the stock market proxy value is versus GDP. A "1" indicates they are equal, and a reading of 1.2, let's say, means the corporate equity is 20% greater than the GDP. Likewise, a reading of 0.8 means the market's "price" is only 80% of the GDP.
Basically, over 1 means increasing overvaluation and less than 1 means undervaluation.
Some investors may have seen this before, but is more widely known as the indicator investing legend Warren Buffett considers the best gauge of the US market's overall value. For a value investor who likes to buy dollars for fifty cents, this indicator gives him a rough idea of when the market is overbought and frothy.
You can see the big peak of the 1999-2000 dotcom boom and subsequent tech wreck, when little internet companies with no real earnings were getting ludicrous market valuations based on what they could "potentially" do.
Consequently, the market drank the kool-aid and kept buying these internet hopefuls to the skies. The indicator followed by rising to 1.5 or fifty percent higher than what the country was producing. The indicator went above 1 in early 1998, and hit the peak two years later in early 2000.
Just because the indicator went above 1, doesn't mean an market crash is imminent. Seasoned investors like Buffett had a warning sign, so they probably pulled back from the market. By the end of 2000, the S&P 500 sold off hard and the indicator was back to 1. The market decline kept on going until it hit a bottom in July 2002, 42% down from the 2000 peak.
That indicator low would have been a great place to start buying stocks cheaply since the next bull market started then. It didn't stop rising until late 2007 when the housing boom and sub-prime lending brought on the global financial crisis.
Once again the indicator topped 1, but this time rolled over around 1.1. It bottomed out in early 2009, and this was when Buffett and other big investors waded into the market, and bought quality stocks 40%-60% down.
Fast forward to now when the indicator is once more in "overvalued" territory at 1.2. Does this mean a bear market is coming? Not 100%. The market does need to let off some pressure after such a long bull market run. We'll have to wait and see, but earlier precedents tell us to watch out and don't be surprised.
There may be just a simple 10% correction for now, yet one important thing is to not panic when markets sell off. Be forewarned, and have a shopping list ready of quality stocks that you would love to buy at a discount so in case the market does rollover, you will be more focused on buying than selling off in fear.
Starbucks a good stock if the market sells off
One of my top 5 favorites in a market sell-off would have to be Starbucks (NASDAQ:SBUX). Starbucks is a financially strong and well-established company that regularly has above average earnings growth.
Starbucks has grown annual earnings in the high teens on average. Despite having more than 12,200 café stores in North America and more internationally, the company hasn't slowed down. It is focused on giving coffee lovers the same service and relaxed store setting that has made it famous for 20 years now.
Also, the company continues to innovate the business. For example, customers in some urban areas can use the Starbucks mobile app to order and even pay so that their waiting time in the store is reduced. Starbucks is even starting home and office delivery for loyal customers who can't make it to the store. That shows how strong the brand is.
Currently, the stock is $52.84, 10% down since early August. It's trading at 28 times forward earnings. Analysts forecast the coffee store giant will continue growing earnings in the high teens annually for the next several years. Although the price seems a little towards the high end, for a consistently high earnings grower, this pullback makes Starbucks look good. I'd like it more if it at least fell back and found support around $50.
Disclosure: I/we have no positions in any stocks mentioned, and no plans to initiate any positions within the next 72 hours.
I wrote this article myself, and it expresses my own opinions. I am not receiving compensation for it (other than from Seeking Alpha). I have no business relationship with any company whose stock is mentioned in this article.