Recent Economic Outlook for Corn
The end of June and the first half of July saw a large increase in the price of corn as prices rose from $3.64 per bushel on June 19th to $4.31 on July 15th. The USDA released its World Agricultural Supply and Demand Estimates (WASDE) report on July 10th indicating higher US and world production for the current year. Since then, the August WASDE report was released and prices have fallen back to around $3.65.
The chart below shows the performance of the September futures contract during the past 3 months.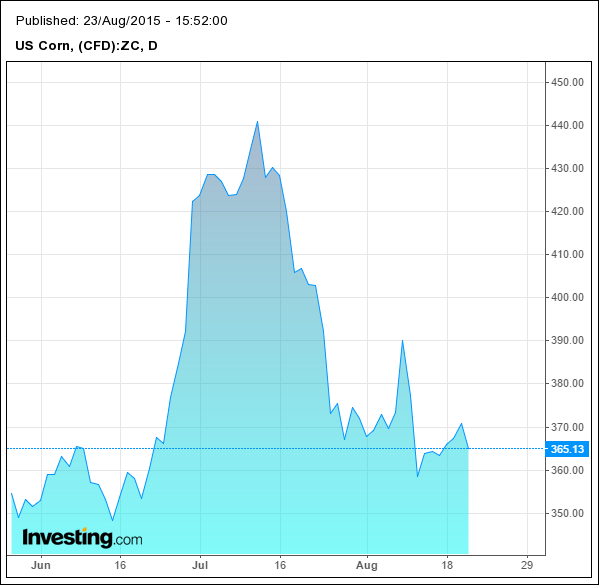 There were several economic factors outlined in the August WASDE report that drove corn prices lower:
A stronger dollar is expected to lower corn exports
Increased production from Brazil and Argentina will also hurt US exports
End of year corn stocks are projected to be higher, which is bearish for corn prices
That seems like pretty good news for chicken producers but there are also reports that the corn crop might not be as good as the USDA expects.
In a report by Bloomberg, data provided by Descartes Labs examines the corn crop through infrared imagery indicating a lower corn crop than the USDA projection and last year's crop. The report notes higher rainfall in key Midwest states is expected to lower the yield per acre.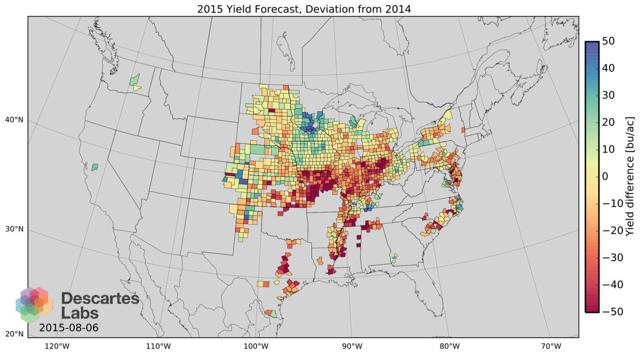 The market continues to expect corn prices to rise
The chart below shows a comparison of the corn futures curve from a year ago to where it is today. The market expected prices to rise considerably more than they have. The September 2015 contract was priced near $4.05 a year ago (red line) but today is priced at $3.65 (blue line). This is a positive for chicken producers as the longer the corn price remains low, the longer producers benefit from increased profitability. The curve indicates corn prices are expected to be 8% higher a year from now. This is part of the reason for the short interest in Pilgrim's Pride (NYSE:PPC) and Sanderson Farms (NASDAQ:SAFM) because as corn prices rise, profit margins will decrease, holding everything else constant.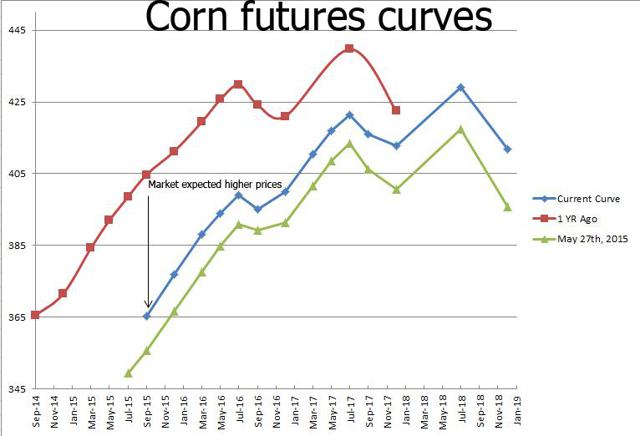 The Decision to Hedge
It appears none of the chicken producers have locked in corn prices through futures contracts despite the favorable prices. SAFM management provided some guidance on their most recent call on the cost savings assuming they had priced the remaining corn supply needs on May 27th, the day before the call.
"Given where future prices closed yesterday on the Chicago Board of Trade, had we priced all of our needs to the end of the fiscal year yesterday's close, cash corn and soybean meal prices during fiscal 2015 would be $156 million lower than a year ago." - Joe Sanderson, Q2 Earnings Call
I added the May 27th futures curve to the chart above to show where it was compared to now. Futures prices have risen since then so the cost guidance below will be at risk if prices were to continue to rise.
"These lower costs would translate into a saving of almost $4.05 per pound of chicken for the year." - Joe Sanderson, Q2 Earnings Call
Neither Pilgrim's Pride or Tyson (NYSE:TSN) have substantially hedged their exposure to corn either. Based on PPC's most recent 10-Q, only 2.3% of their corn supply through March of 2017 has been covered through derivative contracts. Tyson only had 1 million bushels of corn hedged at the end of June.
What this tells us about PPC, SAFM, and TSN
Since none of the chicken producers have hedged their corn costs, they are either indifferent to hedging or believe corn costs will remain low for longer. Sanderson stated on the call that they are not "locked in" but that they are paying more attention to the corn market to take advantage of short term volatility in pricing.
So why not buy corn now and store it? The temperature and moisture determines how long corn grain can be stored. This chart provides a good indication of corn storage life under varying conditions.
Conclusion
There are some serious headwinds to a rise in corn prices. The overall commodities market continues to struggle as a worldwide deflationary environment looms. In the meantime, the Fed is considering raising interest rates by the end of the year, which would further strengthen the dollar and make it more difficult for corn exports. It is not unreasonable to expect the futures market to be wrong again and corn prices to remain flat into next year to the benefit of chicken producers.
Disclosure: I/we have no positions in any stocks mentioned, and no plans to initiate any positions within the next 72 hours.
I wrote this article myself, and it expresses my own opinions. I am not receiving compensation for it (other than from Seeking Alpha). I have no business relationship with any company whose stock is mentioned in this article.