The iShares Nasdaq Biotechnology Index (NASDAQ:IBB) is down 16% from its recent (and all-time) high on July 20, 2015. There's blood in the Street! Well, not really. In fact, this mini-bear market in biotech has been rather tame in comparison to historic pullbacks. Recall, the IBB dropped by 33% (see chart below) from previous all-time highs in February 2014 until it found a bottom two months later in April 2014. The index was back to setting new all-time highs by the end of September 2014. The SPDR S&P Biotech ETF (NYSEARCA:XBI), a far more eclectic index than the large-cap focused IBB, has also seen a meaningful pullback in this mini-bio-bear market. The XBI peaked similarly on July 20, 2015, and is down some 28% over the past month. The more severe bio-bear market in 2014 took the XBI down 37% until it bottomed and then started to recover.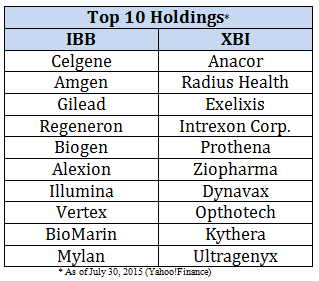 I don't know where the IBB is heading over the next few months. Let's get that out of the way right now - I'm not a market timer. I'm a fundamentals guy who picks stocks based on solid science, clear catalysts, attractive valuation, and a little bit of "wow factor" to the story. If anyone is interested in learning more about my process, you can read my "5 C's of Biotech Investing" on my personal blog. That being said, pullbacks in the IBB or XBI are quite common. Over the past three years there have been six pullbacks greater than 10% in the IBB. Even still, the index is up 159% over the same time period.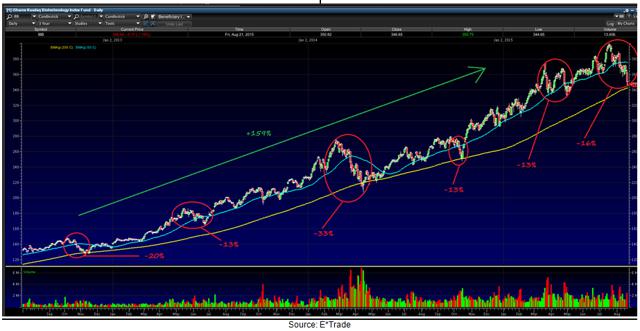 Given the fact that pullbacks like this are common, many investors have been asking me what names I believe are attractive right now. For the purpose of this article, I'll throw out several ideas that I think are good stocks to take a look at, and potentially buy, based on this pullback. However, investors need to fully understand, we're only down 16% from the high - we could easily have another 10% or 20% pullback and it would still be considered "normal" in the context of the multi-year biotech bull market.
InVivo Therapeutics (NASDAQ:NVIV): Earlier in the month, I wrote an article on InVivo Therapeutics (at $12.50 / share) saying that I believed the shares are worth double what they are currently trading at. So far, not so good - I'm down 25% over the past ten days. Nothing fundamentally has changed for InVivo since the shares hit a high of nearly $18 in June 2015. All three patients in the company's pilot study with the Neural Spinal Scaffolding (NSS) are doing exceptionally well, with two of the three patients (patient #1 and #3) having demonstrated enough improvement to move from "A" on the American Spinal Injury Association Impairment Scale (AIS) to "C" for patient #1 and "B" for patient #2. I encourage investors to view my article because it seems highly unlikely that these improvements in sensory and motor function are due to chance - less than 1% actually. Last week, the company announced that the fourth patient has been enrolled in the pilot study, which sets up another potential catalyst and opportunity to impress investors in roughly 35-40 days. Also last week, the CEO appeared on Fox Business with Maria Bartiromo. I believe his comments added credibility to the story. InVivo is one of my top picks right now.
Cynapsus Therapeutics (NASDAQ:CYNA): Now Nasdaq-listed Cynapsus is another of my top-picks. The company is progressing in its Phase 3 trial with APL-130277 for the acute rescue of OFF motor symptoms of patients with Parkinson's disease (PD-OFF). I think the stock looks like a big potential winner, and I'm not the only one who thinks that to be the case. A lot of really smart healthcare funds are loaded-up in Cynapsus. The major institutional holding list as of June 30, 2015, shows some big players with sizable stakes in the name. My article outlines why I believe APL-130277 is a better option for the treatment of PD-OFF than the current standard of care, subcutaneous apomorphine or its next-nearest competitor, Acorda's inhaled levodopa also in Phase 3 trials. I think APL-130277 has peak U.S. sales potential of nearly $700 million. The company has over $111 million in cash as of June 30 and the current Phase 3 trial, which should offer data next year, looks low-risk / high-reward in my view. I think Cynapsus is worth $30 per share, another potential double.
ADMA Biologics (NASDAQ:ADMA): Unlike InVivo and Cynapsus, I'm not calling for ADMA shares to double in the next year… I'm calling for them to triple! ADMA is developing RI-002, a plasma-derived intravenous immunoglobulin (IVIG) for the treatment and prevention of certain infectious diseases in Primary Immunodeficiency Disease (PIDD) patients. RI-002 contains high levels of standardized RSV antibody titers via a selective and proprietary donor screening process that differentiates the drug from other commercially available IVIG products. I believe that RI-002 will offer a superior treatment option for a subset of patients with PIDD, and other immunocompromised or immunosuppressed patient groups at high-risk for infections. The company already reported positive Phase 3 data with RI-002 back in December 2014, and just recently filed the biologic license application (BLA) seeking approval of the drug. I think, assuming the application is accepted, this sets up a major potential catalyst for the shares around the middle of 2016 when U.S. FDA approval is likely to happen. I peg the peak sales estimate for RI-002 at $545 million in the U.S., which I believe makes ADMA a clear take-out target by larger players in the IVIG space such as Baxter International Inc., Biotest AG, CSL Behring, Octapharma AG, Kedrion SpA, and Grifols, S.A. My DCF model pegs fair-value for ADMA at $23 / share.
Corbus Pharmaceuticals (NASDAQ:CRBP): The past few weeks have been fairly interesting for Corbus. In late July 2015, the company announced a call of almost all outstanding warrants, a transaction that, along with voluntary exercising, pulled in $11.3 million in cash so far in 2015. One would think this is good news, but Corbus shares got hit pretty hard on the news, dropping from roughly $3 per share to a low of $1.80. I believe fundamentals at Corbus are solid, so I wrote an article outlining why I believe Resunab has meaningful potential in three active Phase 2 programs - cystic fibrosis, dermatomyositis, and systemic sclerosis. For example, I think there is a lot to be excited about at Corbus. Resunab has been grated Orphan Drug designation and Fast Track status for systemic sclerosis, the company secured $5 million in funding from the Cystic Fibrosis Foundation for the Phase 2 cystic fibrosis trial, and the Phase 2 dermatomyositis trial is being funded by an NIH grant. Resunab is a drug with broad anti-inflammatory characteristics that I believe could be a meaningful replacement for high-dose steroids. Peak sales potential of the drug, if all three indications eventually gain approval, is easily in the billions. The capital structure is clean, there's plenty of cash, and management has done an excellent job to date (as evidenced by all the links provided above). Catalysts on Corbus are admittedly far out, but at today's price this looks like an excellent long-term play.
Neuralstem (NYSEMKT:CUR): Neuralstem has had a significant pullback from the highs of 2014 when the market believed the company's human neural stem cells were a potential blockbuster treatment for ALS. Fast forward to the release of top-line data from the Phase 2a study in March 2015 and the shares have been in a steady decline ever since. I admit the top-line data was not as impressive as I had hoped, but today's stock price looks far too much like doom-and-gloom for the company and that's just not the case. I do believe that there is a place for NSI-566 in the treatment of ALS. The company will report full data from the Phase 2 study in the next few months. I think the key for management here is to convince investors the company can do a better job in selecting the right patients for the next ALS trial, because based on the available Phase 2a data it seems clear that there is a responder / non-responder phenomenon going on. However, investors seem to be ignoring two other meaningful potential drivers at Neuralstem. The first is the current pilot study with NSI-566 in the treatment of chronic spinal cord injury and the second is small-molecule NSI-189 for the treatment of cognitive disorders and depression. My article from July 2015 highlights why I believe NSI-566 could be a viable option for patients with severe spinal cord injury. Recall, this is only a four patient trial, but anecdotal evidence from two of the four patients on social media and through news outlets has been highly encouraging. With NSI-189, the company should get underway in two clinical studies by the end of the year, which sets up big potential catalysts for the stock in 2016.
Pieris Pharmaceuticals (NASDAQ:PIRS): I'm usually not a platform guy. I like fundamentals I can quantify, and early-stage platforms seem more pie-in-the-sky type stuff. That being said, I love Pieris platform. The company is developing a novel class of biological compounds called Anticalins. Anticalins are a class of low molecular weight therapeutic proteins derived from lipocalins, naturally occurring low molecular weight human proteins typically found in plasma and other body fluids. Lipocalins are quite similar to antibodies in that both compounds have variable loop regions supported by a rigid framework. However, lipocalins cannot naturally undergo the somatic hypermutations that confer antibodies with virtually unlimited binding capabilities, a property that has been utilized by biopharmaceutical companies to create some of the top selling medications in the world. In an effort to exploit the natural similarities between lipocalins and antibodies, Pieris scientists have developed a new class of novel, engineered lipocalins with unique binding specificities through the use of combinatorial biochemistry. The resulting anticalins are smaller, easier to manipulate, easier to produce, easier to tune with respect to pharmacokinetics, and easier to deliver. Piers has a number of candidates advancing through early-stage development, including PRS-080 for iron deficiency in patients with anemia, PRS-060 for the treatment of asthma, and PRS-343 for the treatment of various cancers. Pieris has signed several corporate partnerships to date with companies such as Daiichi Sankyo, Zydus, Stelis, Sanofi-Aventis, and Allergan. I believe as these candidates advance in clinical testing the true value of Pieris Anticalin platform will become known to investors and potential partners, and the upside in the story is tremendous.
Pozen (NASDAQ:POZN): A successful specialty pharmaceutical story can be a quite lucrative investment. This statement is backed up by the success of names such as Depomed (+417% over the last 3 years) and Horizon Pharma (+361% over the last 3 years). I believe Pozen, and acquisition target Tribute Pharmaceuticals (OTCQX:TBUFF), has the potential to provide this type of upside given the very similar business model and impressive new management in charge of the combined company. Near-term, the key to Pozen's stock is resolving the manufacturing issues that are holding up the re-filing of the Yosprala new drug application (NDA). According to the most recent update, the third-party API supplier of the key aspirin component in Yosprala is working through the deficiencies noted in the FDA's complete response letter and Form 483 inspection deficiency letter received earlier in the year. Pozen expects that the manufacturer will work through these issues at an expeditious enough rate so that approval and commercialization can come in 2016. Pozen, or Aralez Pharmaceuticals as it will be called, is an attractive long-term play, so investors need to understand it is a very different stock than the traditional binary-event biotech name, but we like the story and the potential upside here is meaningful.
Neurocrine Bio (NASDAQ:NBIX): Neurocrine Biosciences stock has done very well over the past two years, up a solid 222%. Neurocrine has also held strong in the recent bio-bear market, perhaps because the company has so many pending catalysts in the second half of the year. These include Phase 3 data in tardive dyskinesia and Phase 1/2 data in Tourette syndrome with NBI-98854, Phase 3 data in endometriosis and Phase 2b data in uterine fibroids with elagolix, and Phase 1/2 data with NBI-77860 in congenital adrenal hyperplasia. I've long stated that elagolix looks like a blockbuster drug for commercial partner AbbVie (NYSE:ABBV). The original partnership with AbbVie dates back to June 2010. AbbVie made an upfront payment of $75 million to Neurocrine, but also committed to an additional $480 million in development and regulatory-based milestone payments. To date, Neurocrine has $450 million of those $480 million milestone still on the table! There is also another $50 million in sales-related milestones the company can earn. I think as the market gets more comfortable with the fact that elagolix will get approved, based on the success of the Phase 3 endometriosis and Phase 2b uterine fibroids trial, those $450 million in milestones will start to be reflected in Neurocrine's stock price. With NBI-98854, one needs to look no further than Teva's $3.2 billion acquisition of Auspex Pharma as a clear roadmap for what Neurocrine's NBI-98854 (valbenazine) could be worth with successful Phase 3 data in TD and Phase 1/2 data in TS. If Neurocrine goes five-for-five, that is five positive results in the next few months, this stock could easily double, or even eclipse $100 per share.
Bluebird Bio (NASDAQ:BLUE): Bluebird Bio is a gene therapy company designing "one time" treatment options for patients with severe genetic rare diseases and cancer. Gene therapy aims to provide a functioning copy of a defective gene through the use of Lentiviral vectors. More on the company's technology can be learned by watching this simple video on YouTube. It's an impressive platform and a potential breakthrough technology for severe genetic and rare diseases. The key areas of focus for the company are in the treatment of beta-thalassemia, sickle-cell anemia, and childhood cerebral adrenoleukodystrophy. The company also has a focus on oncology that leverages T cell based immuno-oncology development against multiple novel targets in both hematologic malignancies and solid tumors. The key oncology partnership is with Celgene, and preclinical candidate bb2121 that targets B cell maturation antigen. Bluebird also has a partnership with Kite Pharma (NASDAQ:KITE) focused on second-generation T cell receptor (TCR) therapies in HPV-associated cancers, and a license agreement with Five Prime Therapeutics around chimeric antigen receptor (CAR) T cell therapies. Bluebird's stock has been on fire the past year. It peaked at nearly $200 per share earlier in May 2015, ignited by news dating back to December 2014 that the company effectively cured the first four patients in its Phase 1/2 Northstar study. In February 2015, the U.S. FDA granted the company Breakthrough Therapy designation on the backs of the impressive data. Since May, the stock has been on a steady decline and I see today as a very attractive entry point for investors. It was data at the American Society of Hematology (ASH) meeting last December that ignited the spark in the shares. Since that time, "the results keep getting better". I expect the company to have an update on beta-thalassemia and sickle-cell anemia patients at ASH in early December 2015. That's a major catalyst coming and I think the name is a great core-holding in the industry.
Juno Therapeutics (NASDAQ:JUNO): For my last name, I'm piggy-backing off an idea by one of the best biotech investors and smartest guys I know, Brad Loncar. Brad runs the Loncar Cancer Immunotherapy Index (LCINDX), a basket of biotech stocks that seeks to track the performance of the immuno-oncology space. Key names in the index include Celgene, Newlink Genetics, Amgen, Pfizer, Novartis, Kite, Ziopharma, and Juno Therapeutics. Brad likes Juno because they recently signed a major collaboration agreement with oncology-giant Celgene. I agree with Brad; this is a fantastic validator of the platform and should be highly lucrative for both companies. But Juno also has one heck of an impressive pipeline. If you want to play CAR or CAR T, and you should, then Juno is a must-own. The pipeline is packed with catalysts and they have over $1.3 billion in cash on hand. Juno has all five "C's" that I look for in a solid biotech investment. The biotech analyst at FBR just initiated coverage last week and thinks the shares could double. I've been waiting and watching Juno for over a year now. The stock nearly hit $70 per share back in June 2015. I just bought it last week at $37.75, down 45% from the summer euphoria and almost exactly where the stock started trading after the IPO in December 2014. I like my chances.

Final Thoughts
It's been a rough past few weeks for biotech investors. My screen has been mostly red and I do not know if the worst has past or is still yet to come. What I do know is that I'm a very patient investor in biotech companies. I look for companies with positive changing fundamentals and make sure they have the right management in place to create value. I'm also keenly focused on cash and capital structure, because when I'm wrong it is often because of bafflingly bad management decisions or horrible capital structure. That being said, I'm using this bio-bear market as an opportunity to add-to and build a position in some solid names. I'm hoping this basket approach will reduce risk and end up rewarding me over the next 12-18 months.
Disclosure: I am/we are long NVIV, BLUE, JUNO, CUR.
I wrote this article myself, and it expresses my own opinions. I am not receiving compensation for it (other than from Seeking Alpha). I have no business relationship with any company whose stock is mentioned in this article.
Additional disclosure: I am looking to add CYNA, CRBP, PIRS, NBIX, POZN
Editor's Note: This article covers one or more stocks trading at less than $1 per share and/or with less than a $100 million market cap. Please be aware of the risks associated with these stocks.