AOL has good Q4 results, which caused the stock to rally approximately 12%, and the company currently trades at 0.8x book. In a sector where some stocks tied to advertising are commanding lofty valuations, with Facebook potentially exacerbating this trend, AOL may be being left out. Indeed, on closer inspection the picture is not quite so rosy with AOL; the company's subscription business will continue to be a drag on the stock, and though AOL is extremely cheap on a long-term basis, those expecting growth to resume strongly in 2012 may be disappointed.
Nonetheless, AOL has a positive long-term trajectory and valuation support, and may make a sensible addition to a long-term, value-oriented investor's portfolio. This is because on a cash-flow basis, AOL appears to be trading at half the multiple of stocks in the same sector; once AOL tilts its business more toward advertising, which seems just a function of time given current growth rates, the stock should re-rate.
A tale of two segments
AOL fundamentally has two businesses with quite different stories. Subscriptions are declining, but becoming an ever smaller part of the business. The company's advertising business is both innovative and growing.
Subscriptions are clearly in decline
Subscription revenue has been in decline due to customers leaving AOL in droves (see chart below) and AOL dropping prices to try and keep them. Despite this continual decline, subscriptions are still 42% of revenues, and if you include other revenue and contextual ads, which are correlated with the number of subscribers AOL has, the share increases to 57% of revenues. This correlation occurs because a lot of contextual ads are served to AOL subscribers.
AOL subscribers in 1,000s
Advertising holds real promise
Online advertising is a cyclical business, but has the potential of being a growth engine for AOL. Digital advertising is forecast to rise 16% globally in 2012. This is because advertising generally will increase, but online advertising will grow share against more traditional forms of advertising such as print, radio and TV.
AOL Trailing 12-Month Advertising Revenue In $1,000s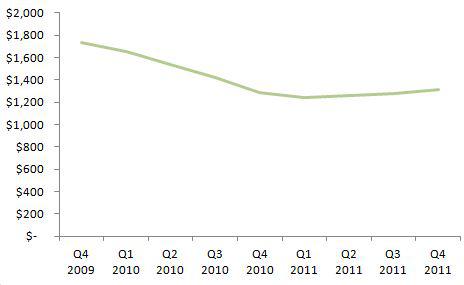 A question of revenue share and growth rates
Ultimately the question is at what point AOL's growth in advertising more than offsets the decline in the subscription business. From that perspective, Q4 is generally a bad quarter to look at, because advertising is seasonally higher in Q4 relative to subscription revenue, which displays less of a seasonal pattern. Therefore, the ratio of ad revenue to subscription revenue is higher in Q4 than in other quarters. As a result, AOL will generally show a more positive growth rate in Q4, than for the remainder of the year given the greater weighting of advertising in that quarter.
Below is a back of the envelop calculation of growth rates to explain the components of AOL's revenue growth:
| | | | |
| --- | --- | --- | --- |
| Segment | % of 2011 revenue | Growth rate for 2012 | Contribution to overall growth |
| Subscriptions and other | 40.3% | -15% | -6.0% |
| Search and contextual | 16.2% | -15% | -2.4% |
| Display and 3rd party advertising | 43.4% | 16% | +6.9% |
| Total | 100% | | -1.5% |
Assumptions
15% decline in subscriptions is about the current run rate, though historically it has been worse. 16% online advertising growth is based on third-party forecasts. I assume search and display growth mirrors subscriber growth based on historical trends and the assumption that most people going to the AOL site are AOL subscribers.
You can see that even though advertising is growing, decline in subscriptions (and thereby a decline in subscribers viewing search ads) may offset the advertising growth. However, by the same logic, 2013 should show growth, with an acceleration in AOL's growth thereafter, as the slow-growing subscription business gets increasingly smaller and the advertising business increasingly larger.
Beyond growth rates to valuation
However, growth rates are not the full story, knowing that the business will return to growth is encouraging, but what is a fair assessment of the business currently?
AOL has $296M of net debt.
| | |
| --- | --- |
| Net Income (FY2011) | +$13M |
| Add back Depreciation & Amortization | +$253M |
| Deduct capex and principal payments on capital leases | -$110M |
| Resulting cashflow | +$156M |
If we deduct the $296M of cash from AOL's market cap, we have $1.43B and assuming $156M of cashflow, that is a 9.2x cashflow multiple. This suggests that although AOL looks extremely expensive on a P/E basis, it's cashflow is much stronger than its earnings suggest. The fact that AOL is trading at 0.8x book also supports this intuition, though a lot of the book value hangs on intangible goodwill from acquisitions, which represent 47% of shareholders' equity.
Comparable online advertising companies
AOL is cheap relative to comparable online advertising companies, this is due to it's subscription business which deserves a low multiple, but as that becomes a shrinking proportion of the business, the stock should command a higher multiple.
| | |
| --- | --- |
| Company | Multiple market cap less cash to free cashflow |
| AOL | 9.2x |
| Google (GOOG) | 19.7x |
| Yahoo (YHOO) | 17.6x |
Source: Author's analysis using (market cap - cash)/(net income +D&A - capex), Data source: Google finance
Other risks and opportunities:
Further acquisitions - With cash on its balance sheet, AOL may continue to make acquisitions, as seen in its decision to acquire The Huffington Post for just under $300M in March 2011. Generally, I would consider acquisitions a negative for the stock.
Buybacks - AOL announced last August that it had authorization to buy back up to $250M of stock; $72M remains on this purchase authorization as of the company's last report. AOL's enthusiasm for buybacks is a positive for shareholders.
Patch - Patch came to AOL through an acquisition, and AOL has scaled the initiative to offer very local community-based sites at scale (example here). The idea is innovative, but the profitability is as yet unproven.
The bear case
The bear case on AOL is that it still appears extremely expensive on a P/E basis and though advertising is improving, overall revenue is in decline. The business has also been overly acquisitive, arguably overpaying, and organic growth is likely much lower than the current advertising trajectory suggests, bolstered by acquisitions such as The Huffington Post. In addition, AOL pays no dividend and share buybacks are discretionary.
What to do with the stock
AOL also has a relatively unattractive subscription business, representing almost half of its revenues, which justifies a lower rating right now. But that should change, over time AOL will look more like a pure-play advertising company and less like a subscription business, and the stock should be re-rated. As a result, the stock could double over the longer term - a $35 stock price in 2014 is conceivable, based on comparable multiples from peers. Expected strong growth in online advertising this year should help the stock, as may continuing stock buy backs, though revenue growth is unlikely to emerge on a year-on-year basis until 2013.
AOL represents a good long-term opportunity to play this re-rating, as it moves towards a "pure" online advertising stock and growth accelerates. However, those looking for a complete turnaround in 2012 based on the recent Q4 results will be disappointed, given the seasonality in the business.
Disclosure: I am long AOL.
Additional disclosure: In addition to being long AOL, I have a short-term covered call position, which caps my upside from the stock at certain levels until mid-February 2012.