The U.S. stock market suffered a rough week last week, with most of the high fliers and market leaders taking a haircut and a shave. In this article I offer three stocks that have been holding up well for fundamental reasons that appear likely to continue to provide support regardless of general market conditions. I urge investors to do their own research in deciding if any of these stocks are suitable for their own investment selection.
ULTA Salon, Cosmetics & Fragrance, Inc. (NASDAQ:ULTA) sells beauty products and salon services. The company has a four prong strategy to fuel its growth: offer customers one stop shopping; increase online sales; increase same-store sales; and expand the store network. I wrote about the ULTA strategy in this article.
ULTA offers customers the broadest menu of beauty products and services among its competitors and covers all price points. It retains customers by providing excellent customer service, a generous loyalty program, stores with easy access in strip malls and continuously updating their product offerings. ULTA continues to duplicate its successful formula across the U.S. as it rolls out new stores that turn a profit in a remarkable two years or less.
Last Friday, as the market tanked, ULTA took a 5% haircut in its stock price, but the drop was to strong support at the 50 day MA.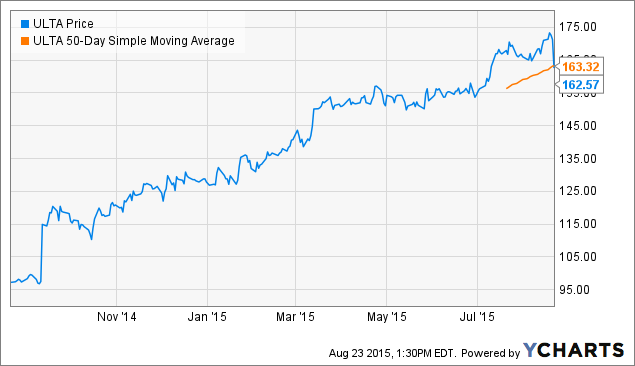 ULTA data by YCharts
ULTA by the numbers is impressive. Revenues, Gross Profit Margin, Book Value, EPS, and retained earnings continue to rise.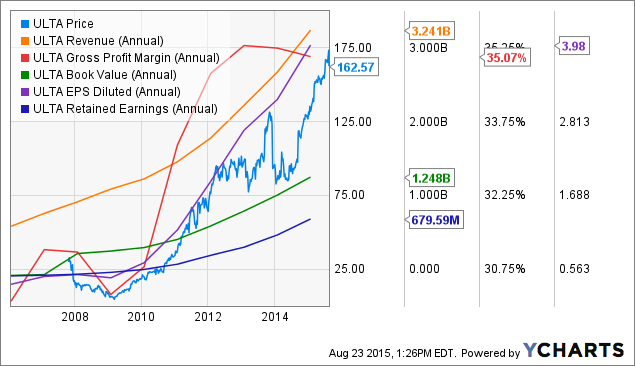 ULTA data by YCharts
ULTA has over 800 stores, a loyalty program with almost 16 million members that supplies over 80% of its business. The company plans to double its online sales over the next few years while adding another 400 stores by 2019. The company has no debt and funds its new store expansion from its free cash flow.
Kforce Inc. (NASDAQ:KFRC) provides professional and technical specialty staffing services and solutions. In an earlier SA article, I explained that the majority of KFRC revenue is derived from the technology sector where there is a shortage of qualified personnel available. In early August, KFRC Q2 revenues came in at double the prior years, fueled by demand from the technology sector. This was the eighth consecutive quarter of double digit growth. The stock price was lifted to a new 52 week high.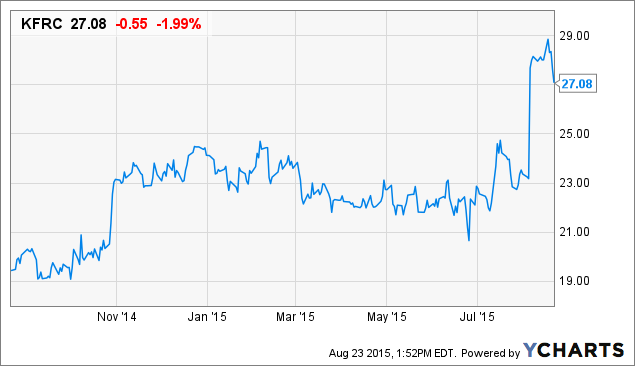 KFRC data by YCharts
KFRC is still selling at a discount to its competitors On Assignment (NASDAQ:ASGN), iAspexMastech Holdings (NYSEMKT:MHH), and Robert Half International (NYSE:RHI).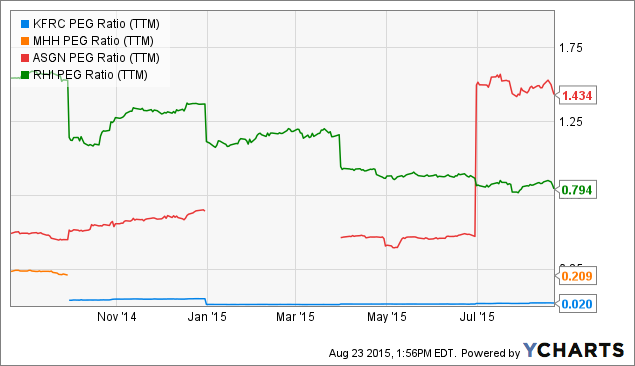 Economic outlook for U.S. job growth continues to be very positive. KFRC is in a good position to continue benefiting from this trend and deserves a valuation more in line with its peer group.
NAPCO Security Technologies Inc. (NASDAQ: NSSC) is a designer and manufacturer of security systems that it sells through a network of 10,000 installers and dealers. I wrote about this company's ongoing strategy to transform itself into a recurring revenue model and to ride the connected home trend in these two prior articles (1, 2).
Third quarter numbers reported in May were lower than expected. The company cited weather issues as the culprit. The stock did not sell off in May, and has held up well during the recent market selloff.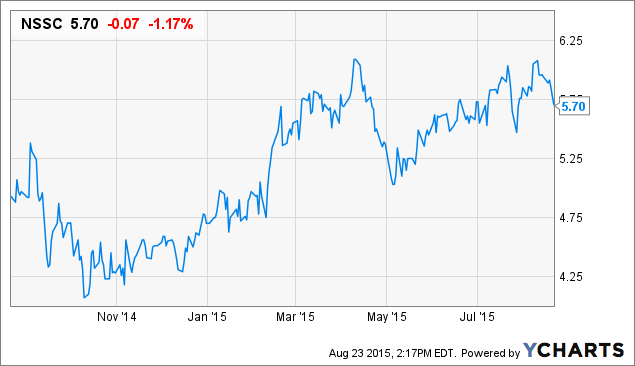 NSSC data by YCharts
There's good reason to be optimistic about the upcoming fourth quarter report, which is usually the company's best quarter and should be enhanced by making up the shortfall from weather delayed sales. I covered a few of the catalysts that should drive earnings going forward in my previous articles including reduced debt and the new products introduced such as fire alarm communicators that use CDMA instead of phone lines and products designed for the growing connected home trend.
This stock has demonstrated resiliency and practically ignored the market turbulence. I think its switch over to recurring revenue has made earnings forecast more predictable and less likely to disappoint.
Disclosure: I am/we are long NSSC, KFRC, ULTA.
I wrote this article myself, and it expresses my own opinions. I am not receiving compensation for it (other than from Seeking Alpha). I have no business relationship with any company whose stock is mentioned in this article.