In an environment of oversupply where nobody will cut production, it is up to the market to ultimately rebalance supply through pricing. Such is the current situation with crude oil. Of some 90 million barrels of global production, most experts estimate an oversupply of 2 million barrels per day. While that might not seem like so much, the amount of crude oil storage space in the world is pretty limited, and so even a little oversupply, compounded for months like what we have now, had led to quite the bear market.
There are a variety of marginal cost suppliers around the world, but the biggest two are the oil sands in Canada and the shale in the US. To put it into perspective, the shale produces approximately 5.36 million barrels per day and the oil sands another 4 million barrels per day. Considering that the oversupply is only 2 million barrels, I believe there is a place for both the shale and the oil sands, but things will still need to change. Ultimately, these two sub sectors are producing 20% too much crude oil, maybe 30% too much if Iran really starts exporting. This article looks at how a balance in production and consumption might be achieved and the effects that would follow.
Matter of cost
The key difference between the shale and the oil sands is that oil sands are mining operations with high up-front costs and a very long-lived resource base. The shale typically has much lower up front costs and moderately lower operating costs. However, high decline rates in the shale mandate continuous drilling just to keep production flat.
Of course, economics vary depending upon acreage in both the shale and oil sands. For the sake of simplicity, let's focus mostly on the core areas of each, starting with the shale. Shale producers have 'high-graded' their drilling priorities and have cut costs substantially. From what I've heard and read, drilling in the core Eagle Ford and Permian areas will be economical at $45 or so. Core acreage in the Bakken likely needs WTI in the low $50s, due to the wide differential between Bakken prices and WTI, which in turn is due to lack of transportation capacity in that area. The core Niobrara tends to have economics similar to that of the Bakken.
Non-core drilling areas such as the western Eagle Ford and the Bakken acreage off the Williston Basin probably won't be economical in this price range. Economics in most other liquids shale plays, such as the Tuscaloosa Marine Shale, the Mississippi Lime and the Utica, will not be feasible, either.
Does that mean the shale is going to go away? In the marginal acreage, maybe, but in the core acreage, probably not. Why? Cost of production in the oil sands is generally also higher than those of the core shale plays. Have a look.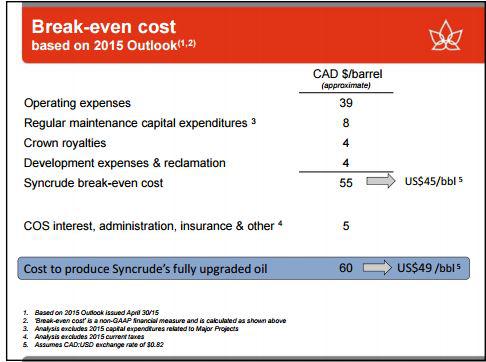 Courtesy of Canadian Oil Sands Investor Relations.
Above are the breakeven prices for operations within Syncrude, a joint venture whose largest owner is Canadian Oil Sands, one of the biggest producers in Alberta. As you can see. Syncrude needs $49 WTI just to break even operationally. That says nothing about new projects which have multi-billion dollar up-front costs yet to be spent.
Suncor, the biggest producer in the oil sands and one of the earliest movers, needs $28 per barrel Canadian crude to break even (that was at $33 per barrel last year, when the Canadian dollar was higher). While that number sounds more manageable, Canadian crude is now some $23 per barrel, and has been under $30 per barrel for quite awhile. As with Syncrude, Suncor's breakeven is on projects that are already up and running.
The shale and the oil sands have a different cost structure, but the advantage definitely goes to the shale due to its capital flexibility and very low operating cost (typically between $15 and $18 per barrel).
Matter of leverage
But just because the shale is more economical than the oil sands does not necessarily mean that businesses in the shale will outlast those in the oil sands. Consider this: The biggest names in the oil sands are either state-backed national oil companies, international 'super majors,' or fully-integrated Canadian energy companies. These companies have far more liquidity and financial firepower than the smaller, independent shale names. Also, the earliest movers in the oil sands, mostly Canadian integrateds such as Suncor and Canadian Natural Resources, already have mines in place and don't need to spend much capital if they don't have to.
Shale players, however need to drill many new wells just to maintain production. Most shale producers are already out of cash and must rely on creditors to continue drilling. I look at it this way: If we really are in a price war, and that's what it looks like, then the oil sands producers are in far better shape than the shale producers are, even if the shale is more economical than the oil sands are.
Fallout?
After some nine months of falling crude oil prices, the current oversupply situation doesn't seem to be going away. New, major projects from the Gulf of Mexico and Canadian oil sands are still coming on to more than offset natural declines elsewhere. Shale production has stopped growing, but desperate shale-based E&Ps have high interest bills to pay, and so the drilling continues. I suspect that if (or when) Iran begins exporting, we will see even greater oversupply, perhaps as much as another million barrels per day.
One way or another, supply has to come back in line with demand, and low crude oil prices are ensuring that the balance will be achieved by eliminating the marginal production. That means firms could go out of business, and I believe it will be more than just a handful that do so. Most of the casualties will be shale drillers (and maybe a small number of upstream MLPs).
However, that absolutely does not mean that shale oil production will go away. Core acreage in the Eagle Ford, Bakken and Permian is an integral part of global supply, and I believe production in these three areas will recover quickly even if a number of businesses go bust. The assets of distressed companies will change hands, and production will continue as long as drilling is feasible. The only difference will be the name of the company. Make no mistake, the shale isn't going away.
I believe the situation will be a bit different for the oil sands. Two of the earliest movers in the oil sands, Suncor (NYSE:SU) and Canadian Oil Sands (COS), are operating well below breakeven on existing mines, and that says nothing of dozens of multi-billion dollar projects in planning or under construction as we speak.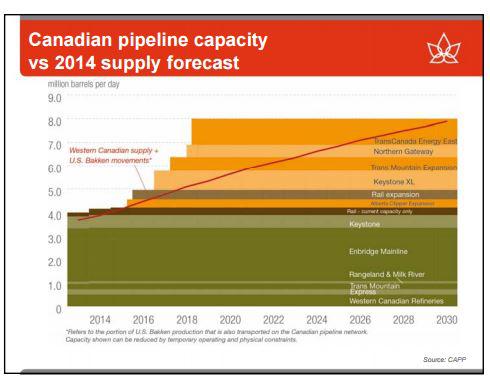 This above chart give a picture of just how significant future oil sands projects are. Through dozens of projects, crude oil production in the oil sands is expected to rise from 4 million bpd to 8 million in fifteen years.
But here's the thing: The programs not yet under construction will get put off, and many of those under construction will be delayed at the very least. With crude prices here and the spread between WTI and Canadian crude as it is, none of these projects make sense. My guess is that these projects will be delayed, and depending upon production in the shale, most of these projects will finally be cancelled.
Conclusion
In the short run, I believe pain will be greater in the shale. A number of companies there look like set for some real turbulence. In the long run, however, it will largely fall on the oil sands to make the necessary supply adjustments. The price action of this last month has told us that this bear market will likely be here for awhile and that a supply adjustment will have to happen. This will especially be true if Iran begins exporting crude oil.
Disclosure: I/we have no positions in any stocks mentioned, and no plans to initiate any positions within the next 72 hours.
I wrote this article myself, and it expresses my own opinions. I am not receiving compensation for it (other than from Seeking Alpha). I have no business relationship with any company whose stock is mentioned in this article.