Over the years, the self-storage sector has matured into a viable asset class that has gained the wide respect of both individual and institutional investors. This asset sector has demonstrated value as a core real estate holding and also as a highly profitable business entity. Although historically self-storage real estate was considered a specialty asset sector, the industry has evolved over many decades into a mature product offering as consumer demand for storage units continued to grow.
The market for storage units actually demonstrated resiliency through several economic downturns. However, the current market for self-storage is saturated, with around 49,400 facilities in the U.S. (according to Self-Storage Almanac), and self-storage owners must be increasingly consumer-savvy to differentiate their product.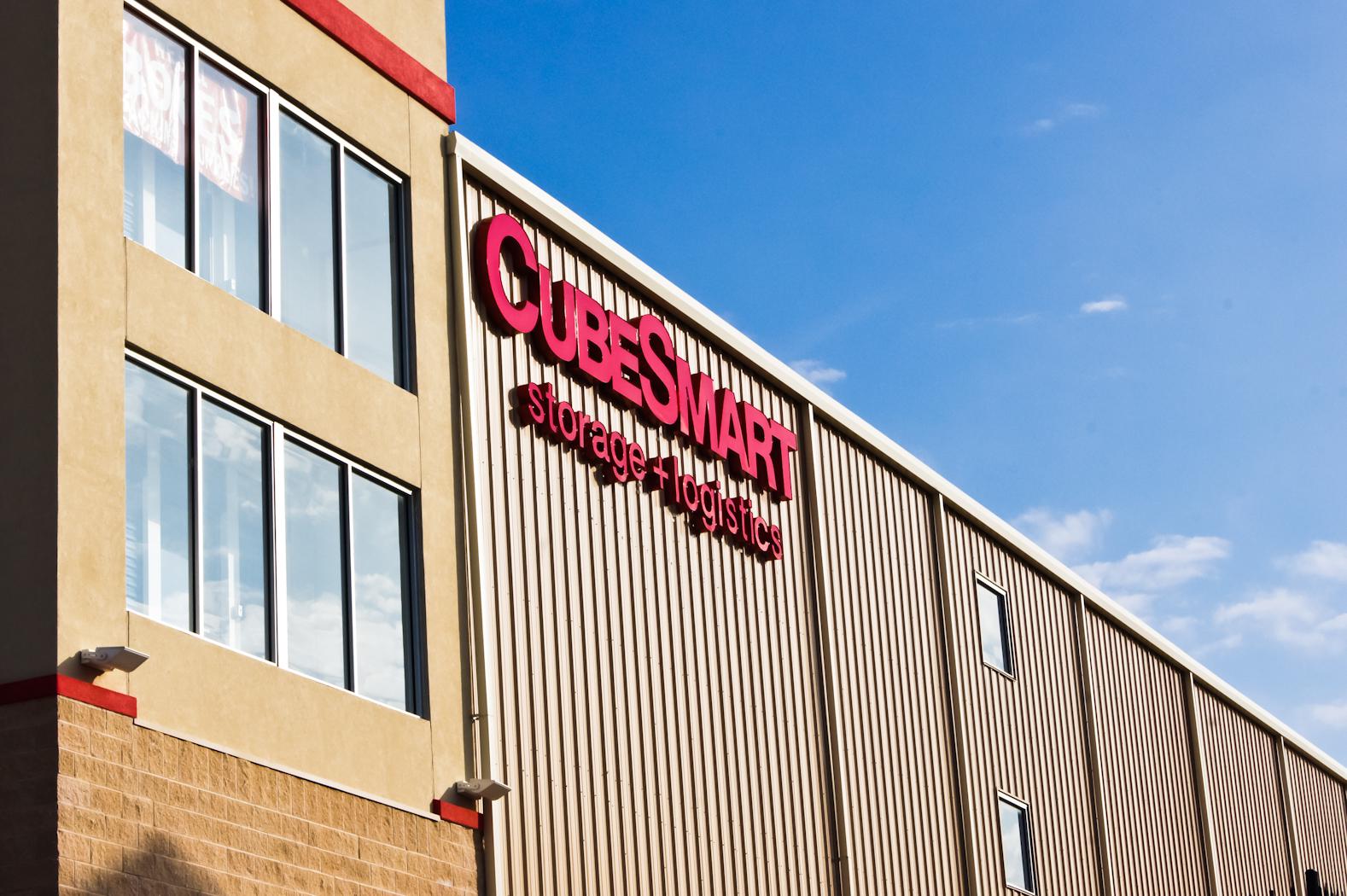 This highly fragmented industry has less than 11% institutional management, with the remainder of the sector characterized by numerous small, local operators. These smaller operators have found financing in the current environment of tighter credit somewhat difficult, if not impossible. This creates opportunities for well-capitalized, well-managed storage REITs to add to their portfolios and increase their geographic footprint.
Self-Storage Today
As explained to me by veteran self-storage developer and investor, Doug Wright, director at Calkain Companies:
Today's successful operator cannot depend on site location, signage and a well-placed yellow page ad. [They] must be cognizant of increased customer product awareness and offer services that separate their facilities from not only second generation operations but savvy third generation operators as well. Operators must give a customer reasons to pass by two or three other facilities to arrive at the location of their choice. Self-storage is now a fully entrenched retail entity with customer demands being the key to success.
Clearly, self-storage branding today has become as critical to consumers as McDonald's (NYSE:MCD) has to fast food. The largest self-storage owners, primarily REITs, are building their portfolios and strategies around consumer-driven models where competitive advantages are aimed at educating customers and providing innovative storage products and services.
Included in the self-storage branding strategies are sophisticated marketing campaigns that provide valuable economies of scale to the bigger REIT operators.
The Next Wave
According to an article by Charlie Keenan called "Day of Reckoning" in the Jan-Feb 2012 issue of REIT magazine, "As a wave of real estate debt matures in the coming years, REITs with the strongest balance sheets will be best positioned to take advantage of troubled properties hitting the market." He added,
Record levels of maturing debt will create challenges for commercial real estate. This year, $363 billion of loans - direct mortgages, mortgages tied to commercial mortgage backed securities (NYSEARCA:CMBS), and loans from life insurance companies - are expected to come due, up from $346 billion in 2011, according to research from Trepp Analytics.
Many of these troubled properties are likely to be self-storage assets that were mismanaged and which are undercapitalized. This could be an opportunity for many of the larger self-storage REIT owners to acquire undervalued properties and additionally benefit from third-party management revenues.
The Battleship REITs
As the next wave of bank debt peaks, the self-storage REITs should be in a terrific position to take advantage of the distress. The largest players are four publicly-traded self-storage REITs with a combined market capitalization of $28.79 billion (compared with all 126 FTSE NAREIT REITs with a $458.47 billion market capitalization). These specialized REITs operate a combined 3,856 facilities (includes managed) with well-balanced risk-averse portfolios that command investor attention.
The four largest publicly-traded storage REITs are:
Public Storage (NYSE:PSA) (A-rated by S&P), which opened its doors for business 40 years ago. Today Public Storage is the world's largest owner and operator of self-storage facilities. The company operates over 2,200 unique and diverse company-owned locations in the United States and Europe, totaling more than 141 million net rentable square feet of real estate. Seeking Alpha writer Michael Terry, CFA wrote an excellent article on Public Storage here.
Extra Space Storage (NYSE:EXR) (not rated), which is the second largest owner and operator of storage facilities in the US. The company's properties comprise approximately 585,000 units and totaling 64 million square feet of rentable storage space. I wrote an article on Extra Space here.
Sovran Self Storage (SSS) (BBB- rated by S&P), which was founded 30 years ago and owns and/or operates more than 400 self storage facilities encompassing over 20 million square feet.
CubeSmart (NYSE:CUBE) (BBB- rated by S&P) which owns or manages 473 facilities across the United States and operates the CubeSmart Network, which consists of approximately 877 additional self-storage facilities.

In addition to the publicly-traded REITs, there are two publicly registered non-traded REITs that are worth considering. Unlike the publicly-traded REITs, the non-traded REITs are less volatile (than the public REIT stocks) and provide attractive risk-aligned yields. In addition, non-traded self-storage REITs provide sound risk-control operations as H. Michael Schwartz, chairman and CEO of Strategic Storage Trust Inc. explained:
Adding alpha for a self storage REIT may be an easier task than for other non-traded REITs. The key is the fact that we are an operating company versus a static real estate portfolio. We have the ability to enhance revenues and reduce expenses versus the predetermined net lease portfolios. When 85 percent of your asset class competition consists of small operators owning one or two properties, it is a heck of a lot easier to add alpha.
Another non-traded REIT, W. P. Carey's CPA:17 invests in self-storage assets. Although self-storage is a small but growing sector (of Carey's overall global portfolio), the stable asset sector has become a staple driver of the REIT's simple, low-risk platform.
Innovative Battleship REITs
As the publicly-traded and non-traded REITs continue to grow in size, brand recognition is becoming more relevant. As with all real estate sectors, the adage "location, location, location" is critical; however, self-storage has evolved into a brand-based model where the goal is to create a stable, secure, upscale facility that is perceived as a brand consumer's trust. As Anne Coolidge Taylor, managing director with W. P. Carey (NYSE:WPC), explained to me,
While location and general appearance is still important in attracting new customers, the increasing importance of the internet in this digital age has created a landmark shift in the marketing of self-storage facilities. Yellow pages are no longer the dominant driver. It is very important to get prime placement in the popular search engines, and achieving this takes capital and positioning. This gives an advantage to national operators with a brand name and scale.
Anchor Your Portfolio With Core Self-Storage REITs
According to the National Council of Real Estate Investment Fiduciaries (NCREIF), the expectations of a core asset are as follows:
Stability;
Consistent Cash Flow;
Potential for Capital Appreciation;
Hedge against inflation;
Solid returns (well above bonds); and
Modest risk
Self-storage clearly fits within the above definition of a core asset sector. This specialty asset category is distinguished by stable and risk-averse fundamentals. In addition, the storage sector is differentiated from the other sectors by high (levels of) fragmentation and extraordinary growth opportunities.
The self-storage REITs should continue to build innovative branding strategies that will become accretive to earnings and generate increase dividends. These self-storage operators have proven that they can sustain differentiation over time and through constant change. Lasting differentiation is essential to any intelligent investment and that is why the self-storage REITs should be part of your sleep well at night portfolio: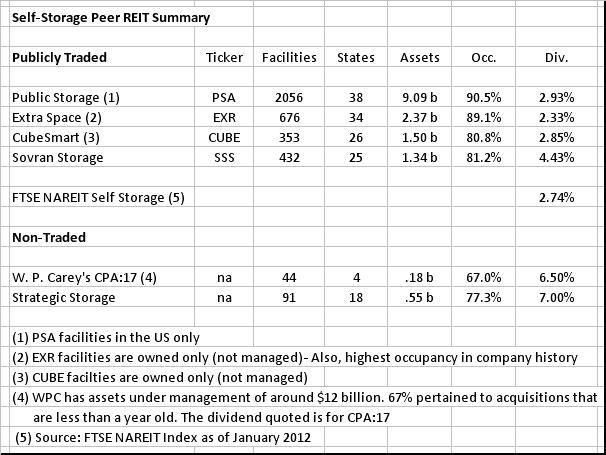 Source:
W. P. Carey CPA: 17 and W. P. Carey here.
Strategic Storage Trust here.
Disclosure: I have no positions in any stocks mentioned, and no plans to initiate any positions within the next 72 hours.