It is no surprise that July was superior to June in terms of broader economic data, but given the current state of the stock market and global economy, it's hard to tell when, or if, the momentum will stay in check. The Chicago Fed's National Activity Index - which is a weighted average of 85 economic measurements - rose to a much stronger-than-expected reading of +0.34 in July. Consensus expected a stronger month as well with a reading of +0.20 and the overall reading was well above the downwardly revised -0.07 reading from June. While July's reading is the strongest reading of 2015, the 3-month average still points to long-term softness at a reading of 0.00 but stronger than June's -0.08 reading.
The CFNAI Diffusion Index, which is also a three-month moving average, improved to +0.06 in July from a reading of zero back in June. Within the 85 components of the Diffusion Index, 50 individual indicators made positive contributions while 35 made negative contributions.
The chart below shows the changes in the CFNAI since the peak of the recession in early 2009. While the index showed some impressive strength this time last year, that all changed once the price of oil began to fall and brought down dozens of indicators with it.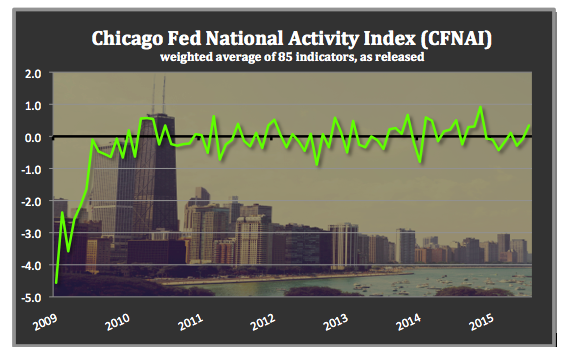 As expected, strong production and sales in the motor vehicles sector resulted in overall production as the strongest component in July. The upswing was huge coming in at a reading of +0.28 from June's rather weak reading of -0.14. Employment remains steady, showing a reading of +0.11 for the month while sales, orders and inventories slipped by 5 basis points to a reading of +0.01 in July. On the negative side, the largest downside contributor was personal consumption and housing at a reading of -0.06, but this is still a big move up from the -0.10 reading in June.
Judging by the current manufacturing readings so far in August, strength in the sector is very unlikely to push through from July. It's obvious that oil prices and weaker exports are causing trouble in the status quo, but the biggest question mark is what will happen in consumer spending and the housing sector.
Both of those components have shown mixed readings over the last two months, and both are vital to revitalize economic growth. The Fed remains opposed to a rate hike given the lack of clarity in the consumer and homebuilder sectors. For now, the Chicago Fed barometer shows a mixed future but with a slight bias to the upside.
Disclosure: I/we have no positions in any stocks mentioned, and no plans to initiate any positions within the next 72 hours.
I wrote this article myself, and it expresses my own opinions. I am not receiving compensation for it (other than from Seeking Alpha). I have no business relationship with any company whose stock is mentioned in this article.