The U.S. solar installation market has consolidated around a few major players today. With improving solar panel efficiencies, lower costs and aggressive marketing, residential solar projects are growing at a rapid pace. The average cost for a residential solar system is now $3.48/watt, which is 10% lower than last year. There are quite a few opportunities for investors to share in the growth of the distributed solar market through publicly listed stocks.
Though Vivint Solar (NYSE:VSLR) is being acquired by SunEdison (SUNE), there is Sunrun (NASDAQ:RUN), which was recently listed. The other solar installers that can be bought to play the growth in the U.S. residential solar market are SolarCity (SCTY), NRG Energy (NYSE:NRG), First Solar (NASDAQ:FSLR), and SunPower (NASDAQ:SPWR).
Why Has Residential Solar Boomed in the U.S.?
1. The cost of installation is falling.
The solar industry is maturing, with improving technologies and declining costs. The current cost of installation of solar power is as low as $2.91 per watt for SolarCity. As panel efficiencies increase, that will further reduce the installation costs and area required. This will lead to more profits for the installers. Currently, Sunrun's estimated retained value per watt was $2.41 as of March 31, 2015. SolarCity had retained values of $1.89 per watt for the quarter ended June 30, 2015.
2. Solar leasing has accelerated growth.
Availability of easy financing is one of the major reasons for the boom in the U.S. residential market. The U.S. market is set to witness growth of 3 million residential solar installations over the next five years. About 1.2 GW were installed in the U.S. residential market in 2014. 2015 has been a very good year for the U.S. residential market so far. ~1.3 GW of solar was installed in Q1 2015 alone. The residential segment saw 437 MW of new installations, registering growth of 76% from Q1 2014 -- despite the fact that the first quarter tends to be the slowest due to bad weather conditions. Solar, as a whole, accounted for 51% of all new electricity generation brought online, adding more than 65000 residential users.
The Major Residential Solar Installers in the U.S.
According to its Q2 2015 update, SolarCity reported 189 MW of installations compared to 153 MW in Q1 and an increase of 77% annually. Of that number, residential installations totaled 168 MW, which increased 86% from the last year. SolarCity is the largest residential U.S. installer and made up 39% of the U.S. residential market share. The company's cumulative installations reached 1,418 MW at the end of the second quarter, which was an increase of 86% annually. SolarCity has plans to start in-house manufacturing of panels, to reduce costs and improve efficiencies, and is also planning to enter into the storage business.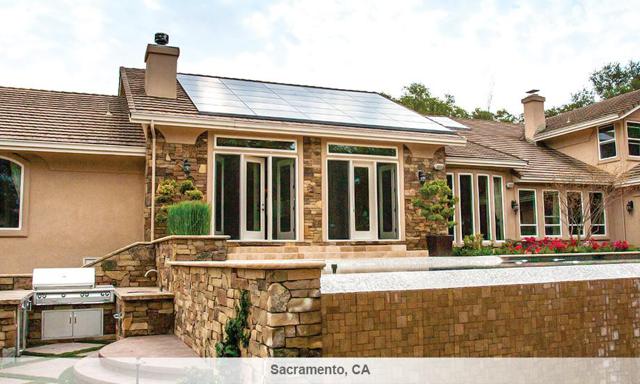 Source: SolarCity.
Sunrun is a pioneer in solar leasing to residential customers, and has deployed close to 430 MW of solar capacity till date. According to the company's website, it has the second largest fleet of residential solar energy systems in the U.S. as of March 31, 2015, having close to 80K customers. The company installs solar panels on residential rooftops at no initial cost and takes care of the maintenance of the panels, while the customers pay a monthly fee based on the energy produced -- which is lower than utility charges.
SunPower recently signed an agreement with the utility company ConEdison Solutions for a solar leasing program to be launched in New York. The lease will attract customers to solar installations by providing zero upfront cost and affordable monthly lease payments for 20 years. More than 27,000 U.S. homeowners have leased SunPower solar power systems. The company is a technology leader, manufacturing solar panels with high solar cell efficiency levels up to 24%.
The SunEdison family is expanding aggressively not only in solar, but in wind and other renewable forms of energy as well. SunEdison has an impressive project pipeline and is transferring quality projects to its yieldco Terraform Power (NASDAQ:TERP), which possesses enough liquidity to absorb them. Now SunEdison, which is set to be the largest renewable energy player worldwide, is going to acquire Vivint Solar, which was the second largest residential player in the U.S. Together these companies will have a strong foothold not only in the U.S., but also in other global markets.
First Solar is the largest utility scale solar installer in the U.S., manufacturing high efficiency thin film modules. In addition to others mentioned above, NRG Home Solar -- which is a wholly owned subsidiary of NRG Energy -- is poised to make a big mark on the U.S. residential installations by providing affordable leasing options.
Risks to Growth
1. ITC Expiration in 2016
One of the major factors behind all this growth has been the investment tax credit provided to the solar investments. Many large-scale projects and residential progress were profitable because of the 30% tax credit. It remains to be seen how the industry will shape up in 2017, but in a nutshell the companies' cost structures will be affected. But I don't think there will be a slowdown in installations, given the popularity and advantages of using solar now.
2. A Republican Win in the Upcoming Presidential Election
Most of the Republican candidates do not support climate change mitigation and might not support the growth of solar energy. The Democratic administration has been broadly supportive of solar energy, and President Obama has created stringent conditions regarding the reduction of greenhouse gas emissions from power plants. On the other hand, a Hilary Clinton win would likely lead to a surge in solar installations as she plans to increase solar capacity radically by installing 500 million solar panels in the U.S.
Conclusion
The U.S. residential solar market is growing at an exponential rate. One of the major factors behind the growth has been the innovative financing models promoted by the companies, such as leasing and power purchase agreements. Solar leasing with no upfront cost by installers has attracted everyday people to solar energy. Some installers are also moving toward a vertical integrated model, with companies having their own in-house manufacturing. This will help them further reduce both costs and the reliance on Chinese module supplies. It is expected that by the end of 2016, the U.S. will be generating enough clean solar energy to power 8 million homes. We think that SunEdison and SunPower are some of the better stocks to play this growth.
Disclosure: I/we have no positions in any stocks mentioned, and no plans to initiate any positions within the next 72 hours.
I wrote this article myself, and it expresses my own opinions. I am not receiving compensation for it (other than from Seeking Alpha). I have no business relationship with any company whose stock is mentioned in this article.