In March, I applied a quantitative selection tool, the Value Portfolio Model for the list of Dividend Champions after being directed to the CCC list by David Fish. The Seeking Alpha community is very interested in the Dividend Champions list David publishes every month, so I thought it would be interesting to see how the model has performed and what it recommends today, given the recent market correction.
The value ranking model has performed very well in the past on the more exclusive S&P 500 Dividend Aristocrats list, but it does not mean it will in the future or on the larger Champions list. I chose to evaluate the first "C" or "Champions" that essentially meet the same criteria as the S&P 500 Dividend Aristocrats (over 25 years of consecutive dividend increases) with the exception of not having to be a mega blue-chip stocks in the S&P 500.
Can quantitative selection work? This topic has been discussed ad nauseam, but the time-tested performance of quality value investors in the past provides evidence that they are doing something right. Rather than weigh in, I will instead provide the model results and refrain from adding my own hypotheses and biases. Keep in mind that in order to statistically evaluate performance properly, it could take many years of measurements and evaluations to reach a conclusion on the viability of the tool. This is what makes it stressful/fun.
About the Value Portfolio Model
When I began investing, I started with this list as an initial screen to know that I was buying a stable company that knows how to navigate macroeconomic events and business cycles and still achieve shareholder objectives. I developed and fitted a model for quantitative asset selection that identified the top 5 most likely to outperform within the Dividend Aristocrats group. By using this group, concerns of company size, dividend stability, and earnings consistency were reduced by looking at this small subgroup of companies in the stock universe with similar attributes. Without getting too technical, the model accounted for a few simple fundamental value metrics such as book-to price ratio, trailing 12-month earnings, dividend, and free cash flow yields, sales growth rate, and average consensus analyst ratings.
Stocks were ranked based on the fitted formula and portfolios evenly holding the top 5 and bottom 5 stocks were constructed. The portfolio holding the top 5 picks was named the Value Portfolio. The model was fitted in 2008 and rebalanced quarterly. The out of sample performance was evaluated and rebalancing occurred quarterly for 11 periods starting in 2009. The Value Portfolio measured by comparing them to a fixed portfolio that equally weights every stock in the S&P 500 Dividend Aristocrats Index.
For more detail on this, see my article at the Value Portfolio or the initial Seeking Alpha article from March. Below are the model parameters used for estimating the next period's total return. The stocks are then ranked by largest total return estimates. Looking at the coefficient, essentially an increase in any of the factor values has a positive impact on expected total return.
| | |
| --- | --- |
| Factors | Coefficient |
| Constant | (11.14) |
| Earnings Yield | 0.55 |
| Book/ Price | 14.87 |
| Dividend Yield | 1.65 |
| FCF Yield | 0.25 |
| Consensus Recommendation | 0.39 |
| Revenue Growth | 0.02 |
Total Returns since 3/5/15
Below is a chart of the realized total returns by stock, ranked from 1 to 100 from 3/5/15 to 8/24/15. Stocks 1 through 10 were selected for the Value Portfolio. Stocks 91 through 100 were "selected" for the Underperform Portfolio. I will note two interesting takeaways. First, there is a slight statistically significant decline in return in relation to rank which is a great signal. Second, the worst performing stock, Chevron Corp. (NYSE:CVX) and the third worst, Helmerich & Payne Inc. (NYSE:HP) significantly hampered the performance for the Value Portfolio this period as they were both selected back in March.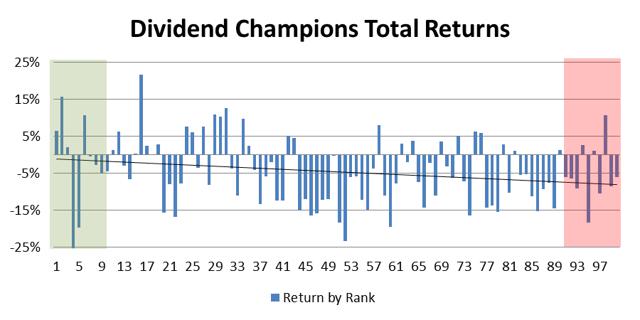 Below are the average total returns for the Value Portfolio, the Underperform Portfolio, and the benchmark which is simply the 100-stock average.
Despite holding two difficult Energy stocks, the Value Portfolio performed well. While the Value Portfolio beat the average and the Underperform Portfolio was the laggard, neither differences were statistically significant. It is fairly easy to understand this point, especially given the volatility of the sample of total returns over this period.
Had it not been for the huge negative impacts from CVX and HP that skewed the results, its performance would have been much better.
| | |
| --- | --- |
| Group | Total Return |
| Value Portfolio | -2.4% |
| 100 Stock Average | -4.5% |
| Underperform Portfolio | -5.0% |
A trader may claim that this incremental 2.1% above the average is attributed to skill and may very well be rewarded for it ("alpha"), despite the fact that statistically speaking, there was no conclusive difference (no "alpha"). It will be very interesting to track over time how these two portfolios perform.
The New Value Portfolio
The updated ranking table is provided below for reference. The input data are calculated from data provided by dripinvesting.org and FinViz.com. Please note that six stocks are omitted from the study with missing consensus analyst ratings. While the calculated product in the far right column is a total return forecast, I put less weight into the actual prediction and am primarily concerned with the relative rankings of the specific companies.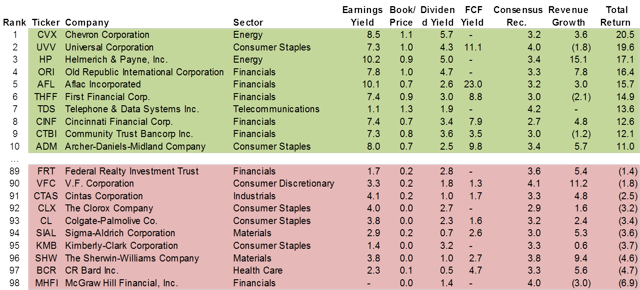 The top ten rated Value Portfolio stocks are CVX, Universal Corporation (NYSE:UVV), HP, Old Republic International Corporation (NYSE:ORI), Aflac, Inc. (NYSE:AFL), First Financial Corp. (NASDAQ:THFF), Telephone & Data Systems Inc. (NYSE:TDS), Cincinnati Financial Corp. (NASDAQ:CINF), Community Trust Bancorp Inc. (NASDAQ:CTBI), and Archer Daniels Midland Company (NYSE:ADM). Of these, only AFL and CINF are different from the ten stocks selected back in March (1st Source Corporation (NASDAQ:SRCE) and Mercury General Corporation (NYSE:MCY) were swapped out). Note that CVX, AFL, CINF, and ADM are in the current S&P 500 Dividend Aristocrats List as well.
Also, when looking at the data, it is easy to notice that the model heavily weights a conservative book value relative to price and a decent earnings yield. Every company ranked in the top ten has a book to price ratio of at least 70%. With the exception of TDS, every company has an earnings yield greater than or equal to 7.3%. Dividend yields are strong for these stocks at 3.7% which compares very favorably to the average at 2.7%.
A concerning aspect is the heavy weight to only a few Sectors: Financial (50%), Consumer Staples (20%) and Energy (20%). I would remain cognizant of this issue and only consider investing in one of the companies in each sector for diversification purposes.
The New Underperform Portfolio
The bottom ten rated Underperform Portfolio stocks are Federal Realty Investment Trust (NYSE:FRT), V.F. Corporation (NYSE:VFC), Cintas Corporation (NASDAQ:CTAS), The Clorox Company (NYSE:CLX), Colgate-Palmolive Co. (NYSE:CL), Sigma-Aldrich Corporation (NASDAQ:SIAL), Kimberly-Clark Corporation (NYSE:KMB), The Sherwin-Williams Company (NYSE:SHW), CR Bard Inc. (NYSE:BCR), and McGraw Hill Financial, Inc. (MHFI). Of these, VFC and KMB were the only different stocks from the ten Underperform stocks selected in March (replacing PPG Industries, Inc. (NYSE:PPG) and The Valspar Corporation (VAL)). These stocks show prices unsubstantiated by any book value whether tangible or intangible. The highest book/price coverage for this group is only 20%. In addition, the average earnings yield for this group is 2.7% (!) with CTAS offering the strongest at 4.1%. The revenue growth history for the bottom ten stocks is strong which may suggest why the earnings and book yields have traded so low. Only MHFI had negative sales growth of the ten companies.
Conclusion
While I can say that I have used this simple model to make some of my best market outperforming investments from 2009 to 2012, I cannot say I will pick the winners going forward. Having squeaked out a positive differential return over the market is something, being able to do so over the long run is the ultimate challenge. I will continue to monitor and report results whether they defend or obfuscate my initial hypotheses.
Until then, send me your thoughts and feedback. Finally, I enjoyed reading another dividend stock scoring article over the weekend from another SA author, Dennis Dugan.
Disclosure: I am/we are long AFL. I wrote this article myself, and it expresses my own opinions. I am not receiving compensation for it (other than from Seeking Alpha). I have no business relationship with any company whose stock is mentioned in this article.