Over the last year (yes, it's been that long, my one-year SA anniversary party comes on February 22nd), I've made it quite clear that I am not a fan of low-priced stocks. The more I think about, though, it's not really the low-priced stocks I have a problem with, it's the people who push them.
By and large, I consider people who tout low-priced stocks for a living just two steps up from the corner drug dealer in Skid Row. (And yes, Marc Gerstein, you provide an exception!). They show you a winner and, from there, certain types of personalities require just another hit. Of course, the penny pumpers - often just one step up from the drug dealer - and the low-priced stock pusher come ready and willing to fulfill the craving for a rush.
This might sound like an extreme analogy, but, think about it, it can be a dangerous game conditioning people to think just because a stock is cheap it's an inexpensive value. For many humans, the allure of thousands of shares of a sub-$10, sub-$5 or penny stock wins out over the more rational play of 0.0024 shares of Google (NASDAQ:GOOG) or fifty bucks a month put toward Apple (NASDAQ:AAPL).
In this article, I consider all types of "low-priced" candy that, at least for the time being, you would probably be wise to say NO to.
Sirius XM (NASDAQ:SIRI). Seeking Alpha's most prolific writer, Cameron Kaine (follow him on Twitter now), threw me for a loop Monday morning. Kaine punk-slapped legions of SIRI longs when he noted he might sell his long position in the stock ahead of the company's Thursday morning earnings release:
The reason is simply that the market has told investors over the past several weeks (by virtue of its $2.18 resistance price point) that the stock is now fairly valued. But this is not to be interpreted as the insult that some may perceive it to be ...

My concern for the upcoming announcement on Thursday is that the company may not even take the bat off its shoulders and instead takes a free pass to first base. But again, this is far from striking out. My theory is this, the company has a long history of under-promising so it can over-deliver. Clearly this worked well in 2011, but I just don't think that this M.O. will be as effective going forward ...

I continue to think that if Sirius wants to become the market darling that many of its investors think it should be, it needs to start giving Wall Street what it wants. Until it shows that it can do that on a regular basis, hitting majestic home runs in "small stadiums" will be perceived on Wall Street as ... well ... hitting majestic home runs in small stadiums.
So very well-stated.
I cannot add much more to what Cameron said than I have in the past. If Sirius XM CEO Mel Karmazin tells us more of what we already know come Thursday morning, expect a swoon. He'll need something relatively big - like the announcement of a wholly irrational stock buyback or spiffed up guidance for 2012. Talk of a clunky $300 radio and its attendant car kit selling at retail simply will not cut it.
Learn from history or you're doomed to repeat it. Even if SIRI pops on earnings, it needs to move through $2.40 and sustain or else another visit below $2.00 is in store.
Sprint (NYSE:S). Sprint reminds me of Citigroup from back in the day. Just ahead of earnings, the company's permabulls take to message boards like the ones at Yahoo (YHOO) trying to talk suckers into joining their misery. If you can decipher some of the drivel these people spew, you might be able to work counterterrorism for the FBI:
Click to enlarge

That nonsense dressed up as serious technical talk makes the SIRI message board look like an Algonquin Round Table.
The more I think about it, the more I believe companies like Sprint need to completely reinvent themselves. The iPhone would be really great for Sprint if it had a chance in Kansas of making a profit off of the darn thing.
Instead of playing the same game as companies that have considerable competitive advantages - AT&T (NYSE:T) and Verizon (NYSE:VZ) - come up with something novel. I'm not exactly sure what that this, but it probably should involve major creative partnerships like the ones we're seeing and will continue to see in the media space (Verizon/Coinstar (NASDAQ:CSTR), Disney (NYSE:DIS)/Comcast (NASDAQ:CMCSA), Clear Channel (CCMO.PK)/Cumulus Media (NASDAQ:CMLS)) and probably should see happen in the sad retail space.
Bank of America (NYSE:BAC).
Citigroup (NYSE:C).
Level 3 Communications (NASDAQ:LVLT).
I group these three stocks together for a reason. And, no, I did not make a mistake. You're not reading this one wrong either. I still place C and LVLT in the pit of bad low-priced stocks.
The reverse stock split. It's probably the oldest trick in the book. Penny stocks do it all of the time. Hey, look, here's a little reverse psychology we'll play on investors. Our stock is no longer "cheap" and now mutual fund giants can load up on us. Smoke. Mirrors.
Click to enlarge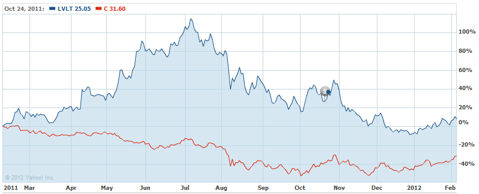 For some reason, I got really angry when thinking about my failed long position in C when it had a stock price that screamed cheap. I learned my lesson back in August:
Vikram Pandit. He's not affectionately known as Pandit the Bandit for no good reason. I remember being a holder of C $5 calls before the company's Q4 2010 earnings report back in January. Heading into the report, Pandit got the longs all fired up by penning an overly-optimistic note to Citigroup employees. An earnings miss promptly followed the letter. And thanks for the penny per share dividend, Vikram, we won't spend it all in one place. It helps ease the sting of C's poor post-reverse split performance. C $5 calls will likely be out of the money before the underlying stock sees $50 a share again.
Bottom line - Vikram is lucky Reed Hastings exists and that the whole mortgage meltdown happened. Otherwise, his missteps might have taken center stage in 2010-11.
As for BAC, it might be one of those stocks that you follow Buffett into and become a millionaire a decade later. Or maybe not. In any event, this is what gets me about the whole racket of low-priced stocks, value stocks and other investment "strategies" that often amount to little more than schemes. Everybody's trying to hit a home run.
Personally, I will take the Wade Boggs style of investing. Never swing at the first pitch and nickel and dime them all day long with solid, line drive base hits. Certainly, every once in a while you'll hit one out of the park (Boggs did 118 times in 3010 hits). But, in investing, why bother trying to stretch a single into a double on stocks like BAC when an entire universe of solid, far-more-stable and rapidly-growing companies exist?
No doubt, when Europe coughs up a lung the entire market will swoon again, but, really, the last place I want to be is in the banks and low-priced stocks. Give me equities that pay more than a token dividend and lead their spaces from the front, not uncertainty on top of more uncertainty coupled with a hope and a dream.