Although Guess (NYSE:GES) was a disappointment for investors in 2011, dropping by 40% toward year end, the company actually pays a pretty decent dividend, with a yield of around 2.5% now.
Guess only started paying a dividend in 2007, but the payout has been raised each year since then. The current 20 cents per quarter is double the 10 cents paid just two years ago.
Unfortunately, earnings per share haven't been growing. This chart, provided courtesy of Ycharts, shows trailing earnings hovering around the $3 level: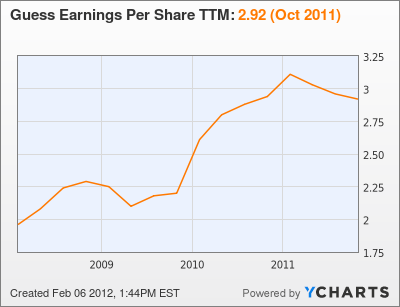 So can the company maintain its dividend? I think so, at least so far. This chart shows the dividend and the payout ratio going back to 2007: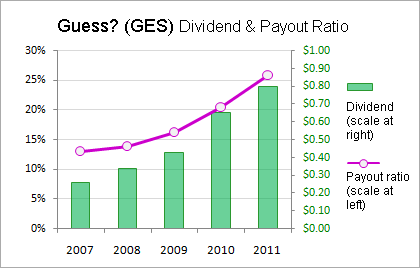 Although the payout ratio is rising, it's still relatively low, with the dividend representing only 25% of earnings. And here's a chart showing the stock price and dividend yield going back to April 2010: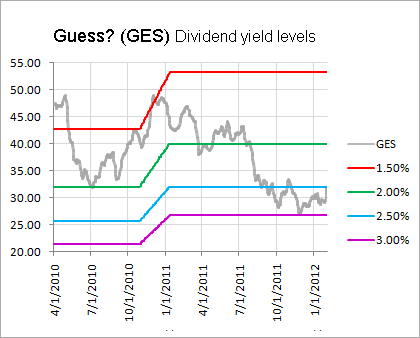 The stock seems to hold around that 3% level, so if you can buy the stock for around $27 or so, that might be an attractive place to buy the stock or add to an existing position.
If the company starts growing earnings this year, you might see the stock trade for around $40 per share, which amounts to a 2% yield even if the company doesn't raise its dividend.
Disclosure: I have no positions in any stocks mentioned, and no plans to initiate any positions within the next 72 hours.