Background
The VelocityShares 3x Inverse Crude Oil ETN (OTC:DWTI) is a medium-term note from Credit Suisse AG, the return on which is linked to the performance of the S&P GSCI® Crude Oil Index Excess Return. The goal is to provide -3x the daily performance of the front-month futures contract on WTI crude oil.
Investment Thesis
Crude oil pricing has collapsed.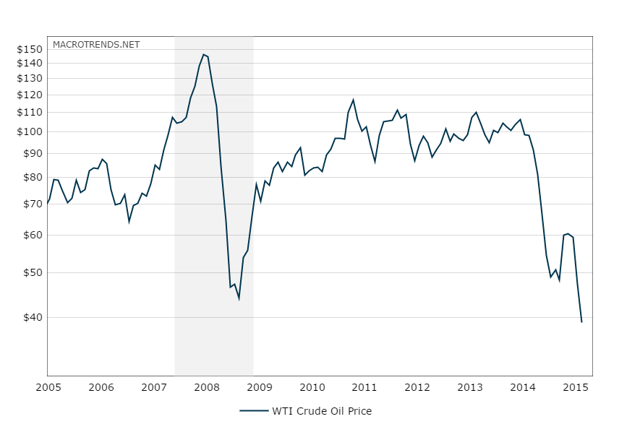 Note: Data is adjusted for inflation using the headline CPI and is shown by default on a logarithmic scale. The shaded region represents the financial crisis recession.
The chief reasons behind this collapse are excess supply (see U.S. shale boom) and the threat of economic slowdown (see China).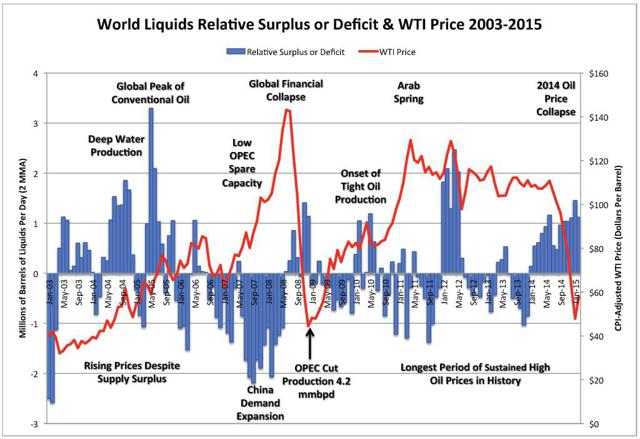 Source: Oilprice.com
The problems in China are very real, but as the chart below shows, global crude oil demand growth has been very stable even through the 2008-09 financial crisis.

Demand growth the past several decades has been led by new world countries. The economic slowdown impacting China should put a dent in this growth over the short to intermediate-term, however the long-term trend would certainly remain up at current price levels.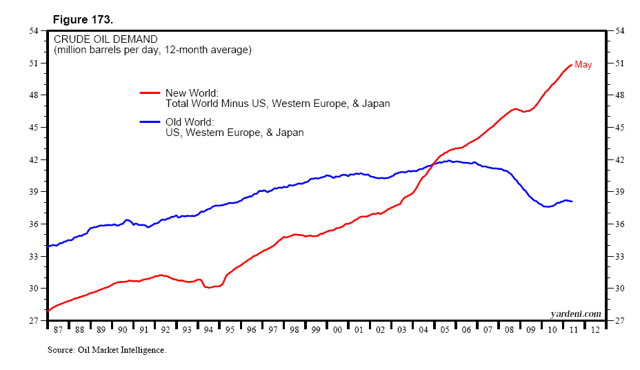 Holding current price and demand constant over time, there will be supply destruction. This blog post does a nice job explaining two points (and is my source of the two following charts).
One, new projects don't make much sense under $65 / barrel.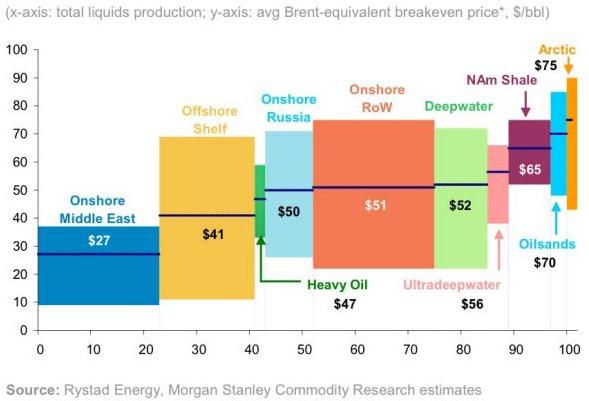 Two, many ongoing projects (once sunk costs are ignored) stop making sense around $35-$40 / barrel at the high end of the cost curve.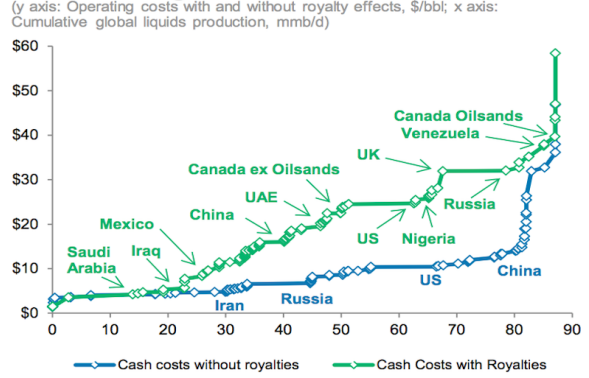 I believe it is highly likely the price of crude oil will converge back toward its current new project marginal cost of production of $65 over the next 2-5 years. If this happens, a long crude oil investment will be profitable.
There are certainly a myriad number of ways to play the crude oil rebound thesis, including non-leveraged, less volatile alternatives. That said, I believe the best play is a short position in VelocityShares 3x Inverse Crude Oil ETN . The nature of DWTI's leverage makes it structurally flawed as a long-term instrument, allowing us to profit over a 2-5 year timeframe even if the price of crude oil is equal to or lower than today's price. This is best explained in an instablog post by (esteemed Seeking Alpha contributor) Chris Demuth Jr:
The mechanics used by these leveraged funds create a "constant leveraged trap" that erodes their value over time. To operate, the fund has to add or reduce leverage on a daily basis to match the index. If the underlying index goes up in value, the ETF must increase leverage; if the index goes down, the ETF must decrease leverage. Essentially, this boils down to the ETF being forced to increase leverage on up days and decrease leverage on down days (buy high/sell low). Regardless of the performance of the underlying index, all leveraged ETFs are designed to fail over the long-term. The more volatile the underlying index, the more quickly the ETF erodes.
As an example specific to DWTI, between February 2012 (when DWTI began trading) and January 2014, the price of WTI crude began and finished around $98 / barrel. Over that period, DWTI returned -33%.
Ultimately, the fundamental way to lose on this bet is if oil continues to fall downward over the long haul in a relatively smooth, non-volatile trend. A price rebound or up and down ride to a similar price level several years down the road makes money. I believe this is a fair bet.
Risks
Volatility is central to this trade's success (and potential failure). Greater volatility enhances the positive long-term effects of being short DWTI (see "constant leverage trap"). It also means short-term swings can be huge. For perspective, the 52 week range on this security has been $27.00-$236.65 (high end hit during the market panic on August 24th). Covering this short position at the wrong time would be bad, whether an issue with finding stock to borrow - a substantial risk - or risk management controls kicking in because the exposure becomes too large relative to the overall portfolio. For most, a 1% maximum short position (with gains re-balanced up to 1%) makes sense for a security which can potentially move 10x against you before coming back down to earth.
DWTI is an ETN and carries credit risk related to its issuer, Credit Suisse AG.
The largest fundamental risk would be a combination of oil prices continuing to trend lower over the long-term in a manner characterized by low volatility.
Conclusion
Oil prices are unsustainably low based on both average (new project) and marginal (ongoing project) production costs. The leveraged nature of DWTI makes it structurally flawed as a long-term investment, unless crude oil trends down much further over the long haul in a minimally volatile manner. Short DWTI.
Additional Notes
This is my first contribution to Seeking Alpha. I plan to update all posts I make when there is something significant to be said (e.g. major news, closing a position, etc). I will do this for good (and lousy) investment calls to hold myself accountable. Be sure to follow me to get these updates.
Disclosure: I am/we are short DWTI.
I wrote this article myself, and it expresses my own opinions. I am not receiving compensation for it (other than from Seeking Alpha). I have no business relationship with any company whose stock is mentioned in this article.