It has now been seven months since I first published a popular and simple approach to value sorting the S&P 500 Dividends Aristocrats list. The goal of this article is to evaluate performance and provide updated value rankings for each company. This analysis is especially pertinent and it appears the multi-year expansionary bull market period could in fact be over. If this is truly the case, investors will be prudent to move equity allocations back into value stocks.
The S&P 500 Aristocrats is an exclusive list of US blue-chip stocks that have been able to increase dividend payments without interruption for over twenty years. This is an elite list of 52 (FDO was acquired and BMS is no longer in the S&P 500) companies that many passive long-term investors have relied upon to generate consistent dividend income either whether they are in retirement or conversely have a long investment horizon and are looking to let their reinvested dividend earnings compound with time. ProShares has listed an ETF (BATS:NOBL) that tracks this index - I encourage income investors to look into it if they are not looking to evaluate individual stocks. I will use NOBL as a benchmark in this study.
Below is a summary table for the individual 52 constituents in the index as of market close after Monday's bloodbath (8/24/2015). The table shows the number of constituents by sector and the average attribute value for those constituents. For example, 6 companies are from the Health Care Industry in the Aristocrats group and on average the price of these stocks are above their 52-week low prices by 18% and 12% below their 52-week high prices. The two Oil & Gas companies, Chevron Corp. (NYSE:CVX) and Exxon Mobile Corp (NYSE:XOM) both closed 4.7% below their 52-week low prices.
The average earnings yield for all 52 companies is 5.0%, with an average dividend yield at 2.7% and average payout ratio at 63%.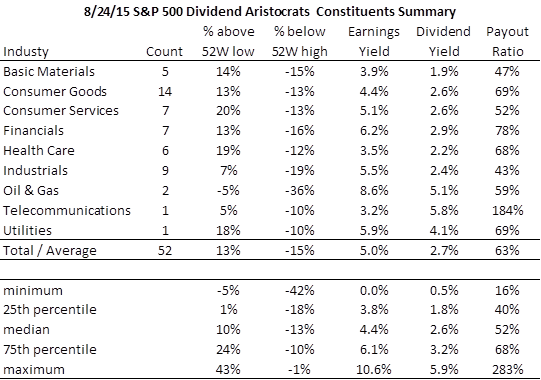 The full company list is provided in the next table:Source: Own compiled using S&P 500 Dividend Aristocrat constituents list and the latest trailing 12-month EPS and DPS for each company using Finviz as of market close 8/24/15.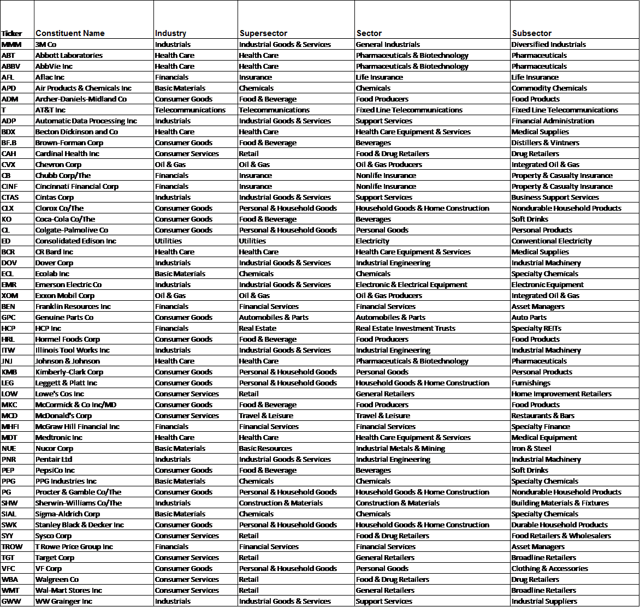 Value Metrics
This article will screen the Aristocrats list for value by looking at companies with higher earnings yields, lower payout ratios, and proximity to the 52-week low price. First let's take a look at some visuals to see how these companies compare on earnings yield, dividend yield, payout ratio, and versus the 52-week high and low prices.
High dividend yield and low relative payout ratio
As a long-term investor seeking yield, it is important to understand the perils of chasing high yield companies - the likelihood of a company maintaining its lofty dividend decreases since payout ratio increases. I highlighted a slice of the companies that have attractive dividend yield -above 2.6% and a low payout ratio given the dividend yield ratio. I call this the "relative payout ratio."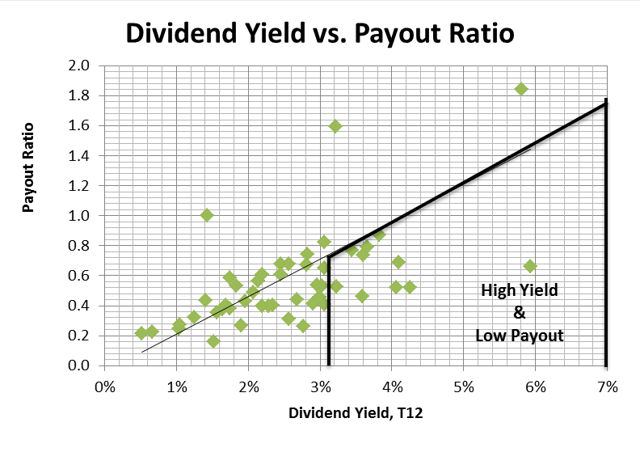 Source: Own compiled using S&P 500 Dividend Aristocrat constituents list and the latest trailing 12-month EPS and DPS for each company using Morningstar.
The Aristocrats has nineteen companies that meet the criteria which compares to ten at the end of January. The list is sorted based on trailing 12-month earnings yields with Aflac Inc. (NYSE:AFL) having the highest, followed by Chevron Corp. (CXV) and Exxon Mobil Corp. . The next section will take a closer look at earnings yield - a much more important metric than dividend yield.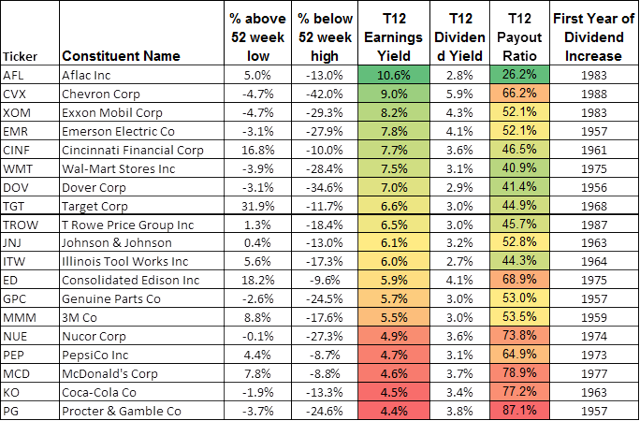 Source: Own compiled using S&P 500 Dividend Aristocrat constituents list and the latest trailing 12-month EPS and DPS for each company using Finviz.
Earnings yield versus % above 52-week low price
This next comparison will identify which Aristocrat companies have the strongest trailing 12-month earnings yields while still trading relatively close their 52-week low price. The problem with this analysis is it typically would identify a company that the market projects declining earnings and the stock price suffered as a consequence, hence a higher earnings yield and a price closer to its 52-week low. This list of elite companies has a long record of increasing dividends and a demonstrated ability to consistently course correct to deliver value to its shareholders so in this case I am seeking out companies with these traits in search of value.
I targeted companies in the top quartile of earnings yield (above 6.1%) and in the bottom quartile of price (proximity to their recent low price - within 1%). This yields a list of 7 companies: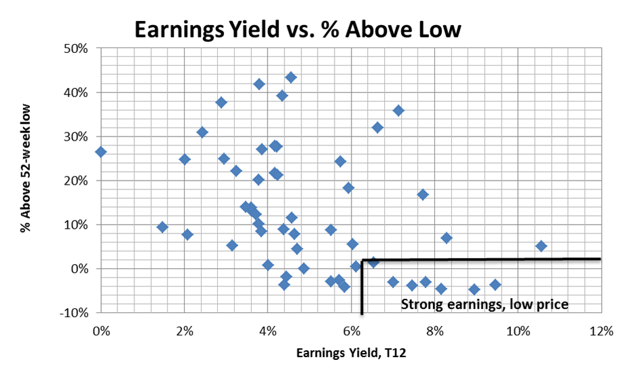 Source: Own compiled using S&P 500 Dividend Aristocrat constituents list and the latest trailing 12-month EPS for each company using Finviz.

Of this screen, Franklin Resources Inc. (NYSE:BEN) has the highest earnings yield, followed the two Oil & Gas companies, CVX and XOM, Emerson Electric Co. (NYSE:EMR), Wal-Mart Stores Inc. (NYSE:WMT), Dover Corp (NYSE:DOV), and Johnson & Johnson (NYSE:JNJ).
Crossing screens one (high dividend and low relative payout ratio) and two (high earnings yield and proximity to 52-week low price) yields a list of six companies for consideration. The companies that meet both screens have an asterisk (*) in the above table - CVX, XOM, EMR,WMT, DOV and JNJ.
How has this strategy worked so far?
While the holding period of just less than seven months is still relatively short, let's see how the strategy has worked. I am not afraid of measuring performance - in fact is absolutely crucial is a field where overconfidence is ubiquitous.
I ranked each stock in the index by an approximation of total return. My approximation includes capital appreciation and dividend payments that are not reinvested. Over this period, NOBL managed a (3.2%) return after including the two quarterly dividends. The stocks that did not outperform NOBL are the "Index Dogs" while those that did are the "Index Cats" (see table below).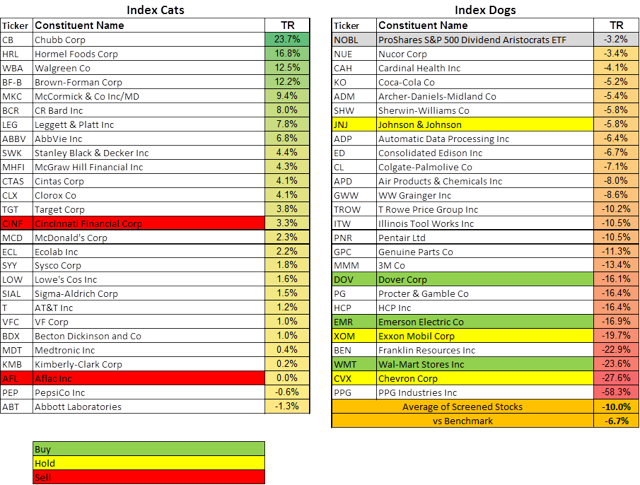 Source: Own compiled using S&P 500 Dividend Aristocrat constituents list and Google Finance.
If you recall, there were five stocks that met both criteria back in January, AFL, CVX, XOM, Cincinnati Financial Corp (NASDAQ:CINF) and JNJ. These five are highlighted in red/yellow in the table below. Assuming a portfolio of equal weight for the five screened stocks, its return was (10.0%). Three of the five selections are "Dogs" and the two Oil & Gas firms have a lot (!) of room to make up if they will ever outperform the index as of 1/31/15. The average return was highly skewed by the poor returns of XOM and CVX. In hindsight it probably does not make sense to equally weight two seemingly substitutes for 40% of a portfolio! Regardless two of the stocks performed relatively well (CINF and AFL).
While three of the stocks on the new list were also in the January list, I marked them in yellow as "hold". The two stocks that fell off the list, CINF and AFL are marked red for "sell" and replaced with DOV, WMT and EMR (marked in green for "buy"). Or in simpler terms - just sell the Cats and buy the Dogs.
Disclosure: I am/we are long AFL.
I wrote this article myself, and it expresses my own opinions. I am not receiving compensation for it (other than from Seeking Alpha). I have no business relationship with any company whose stock is mentioned in this article.