Similar to the Empire State Manufacturing Survey, the 5th Fed District out of Richmond, Virginia, noted that August factor conditions were mixed, but there's a definitive bias to the downside. The Richmond Fed Manufacturing Activity Index came in at a reading of 0, which was rather disappointing compared to the prior reading of 13 and well below the low-end of the consensus range at 8.
The chart below, which goes back to September 2011, shows how the manufacturing index has consistently fluctuated around zero. Earlier in 2015, it appeared as though Richmond was avoiding the oil-related slumps in manufacturing, but it appears as though even that trend has reversed.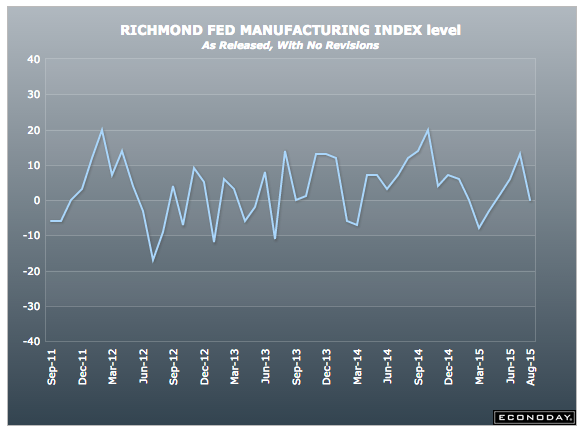 As with the other Fed reports, overall orders continue to be weak: in the Richmond district, the volume of new orders was flat at a reading of 1 versus 17 in July and 10 in June. Backlog orders are also in deep contraction at a reading of -15. Additionally, shipments were not much better coming in at -4 while capacity utilization came in at -5 for the month. Those surveyed noted that hiring continues to be flat, as does pricing power.
On the other hand, there was a standout strong point in the report. Wages showed a current reading of 15, which is stronger than the 14 reported in July, and the expectations component came in at 34, which is more than the 29 recorded in July. Clearly many expect stronger wage growth in the coming months, which also points to a positive August jobs report.
This report, combined with the Empire State and Philly Fed reports and the flash manufacturing data from Markit, shows that August is likely to be a rocky month for the U.S. manufacturing sector. Richmond is especially important as a trading port, which is clearly still being harmed by weak exports.
Disclosure: I/we have no positions in any stocks mentioned, and no plans to initiate any positions within the next 72 hours.
I wrote this article myself, and it expresses my own opinions. I am not receiving compensation for it (other than from Seeking Alpha). I have no business relationship with any company whose stock is mentioned in this article.