Technology is an area that has excited investors over the course of several generations, and many have had some lucrative experiences with these stocks given that the companies are often at the epicenter of secular growth trends. But many have been battered as well, sometimes by being in the wrong stocks, sometimes by being invested at the wrong times, or both. And often, this area has served as the arena in which different approaches to stock selection - reliance on basic fundamentals versus a focus on appealing stories - battle for supremacy, or at least for the hearts and minds of investors.
I prefer a both-of-the-above stance combining fundamentals and stories and objectively implemented through stock screening. This has the potential to produce well-above-average results in good times without much more (and possibly a bit less) bear-market pain than we see in other sectors.
We can't directly screen for stories since these are, by their nature, qualitative. But we can pretty confidently assume that good stories are likely to attract analyst attention. This is something that can be addressed through screens, as I using rules (i) limiting consideration to companies for which analysts have raised estimates in the past four week, (ii) barring companies that have been subjected to any downside revisions in the past four weeks, and (iii) requiring that the recommendation score (an statistical aggregation of all the pending recommendations of all covering analysts) be better than it was four weeks ago. I also eliminate companies likely to report earnings in the next week.
The latter knocks out opportunities to benefit from positive surprises, but shields the model from, damage due to disappointments; a tradeoff that seems, based on some initial testing, to make little financial difference over the longer term, but one that undoubtedly makes a big emotional difference to one who wonders if the latest rally may have built in a bit much in the way of optimism. (These rules are in addition to others that bar pink-sheet stocks, ADRs and shares with very low trading volume.)
The stocks that pass this story-oriented screen are then ranked based on my multi-style Quality-Value-Growth-Momentum ranking system, and the top five are selected.
Figure 1 shows the results of a 3/31/01 through 2/3/12 backtest. It is presumed that the lists are refreshed every four weeks and that the stocks in the "portfolios" are equally weighted. The benchmark I'm using consists of all tech stocks that pass my preliminary (liquidity, etc.) filters. I was tempted to use the more-readily investable SPDR Select Technology sector Fund (NYSEARCA:XLK) or a comparable ETF, but decided to control for the small-cap effect by presenting my entire universe. For your information, the full universe, with its hefty dose of small stocks, substantially outperformed XLK, where larger-cap issues hold more sway. All results are indexed with the portfolio values set at 100 as of 3/31/01.
Figure 1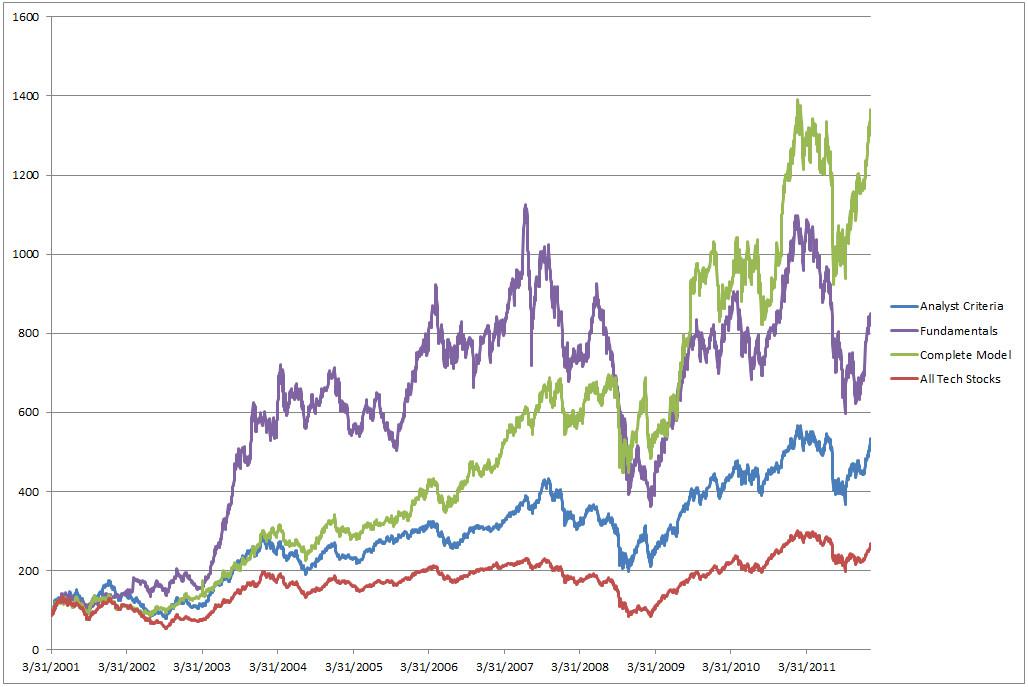 When it comes to stories (analysts) versus fundamentals, fundamentals, often have the edge (yes Buffett wannabes, it's OK to clap). But focusing on analyst-based data is also acceptable, certainly more so than many were lead to believe a decade ago, when the sell-side scandals boiling over. That said, it looks like the most consistent winner overt the most prolonged period was the combination, as reflected in the green line. Figure 2 lists the five stocks that currently make the combination (stories and fundamentals) list.
Figure 2

Apple (NASDAQ:AAPL):
I really hope I don't have to tell anyone what Apple does for a living. I discussed it at length just recently. I don't buy into the value angle (the P/E is, indeed, low, the price/sales is quite high), but assuming the combination of hardware quality and brand mystique can maintain the brand's upper-end appeal and allow margins to hold up, or not slip much, this can still be a worthwhile growth stock.
There is one additional point I'd like to make today. Notice that Apple makes a screen based on analyst actions. These aren't the most rigorous analyst-oriented tests I've ever devised, but it's not as if AAPL passes by the skin of its teeth.
Apple is the most well-covered stocks out there (54 analysts publish estimates of current-year EPS, tops among all stocks with three being tied for second place at 44) and one of the most highly rated (an average recommendation score of 1.58, assuming 1.00 is best and 5.00 is worst). Many stocks have scores above 1.58, but for the most part, those are much smaller companies with much less coverage. Among the 1,947 stocks with market caps above $1 billion that are ranked by analysts, only 130 (6.7% of the total) rank better than 1.58. The average market cap for those stocks is $14.4 billion (versus $429 billion for apple) and the average number of covering analysts is 5.
Summing this up, for a stock that's as large as Apple (#1 actually) and so heavily covered, and given that difference of opinion is an inevitable fact of life, its having a recommendation score of 1.58 is quite amazing. What this means is that if you're among the many on Seeking Alpha who think the Street doesn't understand or respect Apple, get over it. That's fantasy. The stock can't move on the basis of haters seeing the light because notwithstanding what some tend to assume based on Seeking-Alpha flame wars, the reality is that there aren't enough haters out there. For AAPL to move, it will have to deliver on the Street's growth expectations.
Cirrus Logic (NASDAQ:CRUS)
This chipmaker has been riding Apple's coat-tails, so to speak, by selling integrated circuits to Apple, an activity that accounted for 70% of its revenue in the latest quarter (versus 62% and 44% for the nine months ended 12/31/11 and 12/31/10 respectively). Not surprisingly, its valuation profile is similar to that of Apple; low P/E and high price/sales ratio. That said, it's not easy holding onto someone else's coat-tails. Some were disappointed that Cirrus' latest results, while very strong and which included increased revenue guidance, weren't as stupendous as those of its big patron. But there are different flavors of upside.
At CRUS, the focus is the company's aggressive R&D program (nearly 20% of sales) and new products that will come out for other kinds of products in 2012. Semiconductors is usually thought of as a commodity business, but actually, that may be less so than in the past (given requirements that chips are required to do more with less space) and frankly, for a company looking to sell its chips in the context of a competitive market, there are worse things one can say than "We sell a lot to Apple."
SYNNEX Corp. (NYSE:SNX)
After considering Apple and one of its suppliers, we now have to go to the grunt end of the business, which SNX organizes in terms of two divisions: distribution services (which, as its name suggests, is a distributor of technology products and in the case of SNX, also includes some contract assembly) and global business services (outsourced tech support, customer service, lead management, renewals management, etc.). This is a tough low-margin business, but this company has managed to keep its margins on a gradual uptrend for a long time. From 2004 to 2011, operating margins were 1.51%, 1.40%, 1.52%, 1.57%, 1.88%, 1.94%, 2.31%, and 2.46% respectively.
Margin, of course, isn't the whole answer. Turnover is also important and ultimately, margin and turnover combine in return on capital which, for SNX has been in the mid- to low-teens, not spectacular, but respectable. Meanwhile revenues and EPS held up even during the late-200s lean years. Fancy brands, visionary products, economic moats and the like are absent here. This just seems to be a solid back-office execution story with a reasonably-valued stock (P/E ratios based on estimated EPS are in high single digits.
Seagate Technology (NASDAQ:STX) and Western Digital (NYSE:WDC)
These companies make disk drives. STX focuses on the more traditional hard drives used in computers and other devices. WDC is more known for external drives and solid state drives, which are faster but still more expensive than conventional hard drives. Right now, ongoing disruption from the Thailand floods is an issue. The Street has adjusted its expectations to account for low supply and weak volume, but there do seem to have been some positive earnings surprises produced by the resultant higher prices. That should change as 2012 progresses; better supply and diminishing prices.
Longer term, one has to stay nimble with both stocks. It does appear that demand for drives from pcs and other computers is likely to cool but demand from enterprise storage (including cloud storage) should rise. The data that will need to be stored is growing exponentially; questions relate to where and on what type of hardware it will be stored. This is an evolving area and it seems reasonable to assume the business mixes of both companies will look different a couple of years hence.
I always re-balance my models every four weeks and situations like STX and WDC are a good example of why. I can see them as good near-term plays on the Street's reaction to gradual recovery from the flood and decent demand for cloud, solid state, etc. storage. But as for the long term, I might be tempted to hang onto AAPL, CRUS or SNX if they fell out of my screen four weeks hence, but I would not feel that way about STX or WDC. That said, of the two, I'd give the nod to WDC given its lean cost structure and presence in the emerging solid-state area; the company also acquired its way into the enterprise area.
Disclosure: I have no positions in any stocks mentioned, and no plans to initiate any positions within the next 72 hours.