The market has seen four days of brutal triple digit losses and this has created a significant amount of fear for some investors. I am being cautious, but I remain bullish and I am selectively buying. If you feel panicked now, I think Cam Hui had great advice when he said "Relax, Have A Glass Of Wine". After reading that article, I decided to have a glass of wine Monday night and I worked on my shopping list of stocks to buy in this correction. This list includes picks like Apple (NASDAQ:AAPL) and Gilead (NASDAQ:GILD) which I believe will be among the first to rebound when the market regains its footing.
At this point I think it is clear that the markets experienced a "flash crash" on Monday, August 24th, when some of the biggest blue chips dipped by about 20% in the blink of an eye. When we see this type of irrational selling and market behavior it has often been a big buying opportunity. I believe the markets are now poised for a big rebound and here are the reasons why investors should prepare for this now:
1) Historical data shows that a big rebound is probably coming:
Tom Lee of Fundstrat Global Advisors points out in this CNBC video that after a correction like the one the markets have experienced in August, there has been a "V" Shaped rebound 90% of the time. Furthermore, in these rebounds there is an average gain of about 7%, just one week after the bottom is in. There is also data discussed in the video that suggests that the current correction which started about 30 days ago, might only take about 50 days (based on historical averages) in order for the market indexes to get back to former highs.
2) What would Warren do?
Did you buy stocks so that you could buckle during a major 10% correction and sell the long term potential upside of that stock to another investor? As we have seen time after time, the most successful and richest investors in the world like Warren Buffett don't wilt when the market hits a rough patch. More often, top investors use market pullbacks to buy bargains and add to positions.
3) The market has reached extremely oversold levels:
By taking a look at the chart below, you can see that the S&P 500 Index (NYSEARCA:SPY) has plunged very rapidly. It now has a Relative Strength Index or "RSI" of just 17, which indicates extremely oversold conditions. When the RSI reaches 30, this is considered oversold, so a reading of 17 is extremely oversold. Technically, this often means that selling pressure has reached unsustainable levels that will not last and that often leads to a sharp rebound.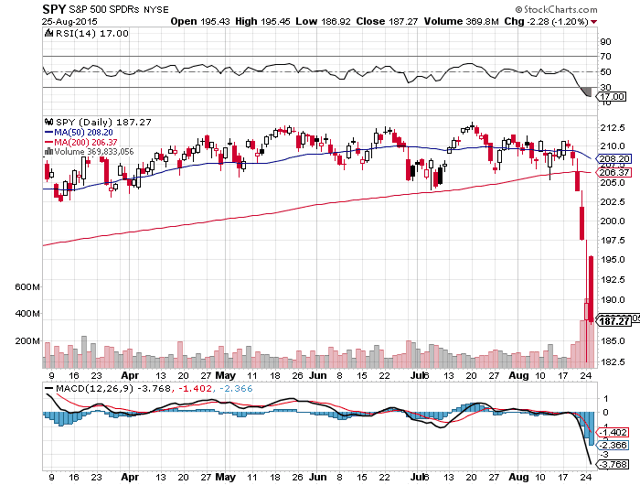 4) China is not imploding:
There is now a lot of fear-mongering and media publicity stirring up fears about China. I am skeptical about any data that comes from China but that country is still probably growing faster than any other major country in this world. Furthermore, the population growth and sheer size of that country is likely to keep it on a long-term uptrend. However, right now we have analysts trying to convince you that stocks like General Motors (NYSE:GM) should be sold because it has exposure to one of the world's fastest growing economies. Unlike many Western countries, China also has plenty of ammo left when it comes to stimulating the economy and the People's Bank of China or "PBOC" is taking swift action to get economic growth back on track. The PBOC just announced an interest rate cut of a 1/4 percent which cuts the key lending rate to 4.6%. That means there is plenty of room for additional rate cuts if needed. As the saying goes "don't fight the Fed" and this should also include don't fight China's Fed because they are going to do whatever it takes to keep the economy growing.
5) The market traded poorly on Tuesday, August 25th, but don't let it spook you:
On Tuesday, it seemed like the big rebound had started in the United States as the Dow Jones Index (DJI) surged over 400 points. However, at the end of the trading session, the market saw selling pressure and closed down by nearly 205 points. I was somewhat surprised that the market was up so much earlier in the day, especially since the Shanghai market was down by about 7.6%. Nonetheless, this end of day drop was (technically) a very poor showing for our stock market after days of big losses. This reversal did not impress me but I am not that discouraged by it since the market is not always going to trade based on technical factors or on algorithms and computers that kick in with sell programs at the end of the day. I believe algorithms and computers were primarily responsible for the flash crash that occurred on Monday whereby many blue chip stocks dropped by 20% in a matter of minutes. We know that the fundamentals of the U.S. economy and of many major corporations did not change by 20% in a matter of minutes. This is completely irrational and also fear based selling that won't last. Based on this, I believe a market rally is only delayed but not in jeopardy even though the major averages did not hold the gains. It's worth noting that our own Federal Reserve remains very accommodative and the U.S. economy appears solid.
In summary, this is the buying opportunity that many of us were hoping for and it is a great chance to invest in market leaders like Apple and Gilead at much cheaper prices. I also think it is a great time to buy some very beaten up, deep value stocks like Genworth Financial (NYSE:GNW) which trading for just about $4.50. Genworth is my top turnaround stock and it is seeing multiple rounds of insider buying (including the CEO) as I detail in this recent article.
Data is sourced from Yahoo Finance. No guarantees or representations
are made. Hawkinvest is not a registered investment advisor and does
not provide specific investment advice. The information is for
informational purposes only. You should always consult a financialadvisor.
Disclosure: I am/we are long GNW, GILD.
I wrote this article myself, and it expresses my own opinions. I am not receiving compensation for it (other than from Seeking Alpha). I have no business relationship with any company whose stock is mentioned in this article.