Introduction
Trina Solar Limited (NYSE: TSL) is a vertically integrated solar company that has a global distribution network that produces high-quality monocrystaline photovoltaic (PV) modules and multicrystalline PV modules. Trina Solar has both an upstream and downstream solar manufacturing and distribution business. It has had an incredibly productive year and has consistently beat earnings per share estimates in the past four quarters. In spite of this, its value and growth potential is not reflected in its current share price.
The first time I wrote about Trina Solar last year, its share price had been brought down by a confluence of broader market events and was trading near what it's trading at today. Although the share price rallied this year to a high of around $13 toward the end of April, its share price has not gained the momentum it deserves because of broader market factors. But after the significant sell-off in energy stocks because of depressed oil prices and market volatility in China, a perfect storm has created an ideal buy and hold opportunity for investors seeking to get in on one of the top global solar producers at a relatively inexpensive price.
Examining Trina Solar's Business Model
When looking at Trina Solar, it's important to first understand its business model. Trina Solar has experienced tremendous growth and development since inception in 1997. Trina Solar handles a variety of upstream and downstream manufacturing business.
In terms of its upstream manufacturing, it produces multicrystalline ingots, wafers, PV cells and PV modules. In graphic from based on its 2014 annual report, its upstream production looks like:
| | |
| --- | --- |
| Products | Capacity |
| Multicrystalline ingots | 2.2 Gigawatts |
| Wafers | 1.7 Gigawatts |
| PV Cells | 3.0 Gigawatts |
| PV Modules | 4.0 Gigawatts |
For 2014 on the upstream side, Trina Solar shipped 3.66 GW of total modules and 323 megawatts were shipped to its downstream PV projects.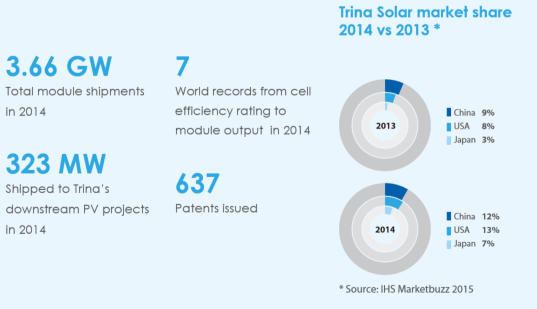 Source: 2014 Annual Report
In terms of its downstream business, it provides EPC services for power plants and has developed a variety of PV projects in the utility, residential and commercial sectors. Examples of its sales in 2014 include 24 megawatts worth of PV projects in the United Kingdom and the acquisition of a 90% equity interest in the 300 megawatt Yunnan project in China.
What all of this indicates is both the size and scope of Trina Solar's diversified business interests. It has around 500 customers in 35 countries and has a 4.0 gigawatt annualized module capacity in 2014. This is the reason why it's the largest supplier of PV modules in the world.
Positive Indicators of Growth
Looking back at last year and through Q2 this year, there are numerous indicators that have demonstrated the effectiveness of Trina Solar's expansion and cost-cutting efforts.
First looking at Trina Solar's 2014 annual report, there were several positive indicators of growth and development:
Revenues of $2.29 billion and shipments of 3.66 gigawatts of PV modules;
Sales in over thirty countries;
A strong research and development arm that received 637 patents.
Looking at the financial data from the Q4 2014 conference call provides more evidence of strength:
Net revenues rose 14.3% sequentially to $705 million. Gross margin in the fourth quarter was 15.7%, which also exceeded the high-end of our guidance, although it was down from 16.7% from last quarter...

Over the past two years, we were able to drive down our in-house manufacturing cost from $.56 in the third quarter of 2013 to $0.46 in the most recent quarter...

We also look very closely at EBITDA because we believe it better represents the health of our business. For the fourth quarter, EBITDA was $51 million and for the full year it was $221 million, which is up significantly from $61 million last year, 2013.
There are several key takeaways from 2014.
First, revenues and shipments were up. This indicates that Trina Solar was able to successfully improve both its upstream and downstream business. It sells its products in various markets around the world. This insulates Trina from being too dependent on any single country. Although 35% of shipments went to China, 27% went to the U.S. In spite of recent market volatility in China, demand remains strong in these two key markets along with several growing markets such as India.
Next, costs were down and research was up. The 18% reduction in manufacturing cost over the course of two years has led to better margins and increased profitability. Equally important is the fact that research remains a key area of focus. As research helps lead to more efficient and effective products, this bodes well for Trina.
Finally, the EBITDA demonstrates an improving financial outlook. One of the criticisms of solar producers are that they produce products without profitability. Yet Trina Solar demonstrates the opposite. Its EBITDA for 2014 was over a quarter billion dollars, which is a 262% increase from 2013. This continued growth can be seen in the last two reports as well.
In May of this year, Trina released its Q1 earnings. It had its best first quarter ever and posted strong financial metrics across the board. It reduced its cost per watt and had new demand from India. In fact 10% of total external shipments went to India. Demand will continue to rise from India because its prime minister has promised a $100 billion investment into solar energy over the next seven years.
In terms of research, Trina Solar was included in the U.S. national renewable energy efficiency lab's chart, making it the first Chinese company to appear in it. This demonstrates Trina Solar's continued commitment to improve on its efficiency. This remains the central focus of its research and development.
Looking at the important financial data from the earnings call, the CFO, Teresa Tan, noted that:
Operating income was 29.2 million which was largely in line with last quarter's 30.5 million. We also looked very closely at EBITDA because we believe it better represents the health of our business. For the first quarter EBITDA was 61 million compared to 51 million last quarter. Net income increased 13% sequentially to 15.7 million...

For Q1 we shipped 891.7 megawatt of modules on a GAAP basis. We also shipped an additional 134.5 megawatts to our downstream project. So, on a non-GAAP basis our total module shipments were 1.026 megawatt. Using the same approach our non-GAAP revenue was $634 million, gross profit was 115 million. So basically a 15% increase to our GAAP profit. Gross margin remains the same at 18%.
This indicates the Trina Solar continues to improve its upstream and downstream sales. This is yet another indicator of continued growth and profitability.
In spite of all of these positive indicators, what really caught my eye was the Q2 earnings report last week. Trina Solar posted incredibly impressive numbers. It beat on revenue, earnings per share, increased module shipments, and connected double the amount of projected projects to the grid. Some data points are:
Module shipments rose 20% Q/Q and 30.6% Y/Y to 1.23GW.
121.3MW of projects were connected to the grid, above guidance of 65MW-70MW.
Full-year shipment guidance increased to 4.9GW-5.1GW from 4.4GW-4.6GW.
Along with top-line growth, gross margin was a healthy 20%, up from Q1's 18% and Q2 2014's 15.4%.
This demonstrates strong demand and growth in both its upstream and downstream business segments. Turning to the conference call, the CEO, Jifan Gao, highlighted several important points:
We lowered the in-house manufacturing cost by over 16% in the first half alone, beat our high-end - our year end target of $0.40 to $0.41...

As demand in global solar markets continue to increase, our transition to relative asset light capacity expansion, we are able to quickly respond to growing demands while maintaining manufacturing flexibilities. In addition, we are leveraging our better supply chain management, coupled with our technology and operation management advantages, while utilizing capacities from the Tier 2 and even Tier 1 module producers.

Finally, let me briefly comment on the China market...Halfway through the year, China has already completed over 40% of its 2015 target of 77 gigawatts of targeted 17.8 gigawatts and moreover projects are expected to connect to the grid in the second half of the year. We are confident that China will meet its target this year, with greater growth potential in the coming years.
He raises three points that deserve closer attention.
Above all, manufacturing costs continue to go down. This indicates the continued maturity of Trina Solar. With reduced manufacturing costs, a tight focus on cost controls and heavy research and development into increasing efficiency, this bodes well for further cost reductions in the future. With further cost reductions, Trina Solar is positioning itself to be the cheapest, largest and most efficient solar producer.
Next, the supply chain continues to improve and demand is increasing from new countries. Demand from India increased and various projects are developing well in both Thailand and Malaysia. Even more encouraging is a broader expansion in both Europe and Latin America, particularly as supply chain improvements allow for greater reach for distribution.
The last issue is China. China is a complex issue, especially given recent market volatility. However, in spite of a massive market drop and jittery investors, this will not significantly impact Trina Solar's projects in China. Current projects will continue as planned and the only possible issue could be longer term growth. However, even if demand is reduced from China in 2016 or 2017, Trina Solar continues to expand globally and will no doubt find more markets to offset any decrease in demand from China.
Recent Sell-Off
Why would a company that appears to be doing so well get dragged down so far? The two main reasons are because of broader weaknesses in the energy market and uncertainty in China.
On the energy side of the equation, it's important to keep in mind how low oil prices have historically impacted solar companies. I examined this issue in depth in January when oil prices were really taking a dive. My central argument from that piece can be broken down to three major points: the historic connection between renewable energy and oil, shared mutual funds that trade energy stocks, and emotional investing.
On the historical front, anytime oil prices have been low, this has discouraged investments into renewables. In fact in the 1980s renewable energy development was nixed because of cheap oil and gas. But with reduced costs and continued demand for renewable energy, solar stocks will not be held down in perpetuity by low oil prices.
Charting a graph that overlays Trina Solar's price with the price of WTI Crude Oil demonstrates a relationship.
Source: Stockcharts.com
Although correlation does not imply causation, there is ample evidence to suggest that a relationship does exist between oil and solar companies, albeit one that I think will increasingly diverge.
The second issue is that some mutual funds and ETF Funds have holdings in both fossil fuels and renewable energy companies. Although the specific quantifiable impact on oil-solar valuations remains unclear from how institution investors invest, it's important to note that a relationship does exist.
The third issue is emotional investing. Just as many investors get caught up with irrational exuberance, so too do many investors feel irrational pessimism when they see red. Emotional investing is a real phenomena, especially because investors feel the pain of loss greater than they do gains. But an unemotional investor can make a lot of money when Wall Street runs red. Even though more pain for the markets may be ahead, Trina Solar is a solid investment in spite of broader market uncertainty.
The Elephant in the room of course is China. The Chinese stock market experienced a major sell-off, the yuan has depreciated, and the Chinese government is pulling out all the stops to boost the economy. But will China drag down the global economy and stock markets along with it? Goldman Sachs' strategist Peter Oppenheimer recently noted:
Despite the recent escalation of market concerns, our economics team cautions against taking too big a global growth signal away from the weakness in China...
Although China faces issues, this does not mean the global economy will falter. A global recession is highly unlikely, particularly since the U.S. economy continues to show signs of improvement. Unemployment in the U.S. is at a paltry 5.5%, consumer confidence remains strong, and GDP growth was a solid 2.3% in Q2. So while China is a concern, the U.S. is doing fine, and the global economy will not be dragged down by Chinese uncertainty.
What does all of this mean for Trina Solar? It means that its share price has been dragged down by broader market forces, while its fundamentals remain solid. This will translate into the market eventually and it even posted a 9.5% gain on Tuesday. The bottom line is that Trina Solar continues to improve and will not remain as cheap as it currently is.
Conclusion
Looking at all of this information in a holistic manner, there's no doubt that Trina Solar has a bright outlook. It has been consistently reducing costs, beating on earnings per share, increasing revenue, increasing efficiency, heavily investing in research and development, expanding to new markets, and increasing EBITDA. Although volatility will remain, I think a $15 one-year price target is achievable given its continued growth.
The fact of the matter is that the market has not factored in Trina Solar's myriad strengths and outlook into its share price. The company has been dragged down by the broader sea of red in the markets. In spite of this, Trina Solar's share price will not stay down and is an ideal buy and hold for the value investor.
Disclosure: I/we have no positions in any stocks mentioned, but may initiate a long position in TSL over the next 72 hours.
I wrote this article myself, and it expresses my own opinions. I am not receiving compensation for it (other than from Seeking Alpha). I have no business relationship with any company whose stock is mentioned in this article.