Overview
In this article, I will be taking a look at both Hawaiian Holdings (NASDAQ:HA) and SkyWest (NASDAQ:SKYW) to help determine which is the better long term investment for specific types of investors based on a variety of metrics. In doing so, I will be reviewing each stock based on the following characteristics:
Stability
Growth
Value
Defense
Since all investors are not the same, I believe that looking at companies through a range of lenses is useful in determining the worth of specific stocks. In my review, I will be comparing the two stocks on individual metrics, and then tallying the results of those values to determine a winning stock for each category.
STABILITY
The purpose of this category is determine which stock has the best overall financial position, possessing a stable and consistent balance sheet and overall value.
Return on Assets
Hawaiian Holdings currently maintains a higher ROA compared to SkyWest and has done so throughout the past five years.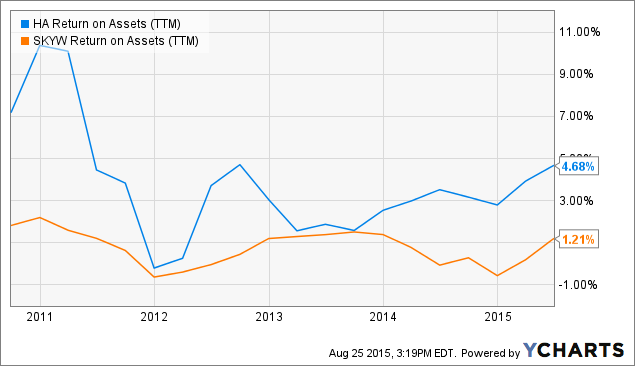 HA Return on Assets (NYSE:TTM) data by YCharts
Return on Invested Capital
The same is true for ROIC, with Hawaiian Holdings holding an even bigger advantage with a value of 8.72% compared to the 1.70% value for SkyWest.
Earnings Yield
Looking at earnings yield, Hawaiian Holdings maintains the advantage with a yield of 8.58% compared to SkyWest's yield of 6.53%.
Book Value
Over the past five years, both companies have increased their book value per share, but Hawaiian Holdings has increased it at a much greater rate.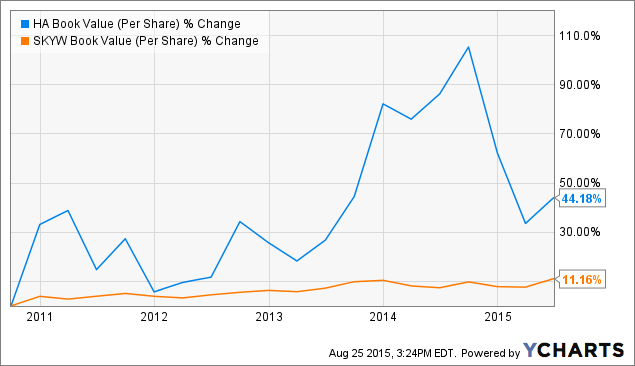 HA Book Value (Per Share) data by YCharts
Outstanding Shares
SkyWest has been able to reduce its number of outstanding shares over the past five years, while Hawaiian Holdings has seen an increase in its share count during the same time period.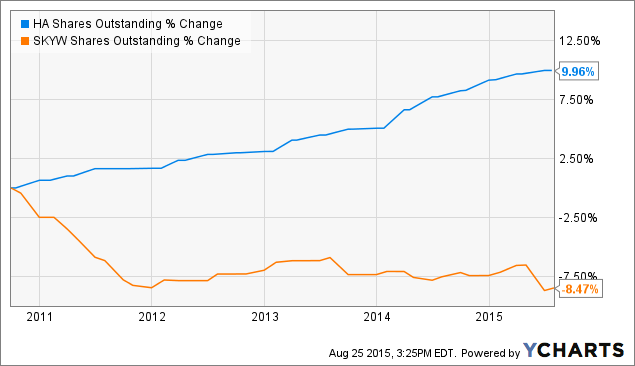 HA Shares Outstanding data by YCharts
Summary
In the stability section, Hawaiian Holdings is the clear winner outperforming in four of the five reviewed metrics. While SkyWest has done a good job of reducing its share count, the growth rate of Hawaiian Holdings book value per share more than makes up for the increase share count that the company has seen over the past five years.
GROWTH
The purpose of this category is to determine which stock has seen the most growth over the past several years and which stock is likely to continue seeing the most growth in the future.
Revenue Growth
Hawaiian Holdings has seen far more significant revenue growth over the past ten years compared to SkyWest.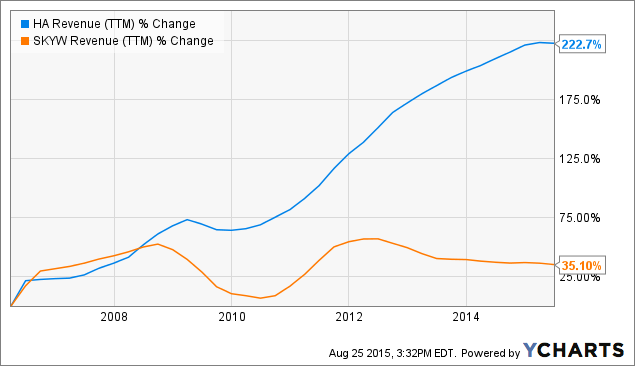 HA Revenue (TTM) data by YCharts
Earnings Growth
In terms of earnings, Hawaiian Holdings has seen very impressive revenue growth over the past decade, while SkyWest has seen a decline in its earnings during the same stretch.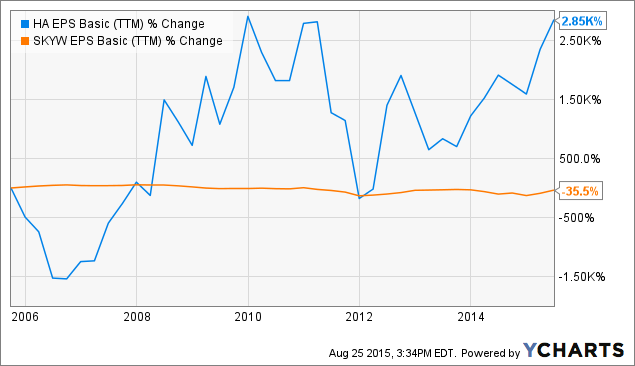 HA EPS Basic (TTM) data by YCharts
Profit Margin
Hawaiian Holdings currently maintains a higher profit margin of 5.22% compared to the 1.71% margin that SkyWest currently possesses.
Return On Equity
Just like with ROA and ROIC, Hawaiian Holdings has a greater ROE than SkyWest. Hawaiian Holdings value of 32.35% is a significant improvement over SkyWest's 3.87% value.
Stock Price Growth
The stock price appreciation of these two stocks have somewhat followed the same pattern as earnings, with Hawaiian Holdings see impressive growth, while SkyWest has seen a significant decline.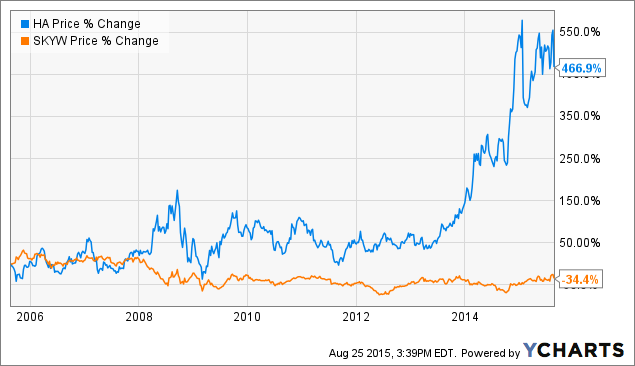 HA data by YCharts
Summary
Hawaiian Holdings easily wins this category, significantly outperforming SkyWest in each of the reviewed metrics.
VALUE
The purpose of this category is to judge each stock's current value to determine which one is more attractively priced.
PE ratios
Hawaiian Holdings appears to be the more attractively priced stock based on both trailing and forward PE ratios.
|   | Trailing PE | Forward PE |
| --- | --- | --- |
| Hawaiian Holdings | 11.61x | 8.25x |
| SkyWest | 15.15x | 8.94x |
Price to Book Value
SkyWest does appear to be the more attractively priced stock based on price to book value with a 0.56x value compared to 3.72x for Hawaiian Holdings.
Summary
I feel that Hawaiian Holdings easily wins the value category as well. Even though SkyWest does have the more attractive price to book value, Hawaiian Holdings outperforms in each PE ratio. Usually I also compare PEG ratios and price to free cash flow values, but those values are not currently available for SkyWest due to negative cash flow and earnings growth.
DEFENSE
The purpose of this category is to judge how well each stock will hold up during a recession. I will be looking at both dividend's and past performance to score this.
Dividend History
SkyWest is the only stock that currently pays a dividend. The dividend currently yields just over 1% and has held steady for the past five years with zero growth and zero declines in terms of dividends paid.
Price Returns During Prior Recessions
During the 2007-09 recession, Hawaiian Holdings held up well compared to both the S&P 500 and SkyWest. SkyWest lost over 50% of its value during that time period.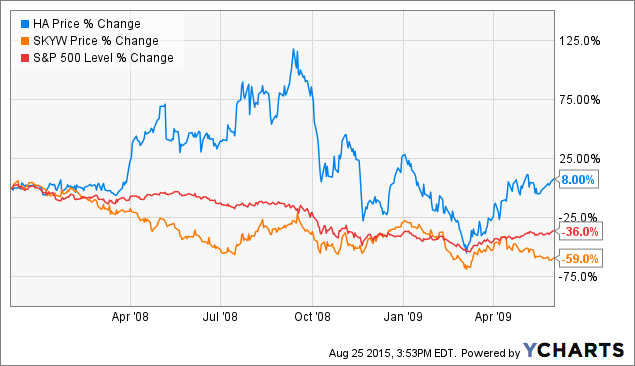 HA data by YCharts
During the 2001 recession, both stocks lost value with Hawaiian Holdings just barely outperform the S&P 500 and SkyWest underperforming once again.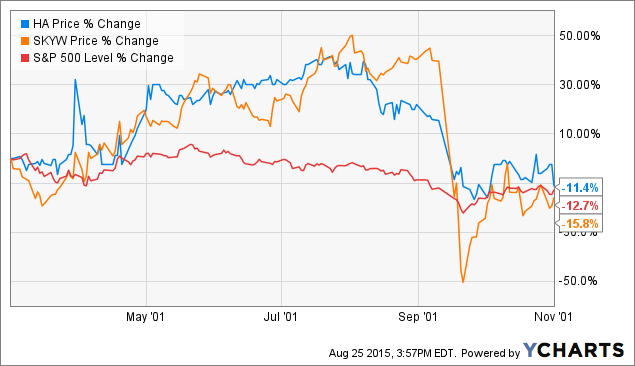 HA data by YCharts
Summary
Although SkyWest pays a dividend, it is clearly not a defensive investment option. Its stock price dropped significantly in both of the two most recent recessions, underperforming the S&P 500 in both instances.
Although I don't feel that airline companies are typically good defensive investment options, I feel that Hawaiian Holdings is a stock that does offer some defensive attributes. The stock has outperformed the S&P 500 in the last two recessions, and actually saw price appreciation during one of those.
Conclusion
This is the four article in which I have compared similar airline companies (looking at stocks with relatively close market caps). Three previous three articles looked at American Airlines Vs. Delta Air Lines, Southwest Airlines Vs. United Continental, and Alaska Air Group Vs. JetBlue Airways. In none of those articles, was there a stock that outperformed the other as much as Hawaiian Holdings outperformed SkyWest.
I believe that Hawaiian Holdings is the better stock based on stability, growth, value, and defense. The stock has seen tremendous growth in revenue, earnings, and stock price appreciation and still remains more attractively priced compared to SkyWest.
The airline has seen increased passenger miles, increased capacity, increased load factor, and of course, lower fuel costs. With an improving balance sheet, strong cash flow, and a stock buyback plan in place, Hawaiian Holdings is not only my easy pick over SkyWest, it is also my favorite stock out of the previous six airlines (with Southwest just behind) I reviewed as well. The stock has given investors strong returns over the past ten years, and I believe that trend will continue moving forward. As always, I suggest individual investors perform their own research before making any investment decisions.
Disclosure: I/we have no positions in any stocks mentioned, and no plans to initiate any positions within the next 72 hours.
I wrote this article myself, and it expresses my own opinions. I am not receiving compensation for it (other than from Seeking Alpha). I have no business relationship with any company whose stock is mentioned in this article.