"Relax, don't worry, have a homebrew."
Homebrewing can be a stressful hobby despite its obvious rewards. It is an inexact art at the best of times and even experienced homebrewers are inundated by nagging doubts - Did I maintain my mash temperature? Did I add enough hops? Is my equipment infected with spoilage microorganisms? - that can quickly ruin the experience if the homebrewer lets them do so. Famed brewing author Charlie Papazian uses the above quote to encourage a more relaxed approach that focuses on the big picture rather than the small yet persistent doubts. A bad batch is much more likely to be the result if you let these doubts distract you from the overall process.
I was reminded of Papazian's quote as I read the news about Monday's precipitous plunge in the global equities markets. A story in the Wall Street Journal of middle-aged savers cashing out of their equity holdings after the Dow Jones briefly fell by as much as 1,000 points reminds me of a panicked novice homebrewer dumping an entire batch after accidentally adding the too many hops to the batch, a problem that remedies itself with enough time. What struck me as being particularly irrational, however, was the sharp declines to the prices of independent refiners that occurred as the market indices made multiple intraday moves that normally occur over days or even weeks (see figure). Their share prices fell by as much as 10% on Monday as WTI crude moved below $37/bbl, then remained flat on Tuesday even as crude recouped its previous loss. Most refiners' share prices remain at least 10% lower than at the beginning of the month when they released their Q2 earnings reports. Such a movement would normally indicate that the refining operating environment has turned decidedly negative over the last several weeks. The reality is just the opposite.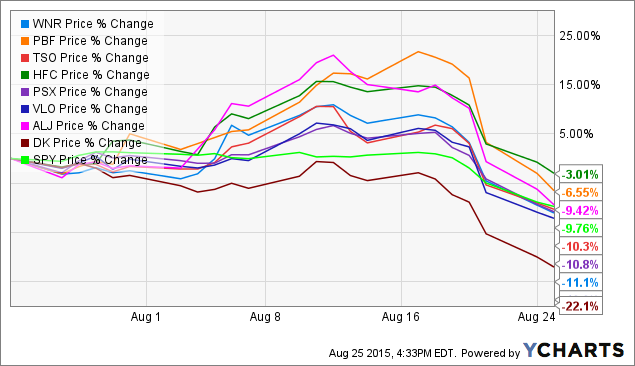 Independent refiners' Q2 earnings were quite strong, even if not all of them managed to beat consensus earnings estimates that had been revised steadily higher in May and June. Western Refining (NYSE:WNR), Tesoro Corp. (TSO), Alon USA Energy (NYSE:ALJ), HollyFrontier Corp. (NYSE:HFC), Phillips 66 (NYSE:PSX), and Valero (NYSE:VLO) all handily beat their respective EPS consensus estimates, while Marathon Petroleum (NYSE:MPC) and PBF Energy (NYSE:PBF) both missed the consensus but still recorded strong YoY increases. The primary driver of these companies' Q2 earnings was the quarter's renewed decline of the prices of WTI and Brent crudes, which outpaced declines to the prices of refining products such as gasoline and diesel fuel (see figure). True, the increases to refining margins caused by "sticky" refining product prices during periods in which crude prices move lower have historically been limited in duration to a quarter or two, but the rate at which Q2 earnings estimates for independent refiners increased as crude prices fell during the quarter caused their FY 2015 estimates to increase as well. Indeed, independent refiners' share prices tended to move much higher after the release of their Q2 earnings reports.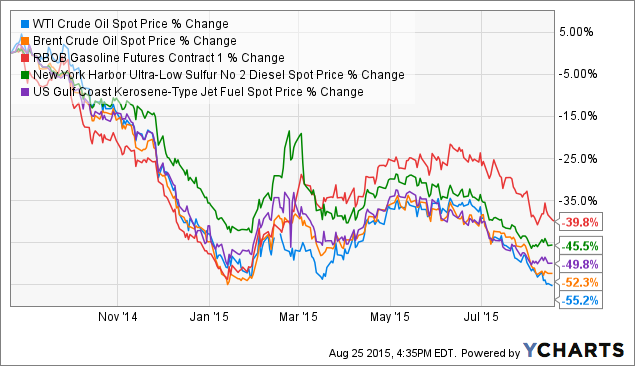 WTI Crude Oil Spot Price data by YCharts
Share prices reflect both past earnings as well as expected future earnings, of course, and a diminished operating outlook can cause a share price to decline, more than offsetting the positive impact of a strong recent quarter. This explanation for the recent performance of independent refiners' shares doesn't find much support in the data either, however. Price stabilization and even a slight decline could be expected following the Q2 earnings period given that crude prices can only fall so far, ensuring that the positive impact to earnings of crude prices outpacing refined product prices on the way down is temporary in nature. Crude prices have continued to move substantially lower in August to date, however: WTI crude is down 16% since August 1 at the time of writing while Brent is down 17% over the same period. Meanwhile, RBOB gasoline is down 19% and ultra-low sulfur diesel is down 11%. The former represents a reduction to refining margins but certainly not enough of one to merit 20% share price declines in only four weeks, especially when considered in the context of 2015 to date.
Finally, all has been quiet on the regulatory front as well. In the summer of 2013 refiners saw their regulatory costs soar as Renewable Identification Numbers [RIN] soared by as much as 2,800% between January and July. Refiners are required under the revised Renewable Fuel Standard [RFS2] to either blend predetermined volumes of biofuels with gasoline and diesel fuel for retail or purchase RINs from parties performing the blending, with each RIN representing 1 gallon of ethanol-equivalent. Few independent refiners conducted the required blending operations on their own (a situation that has not changed much over the last two years), and they resorted instead to the purchase of RINs on the open market. Their earnings were negatively impacted when prices for the largest category of RINs (D6) increased from $0.02 at the end of 2012 to $1.45 in July 2013, with some even attributing their net losses in Q2 2013 to the rapid increases of their RIN expenses. D6 RIN prices have not returned to their 2012 lows, but they did fall from roughly $0.80 in May to $0.40 in the subsequent three months following the release of a proposal by the Environmental Protection Agency [EPA], which oversees the RFS2, to reduce the volumes of biofuel that must be blended in 2015 and 2016, effectively reducing demand for D6 RINs. Independent refiners can expect to see this reduction reflected in their Q3 and Q4 earnings reports as a result.
In the meantime, positive news regarding the refining operating environment continues to appear in the headlines. U.S. drivers have responded to cheap fuel by traveling more and rediscovering their fondness for gas-guzzling vehicles, prompting President Obama to earlier in the year go so far as to publicly discourage people from buying them (few consumers appear to be heeding his words). Data from the U.S. Energy Information Administration [EIA] shows that gasoline retail sales by refiners in the first five months of 2015 reached their highest level since 2012, prompting the body's analysts to reverse their previous forecast of a multi-decade decline to gasoline consumption with one of higher consumption. Total U.S. gasoline consumption in Q2 increased by 3% YoY and by 2016 is expected to be higher than at any time since 2007, while diesel fuel consumption is expected to set new highs in both 2015 and 2016. I wouldn't be surprised to see these forecasts change still more in refiners' favor over the coming months as the most recent crude price decline is incorporated into them.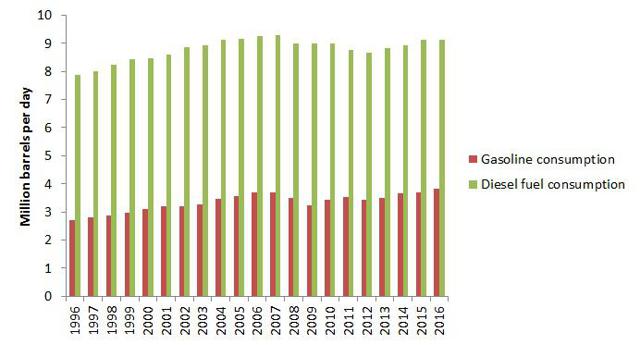 Source: EIA (2015).
The forward valuations of independent refiners simply don't reflect their operating outlook. The highest FY 2016 forward P/E ratio doesn't exceed 11x (see figure), while all of the refiners' ratios are closer to the bottoms of their respective ranges since 2012 than to the tops. For comparison, the S&P 500 is currently trading at a forward ratio of 17.4x.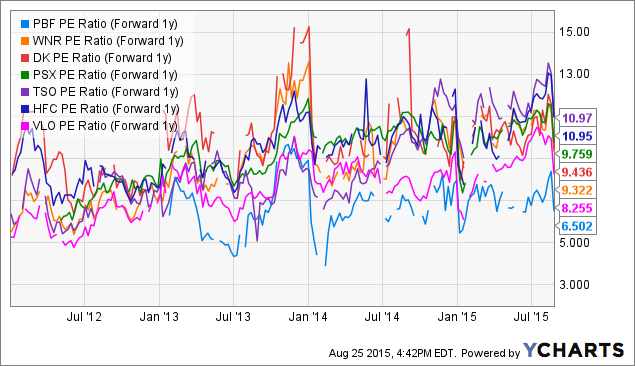 PBF PE Ratio (Forward 1y) data by YCharts
The dividend yields of independent refiners look attractive, especially in comparison with that of the S&P 500 (see figure). While falling share prices can make yields appear to be artificially high in the event that they presage sharply lower future earnings and the consequent dividend cuts, there is little in the outlook of independent refiners' to indicate that such is the case here.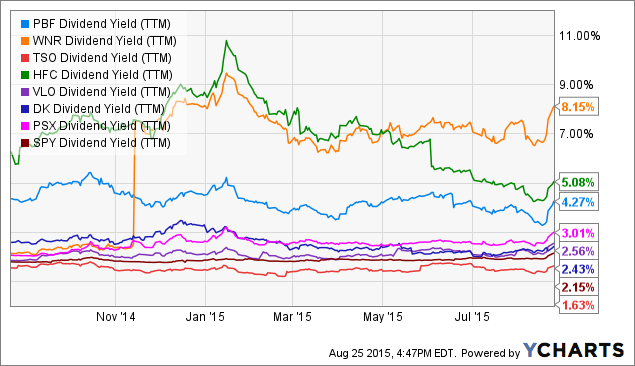 PBF Dividend Yield (NYSE:TTM) data by YCharts
Investing during equities corrections and bear markets can be a daunting prospect due to the self-control it requires; it is much easier when looking at a long portfolio that is awash in red to decide to cut one's losses and flee to cash instead. That said, leaving the market at a time like this is akin to dumping out an entire batch of homebrew because the process of making it wasn't as error-free as you would have preferred it to be. From a psychological perspective, investors moving into the market at this time should be prepared for the possibility of paper losses. Independent refiners' shares are looking very attractive, however, as their current price movements do not reflect the state of the industry. So relax, don't worry, and buy shares in an independent refiner (or two).
Disclosure: I am/we are long WNR.
I wrote this article myself, and it expresses my own opinions. I am not receiving compensation for it (other than from Seeking Alpha). I have no business relationship with any company whose stock is mentioned in this article.