It looked like the U.S. stock market was set to rebound Tuesday following the drop on Monday. It wasn't to be, as it shed more than 1% during the last fifteen minutes of trading. The Wilshire 5000 Index, a broad measure of U.S. stock market performance, has now plummeted more than 10% over the last five trading days.
This plunge has led some to already start uttering this "much needed" and "healthy" correction is nearing its end. In my opinion, this is at best a hasty call, as stock prices, having so magnificently decoupled from all kinds of fundamentals especially during the last twelve months (e.g. here), have been driven mostly by expectations of ever higher stock prices. When this last piece, sometimes referred to as "confidence" and at other times "the greater fool", disappears from the equation, history tells us the bottom is deep at such valuation extremes (e.g. here). How deep? Let's see what the money supply tells us.
As individual stock prices and stock market aggregates are measured in monetary terms, it figures that the larger the quantity of money in an economy, the higher the stock prices. All other things remaining the same of course. If you're a skeptic, this chart might just persuade you.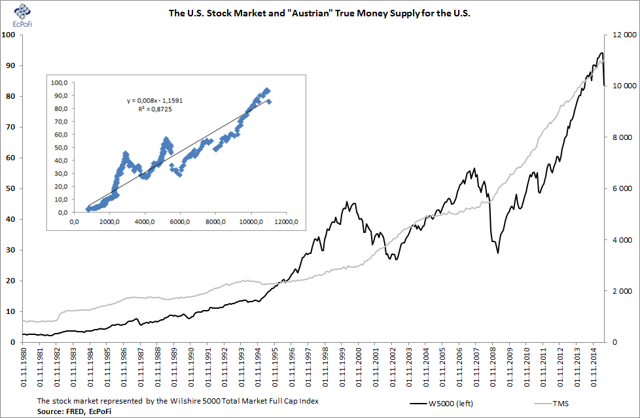 The two data series above correlate closely over the longer term, but the ratio between the two can fluctuate fairly vividly over the medium term. Based on the experience from the last two stock market peaks (2000 and 2007), the ratio suggests it can only be stretched so far before it adjusts back to some more "reasonable" level. What this level "ought to" be is anyone's guess (hint: there is no correct answer), but as money represents purchasing power, it is not unreasonable to conclude that the economy will be forced to adjust at some stage when stock prices make up an "unsustainable" part of the money supply.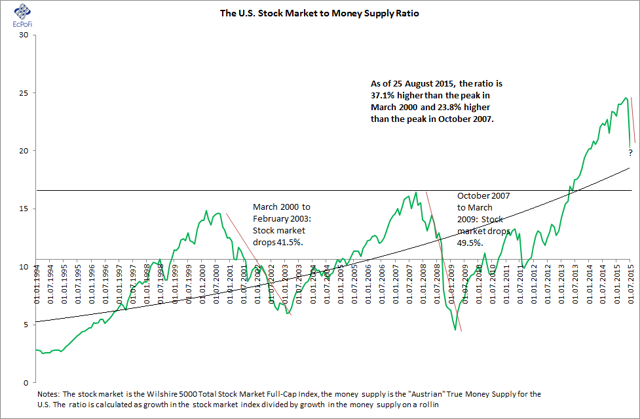 As the chart demonstrates, the U.S. stock market dropped 41.5% following the peak in March 2000 and 49.5% after the peak in October 2007. Chartists might also notice that the trough in March 2009 was lower than the trough in February 2003 even though the 2007 peak was higher than the 2000 peak. Based on this and adding the facts that U.S. government debt has more than doubled since 2007 and that interest rates are at rock bottom, it should not surprise anyone if the stock market bottom this time around turns out to be even deeper than last time around, i.e. a fall of more than 49.5%. So far, the pace of this correction is significantly faster than the last two. Brace yourself for a volatile autumn.
Disclosure: I am/we are short MYY. I wrote this article myself, and it expresses my own opinions. I am not receiving compensation for it (other than from Seeking Alpha). I have no business relationship with any company whose stock is mentioned in this article.