Yesterday, on August 26, the weekly EIA Petroleum Inventories numbers came in. Crude oil inventories in the US fell by 5.5M barrels, above estimates of a build up of 1M barrels. Meanwhile, gasoline inventories increased by 1.7M barrels, compared to estimates of a decline of 1.1M barrels. While distillates inventories rose by 1.4M barrels, versus estimates of an 0.6M barrel increase.
Taken altogether, this report was very bullish for oil. However, the market was simply not buying it, sending crude lower, with WTI now below $39 per barrel. Though paradoxically, ETFs following the commodity such as United States Oil Fund (NYSEARCA:USO) and the Energy Select SPDR ETF (NYSEARCA:XLE) actually ended the day higher.
Markets were focused on gasoline to a fault
As is the case with bear markets, the good news (lower crude oil inventories) was ignored and attention instead focused on the bad news. The headlines were all focused on the larger than expected gasoline buildup, with even the WSJ claiming that gasoline demand is falling. However, looking deeper into the numbers, it is obvious that many of these are not up to par.
First, looking at the week to week numbers is going to add tons of volatility. For example, BP's (NYSE:BP) large refinery located at Whiting Indiana has just recently restarted crude after repairing a distillation unit that unexpected broke down earlier in the month.
Looking over a longer term, over the past 4 weeks US gasoline consumption has averaged 9.6M bpd, up 530,000, or 6%, from last year levels. This is a huge year over year increase, sparked largely by decade low prices as drivers can now once again drive their gas guzzlers without taking too much of a hit in the wallet
Indeed, data points to surging demand for gasoline, not falling. The amount of gasoline supplied to the markets is sky high, well above average. Much of this increase supply in gasoline has been absorbed.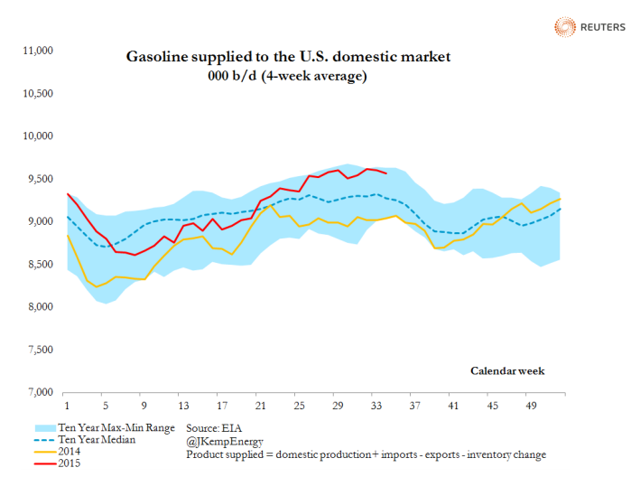 Source: Reuters
This increase has been caused by near record production from US based refineries, which are running at near full capacity, taking advantage of the high crack spreads (refiner margins) and the large amounts of discounted crude oil out there.
Just looking at the numbers, by the days worth of current consumption, stockpiles of gasoline are actually below their 10-year average range.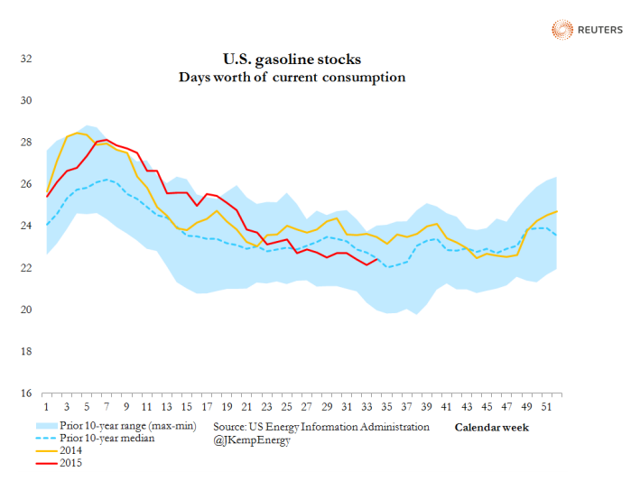 Source: Reuters
Indeed, along the West Coast, there are actually fears of a gasoline shortage. Stockpiles have dwindled to their 10-year lows due to local refinery issues and strong demand. This has resulted in prices for that region being much higher (an average of ~$0.75 per gallon) than in the rest of the country, even when adjusting for higher taxes.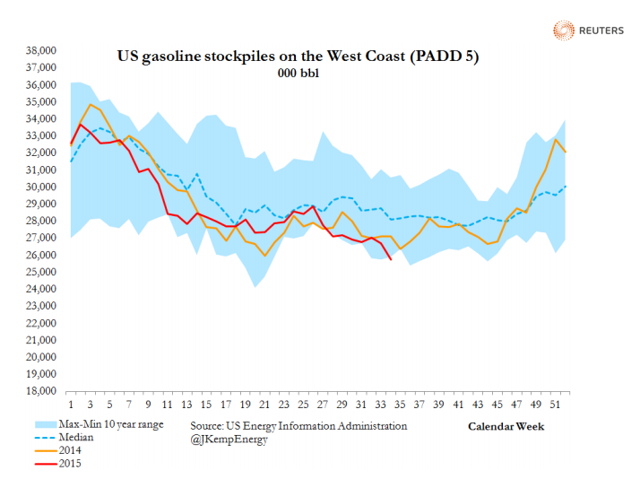 Source: Reuters
Conclusion
In other words, don't buy the hype that gasoline demand is falling. The collapse of oil prices has made the producers of that commodity, refiners, one of the few winners in the oil patch.
I believe the large cap refiners such as Phillips 66 (NYSE:PSX) Valero (NYSE:VLO), Marathon Petroleum (NYSE:MPC) are the best low-risk way to play oil if you think that the consensus is right and oil prices (especially WTI) will remain low for awhile. These are also modest winners if prices go up slowly, but they could turn into losers if prices quickly surge higher.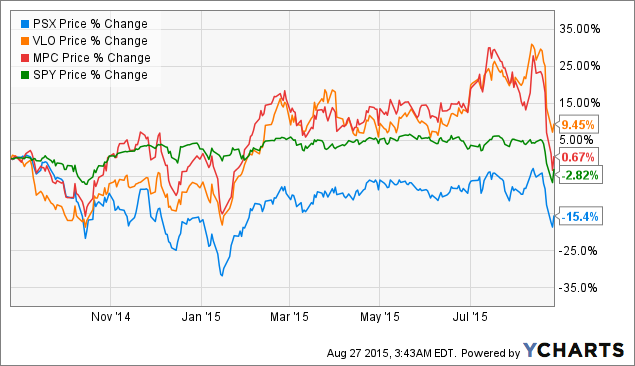 For income, though at much higher risk, the downstream refiner MLPs such as Northern Tier Energy (NYSE:NTI), Alon USA (NYSE:ALDW), and CVR Refining (NYSE:CVRR) can potentially offer yields of 15% to 20%range in the current environment.
NTI Total Return Price data by YCharts
These refiners are basically printing money given where crack spreads here in the US, ranging from $15 to $25 per bbl over the past few weeks. As shown by their price action, refiners have not been impacted by lower oil prices, despite their fundamentals improving. I believe these refiners can rally once the market realizes just how profitable they are.
Disclaimer: The opinions in this article are for informational purposes only and should not be construed as a recommendation to buy or sell the stocks mentioned. Please do your own due diligence before making any investment decision.
Disclosure: I am/we are long PSX, NTI.
I wrote this article myself, and it expresses my own opinions. I am not receiving compensation for it (other than from Seeking Alpha). I have no business relationship with any company whose stock is mentioned in this article.