Can this stock market bounce stretch to back-to-back days? Early action pointed to U.S. stock gains, which would build on a late-day Wednesday rally that slammed the brakes on a six-day skid.
Today's inspiration? China's Shanghai Composite rose for the first time in six sessions, closing up 5.3%. The move still drew some suspicion among global analysts that government intervention-and not individual investors with a change of heart-was behind the move. Still, the rally there caught hold around the world. A rebound in oil's price, up as much as 4% at one point, also provided a stock lift.
Trader short-covering after steep losses, plus apparent demand from long-term stock buyers who were enticed by lower entry points, fueled one of the strongest late-day comebacks in years based on historical Standard & Poor's data. I mean the stats work in both directions, right? Check this: Wednesday's single-day up moves in the S&P 500 (SPX), in figure 1 below, and the Dow Jones Industrial Average ($DJI) were their best since 2011.
Participants should continue to keep tabs on the relationship between the CBOE Volatility Index (VIX) , in figure 2 below, and broader stock market moves. VIX on Tuesday lagged the late-day washout for stock indices-at that point viewed as a potential indication of the Wednesday bounce that ultimately did materialize. VIX Wednesday fell 16% but still holding 30. More to come? Bonds, too. Where's the "safe haven" demand that might be expected to funnel aggressively into the Treasury market?
And remember, it was lofty valuations, and company warnings on profit margins and revenue, that left many industry analysts watching for cracks in this record market over recent weeks and months. Their deep study of the market's weak points isn't likely over-meaning volatile times could persist.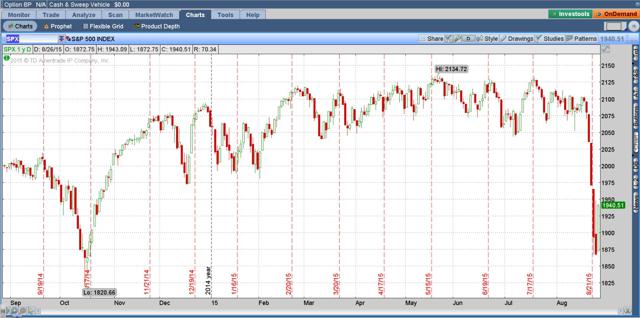 Figure 1: Forming a New Range? The S&P 500 snapped a string of six losses with Wednesday's 3.9% advance. The benchmark S&P stands 8.9% off its May record close. From here, watch for resistance at 1952. On the downside, 1900 stands as major psychological support. Data source: Standard & Poor's. Chart source: TD Ameritrade's thinkorswim platform. For illustrative purposes only. Past performance does not guarantee future results.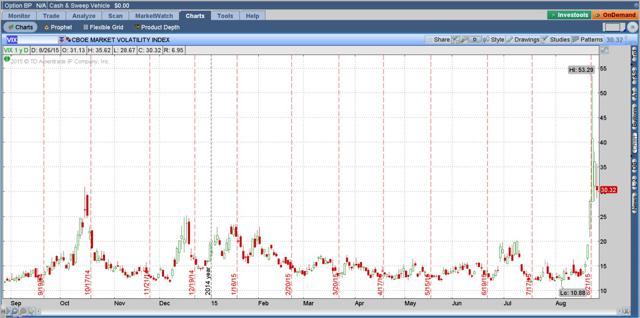 FIGURE 2: Watch VIX. The CBOE Volatility Index (VIX) tickled 50-plus earlier this week, its highest level in nearly seven years. The "fear index" moved back toward 30 as the broader stock market rallied. Data source: CBOE. Chart source: TD Ameritrade's thinkorswim platform. For illustrative purposes only. Past performance does not guarantee future results.
GDP Bumped Up. The U.S. economy grew at a faster 3.7% annual pace in the second quarter, up from the initial estimate of growth at a 2.3% clip. Businesses increased investment by 3.2% increase of a drop of 0.6%. Consumer spending, the main engine of U.S. economic activity, was revised up slightly to 3.1% instead of 2.9%. Also out: new applications for U.S. unemployment benefits fell by 6,000 to 271,000 in the week ended August 22-the first decline after four straight weekly gains.
Fed's Tough Job? The stock rebound, at least temporarily, is partly pinned on fading expectations the Federal Reserve will soon raise interest rates to kick off what could be a long campaign to return rates to "normal." The timing of the first move, once considered all but a lock for September, now isn't so clear. On Wednesday, New York Fed President William Dudley said a September hike seemed "less compelling" given recent global economic uncertainty. This weekend marks the annual Jackson Hole, Wyoming, gathering of the Fed powers. The event has been known to produce a few market-moving headlines in the past. But notably, Fed chief Janet Yellen isn't making the Wyoming pilgrimage this year.
Earnings: Dollars and Diamonds. Dollar General (NYSE:DG) and Tiffany & Co. (NYSE:TIF) bookend the retail spectrum, some would argue. These two are among the companies out with earnings Thursday, a trail of dwindling performance reports dwarfed by seismic macro shifts. So, how is the consumer faring from these two examples? DG profit beat what the Street was expecting, but sales lagged. TIF said a strong dollar hit its revenue as it missed Street expectations with earnings, and its outlook disappointed. For the full year, Tiffany expects EPS to decline in the range of 2% to 5% from the $4.20 reported last year.
Disclosure: Inclusion of specific security names in this commentary does not constitute a recommendation from TD Ameritrade to buy, sell, or hold.
Market volatility, volume, and system availability may delay account access and trade executions.
Past performance of a security or strategy does not guarantee future results or success.
Options are not suitable for all investors as the special risks inherent to options trading may expose investors to potentially rapid and substantial losses. Options trading subject to TD Ameritrade review and approval. Please read Characteristics and Risks of Standardized Options before investing in options.
Supporting documentation for any claims, comparisons, statistics, or other technical data will be supplied upon request.
The information is not intended to be investment advice and is for illustrative purposes only. Be sure to understand all risks involved with each strategy, including commission costs, before attempting to place any trade. Clients must consider all relevant risk factors, including their own personal financial situations, before trading.
TD Ameritrade, Inc., member FINRA/SIPC. TD Ameritrade is a trademark jointly owned by TD Ameritrade IP Company, Inc. and The Toronto-Dominion Bank. © 2015 TD Ameritrade IP Company, Inc. All rights reserved. Used with permission.
Disclosure: I/we have no positions in any stocks mentioned, and no plans to initiate any positions within the next 72 hours.
I wrote this article myself, and it expresses my own opinions. I am not receiving compensation for it. I have no business relationship with any company whose stock is mentioned in this article.