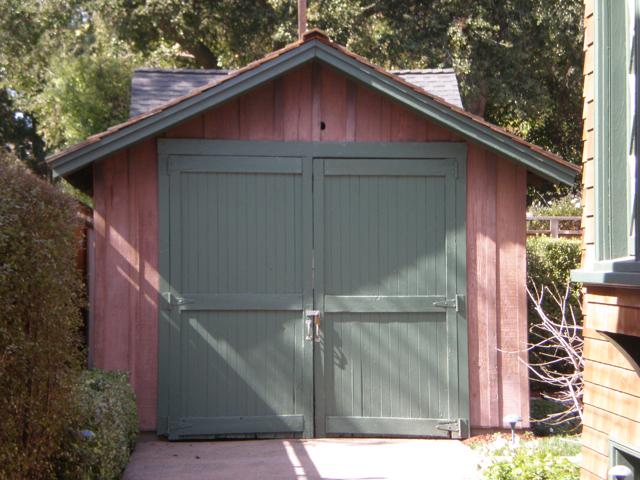 The garage where Bill Hewlett and Dave Packard started their former company back in 1939
Meager earnings, who expected something better?
Last Thursday, Hewlett-Packard (NYSE:HPQ) released its quarterly earnings, but, as expected, the results were meagre.
Their profit fell by 13%, and net income is $854 million, compared to the same period last year of $985 million, or 47 cents a share compared to a previous 52 cents per share. Moreover, net revenue dropped by 8% to $25.3 billion, from $27.6 billion a year ago. In addition, the company announced that this was the last report before the new company structure split, which is expected to take place on November the 1st.
Under (re)construction
Hewlett-Packard is undergoing a period of stiff changes both from a strategic and an organizational point of view. Strategically, the company plans to split itself into two market traded entities: Hewlett-Packard enterprise with the aim to supply technologies and services to businesses and HP Inc., practically the former PC and printer company.
The aim of the organizational change is a specialization in two different operating fields that need a certain level of autonomy to work at their full potential. The split will allow them to focus on their respective businesses, resulting in an understanding of what is profitable and what needs to be improved; Google is undergoing a similar process to solve some similar issues.
Nevertheless, splitting the company will not in itself revive the company's revenue, but it will simplify the outlook for investors and managers.
To gain back their past glory, more work needs to be done. The strategic effort will be focused on finding a way to reinvent itself and adapt to today's challenging tech market. The company's flywheel would be the enterprise company because the consumer market is saturated and the PC market is even more saturated as Lenovo has been able to pick up the baton and become the first PC reseller, starting with their acquisition of ThinkPad from IBM and further developments that lead to good, quality devices at lower prices. HP made a mistake in not considering Lenovo as a competitor. Going ahead with its high quality delivered at higher prices, it has little by little signed its death sentence.
Despite the aforementioned metaphors, there is still something for HP to do to stop its slow decline. Starting by working on developing Big Data solutions for enterprise businesses is the key to rebuilding strong ties with big corporations that will need practical solutions for their growing inflow of data in the coming years. The internet of things is knocking on the consumer's door and, in a flash, big corporations will be overwhelmed by the tremendous amounts of data that need to be securely stored and combined together. HP needs to take the bull by the horns and offer broad Big Data solutions in order to organize tomorrow's data.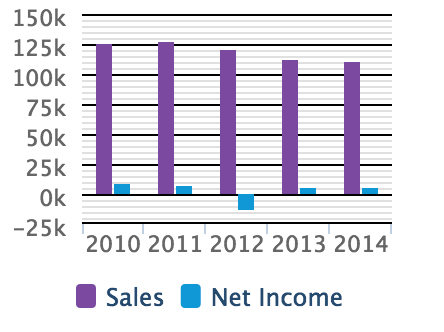 Source: FactSet Research Systems Inc.
As underlined in the above graph, sales and net income have started to slowly decline since 2011 in their respective amounts.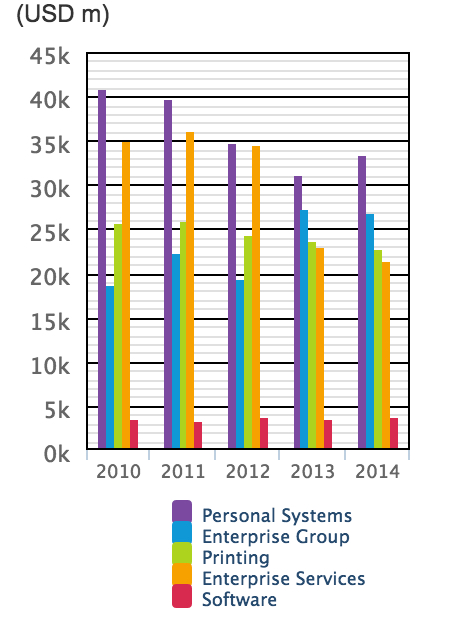 Source: FactSet Research Systems Inc.
In the more detailed graph above, we see that software revenue is stable and enterprise group has even increased its revenue, but that personal systems, printing and enterprise services have all decreased over the last five years.
A reliable growth in enterprise group is likely one of the reasons why the firm is going to split its businesses in two entities.
Working on Big Data to become a service provider
As previously mentioned, focusing on B2B solutions is what needs to be done in order for HP to revive its business(es). This not only means working on the development of Big Data solutions, but also shifting to a more consultancy and advisory oriented way of working with companies.
Especially in today's B2B market, you cannot sell a product without providing a complementary service to guide and advise your customer.
Focusing on providing services is the goal of the Enterprise division of HP, as it will no longer have to worry about the manufacturing process. The enterprise branch will be able to offer a wider range of practical and ready-to-set-up services in order to meet the demand of a specialized consulting business to offer a competitive advantage to companies wanting to break into the rising Big Data market.
Thinking backwards to think different
An inspiring suggestion for the future of Hewlett-Packard and its management could be trying to immerse themselves in the germinal stage of Hewlett-Packard, at a time when two giants, Bill Hewlett and Dave Packard, built the company almost from nothing in a backyard garage. A business which is still alive, but today the situation is different and almost opposite. As Francis Bacon would say, now we have dwarfs on giant's shoulders.
I Know First algorithm is currently bearish on this stock in the long term, with a bearish algorithmic forecast to support the fundamental analysis.
I Know First Research is the analytic branch of I Know First, a financial start up company that specializes in quantitatively predicting the stock market. This article was written by Joseph Altamore, one of our interns. We did not receive compensation for this article, and we have no business relationship with any company whose stock is mentioned in this article.