By Maria Halmo
August 26th is Women's Equality Day, but that's just my excuse for this article. Does the gender of a company's executive suite or board of directors matter from the perspective of how much money that company will make? I can't tell you. There is no MLP where women dominate the power structures, and I'm hesitant to draw conclusions based on token representation. Broader studies have shown that companies with women in their management teams perform better and capture more market share.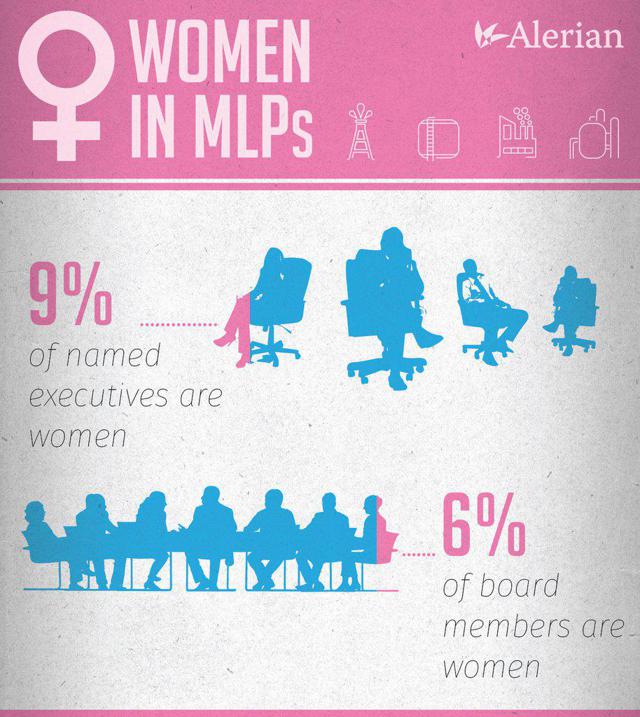 In 10-K filings [1], of the named MLP executives, only 8.8% are women. Only 6.4% of board members are women. (Full disclosure: at Alerian, we have only one named executive, so our leadership is 0% women. However, in total, the team is 50% women.) This compares to women representing 13.3% of U.S. employment in mining, quarrying, and oil and gas extraction in 2014.
There are 64 MLPs without women as named executives, and 67 MLPs without women as board members. The unfortunate Venn diagram of those two has 24 MLPs with no women as executives or board members. It is not a small-cap issue: one of these is bellwether Energy Transfer Partners (NYSE:ETP).
Having a single token woman should not be enough. The chairperson of Enterprise Products Partners (NYSE:EPD) is Randa Duncan Williams, daughter of company founder Dan Duncan. But the remainder of the board and all of the company's named executives are men. It's not just EPD; in addition to the 24 MLPs with no female representation, 33 MLPs have only one woman on the board or as a named executive [2].
The Bechdel test is applied to fictional media asking whether two named female characters talk to each other about anything besides men [3]. It may be simplistic, but if your daughter wanted to be Elsa or Anna last year for Halloween, you know what a powerful impression female characters can make on children. And that movie opened with them talking about building snowmen. If your daughter had looked to MLP boards of directors, well, board meetings can pass the Bechdel test at only eight MLPs. More relevant to your portfolio, movies that pass the Bechdel test have a higher return on investment than those that don't.
Of the 110 companies, only three have female CEOs, and only 10 have female CFOs. The sample size is too small for this to be statistically significant, but in each of the companies with a female CEO, at least 50% of the named executives are women.
Now, the easiest rebuttal here is that a female CEO will hire and promote other women (in the same way it can be argued a male CEO might hire and promote his fraternity brothers and golf foursome), but research has suggested that in male-dominated fields, women are more likely to help their male subordinates succeed [4] over their female subordinates. I have never met Peggy Montana, the President and CEO of Shell Midstream Partners (NYSE:SHLX); I know nothing of her management style. I do know that four of the six named executives at SHLX are women. The fact that she is a CEO demonstrates to other women that they may one day hold a leadership position. I know I would love to meet her.
The majority of the named executive positions held by women are General Counsel, Controller, and Chief Human Resources Officer. Not to be snarky, but these jobs strike me as those intended to keep/get the company out of trouble, not lead it forward.
There is nothing morally wrong with an all-male executive suite, or an all-male board of directors. (And let me also say here that I have attended numerous analyst days and attended hundreds of meetings, and with only one exception, I have always been treated with respect.) Rolling snake eyes 15 times in a row isn't necessarily cheating. In both situations, it's worth examining.
No MLP has a policy of not allowing women to hold C-level positions or mandating that the board must be all men. We should all be able to agree that gender does not make a person more or less fit for a leadership and decision-making role. There are dissertations, books, and lecture series devoted to why few women apply for high-level positions or are nominated to boards, and fewer still are hired and appointed. At the end of the day, the result is practically the same as if they were prohibited: there are few to no women in leadership positions at MLPs, and it would be reasonable for women (of any age) to conclude that these positions are not functionally open to them [5].
Footnotes:
[1] This has been a project of mine since April. As of that time, the universe is composed of 110 companies, as I have removed those that are no longer trading due to M&A activity.
[2] In other words, more than half of the examined universe has either no women, or only one woman in the aforementioned positions.
[3] The entire Lord of the Rings Trilogy fails, but Guardians of the Galaxy passes.
[4] The caveat is that this study is based on data from 13 years ago. The fact that there is so little research on the topic that I have to point to a study that references data from 2002 is a problem in and of itself.
[5] If you have a daughter, and this doesn't make you really sad or spitting mad, I just don't know what to say to you. So many little girls want to be Elsa and Anna because they see princesses everywhere. How many little girls have seen Peggy Montana?
Disclosure: © Alerian 2015. All rights reserved. This material is reproduced with the prior consent of Alerian. It is provided as general information only and should not be taken as investment advice. Employees of Alerian are prohibited from owning individual MLPs. For more information on Alerian and to see our full disclaimer, visit http://www.alerian.com/disclaimers.
Maria Halmo is the Director of Research at Alerian, which equips investors to make informed decisions about Master Limited Partnerships (MLPs) and energy infrastructure. Ms. Halmo leads the firm's research efforts, which include examining MLP regulatory filings, monitoring legislative activity, and investigating industry developments. She also oversees Alerian's public communications strategy through investor and media outreach. Ms. Halmo is a former Associate at SteelPath Capital Management LLC, a Dallas-based MLP investment manager, where she conducted valuation analyses of petroleum transportation partnerships and researched macro-level energy issues. Ms. Halmo graduated with a Bachelor of Arts in Astrophysics from Barnard College at Columbia University. She is also a contributing author to Midstream Business, a monthly publication addressing the need for business market intelligence on North American energy infrastructure.