The recent quarter was a roller coaster, therefore, I have decided to give an update on the portfolio status earlier than usual.
Back in November 2014, I introduced my 4% dividend rate portfolio. It included 18 different stocks and was set to deliver a 5% Dividend Growth Rate (DGR) in average in the coming years.

The portfolio includes stocks from diversified sectors: Avista Corp (NYSE:AVA), Baxter International Inc. (NYSE:BAX), BHP Billiton (NYSE:BBL), Cracker Barrel Old Country Store, Inc. (NASDAQ: CBRL), Chevron Corporation (NYSE:CVX), ConocoPhillips (NYSE:COP), Deere & Company (NYSE:DE), Eaton (NYSE:ETN), HCP (NYSE:HCP), National Health Investors (NYSE:NHI), Realty Income (NYSE:O), Omega Healthcare Investors Inc. (NYSE:OHI), Philip Morris International (NYSE:PM), AT&T (NYSE:T), Unilever (NYSE:UL), Universal Corporation (NYSE:UVV), Ventas Inc. (NYSE:VTR) and Wisconsin Energy (NYSE:WEC).
In early August, following its Q2 Earnings release, I decide to replace UVV shares with Main Street Capital (NYSE:MAIN). I wrote about my rationale for this move in this SA article.
The recent drop in the stock markets took a severe toll on the value of my portfolio. If in my Q2 report the value of the portfolio was at $98,239 and generated $1,046 quarterly dividend returns (this was back in June 18th), the current value (as of August 24th) is at $89,178 and generates $1,065 quarterly dividend.
It is not easy to see your account shrink so dramatically in just a couple of days. But as I do not plan to sell anytime soon. I maintain my focus on the dividend returns.
The decline in value was due to stocks selling off, while the dividend growth was impacted by BAX and Baxalta (BXLT).
Following the spin-off of BXLT from BAX, the newly announced combined dividend of the two companies was significantly lower than the original $2.08 yearly dividend. The latest announcement has BAX at $0.46 dividend per share and BXLT at $0.28. The quarterly dividend therefore went down from $36 to $13, a reduction of $23.
I am looking for the right substitutes for BAX and BXLT, and most likely will exchange these for a new holding.
Another spin-off was of Care Capital Properties, Inc. (CCP) out of VTR. To be honest, the dividend announcement was not clear to me, so for now, I assume a flat dividend of the two VTR and CCP as equal to the $0.79 dividend latest announced by VTR pre spin-off.
The move from UVV to MAIN led to a $41 increase in the quarterly dividend, so overall the quarterly dividend went up by $19. The dividend yield on cost is now at 4.18%, slightly higher compared to June's 4.15%.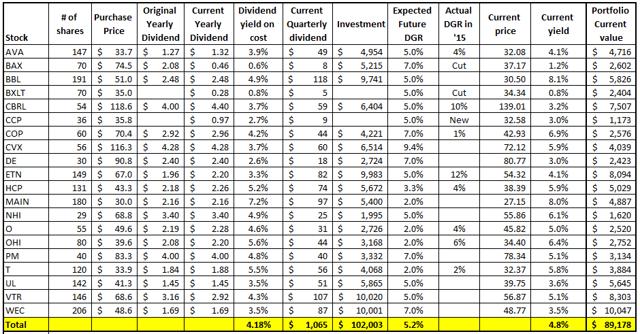 The current dividend yield of the portfolio is 4.8%. This is driven by the recent market correction. Excluding BAX and BXLT, the current dividend yield of this portfolio is 5%.
The long-term dividend growth rates should be examined mainly due to the Oil sector components of the portfolio. As CVX and COP continue to struggle with the low prices of oil and gas, it would almost be impossible to expect a dividend growth from these companies. COP did enlarge the dividend this quarter, but only by 1%.
If zeroing out the future DGR of these two, the DGR goes down from 5.2% to 4.2%. I will continue to monitor and update here.
Conclusions: "Buy and hold forever" is a nice statement, but the reality shows that as things are so dynamic in the market, one needs to constantly manage a portfolio, make decisions and take actions along the way.
I still have confidence in this portfolio. I believe it is well-balanced and not too diversified, though I do need to monitor each element in it.
One who considers creating a dividend portfolio nowadays can take advantage of the opportunity and build a 5% dividend yield portfolio. This is not a bad start.
Happy investing.
Disclosure: I am/we are long AVA, DE, O, OHI, BAX, BXLT, MAIN, UL, CVX, COP, BBL, WEC, CBRL, VTR, CCP, NHI, PM, T, HCP, ETN.
I wrote this article myself, and it expresses my own opinions. I am not receiving compensation for it (other than from Seeking Alpha). I have no business relationship with any company whose stock is mentioned in this article.
Additional disclosure: The opinions of the author are not recommendations to either buy or sell any security. Please do your own research prior to making any investment decision.