So, in the past week, equities have performed pretty poorly. However, it opens up an opportunity to consider some technology stocks across a variety of sub-sectors. As a result, I have decided to put together a quick list of names, so investors have a better idea of where to look for compelling value, growth, or a combination of the two.
Tech growth stocks that trade at reasonable valuations
For starters, investors should consider Apple (NASDAQ:AAPL) as a potential investment, due to its low valuation, promising growth prospects due to emerging markets, and large-scale capital return program.

Source: Amigobulls
The stock trades at 12.69 times trailing 12-month earnings, and I anticipate earnings to grow by around 15% to 25% in FY 2016, which is contingent on iPhone growth, slightly better gross margins, and ongoing share repurchases. Also, the stock is starting to recover on the back of promising comments from the CEO and better market sentiment.
The next stock is Microsoft (NASDAQ:MSFT); admittedly, I don't anticipate the company to grow earnings like Apple, but at the same time the Nokia (NYSE:NOK) write-down of $7.5 billion will reduce earnings in fiscal-year 2015, which will make it easier for Microsoft to beat last year's comps in FY 2016.
Also, PC sales are expected to improve on the back of Windows 10, and Microsoft's growth areas such as the cloud. MSFT is expected to improve profitability quite significantly over the foreseeable three-year period. In 2015's analyst briefing, Amy Hood (CFO of Microsoft) projects gross margins for cloud-related revenue to reach 44% by the end of fiscal-year 2015. Clearly, the company is keeping pace with Amazon (NASDAQ:AMZN) Web services, as the company anticipates revenue from cloud to reach $18.5 billion. Of course, Azure represents a small fragment of that revenue, whereas Windows-Server-as-a-Service represents the bulk of the mix shift from licensing to annually recurring revenue.
Another stock to keep in mind is Qualcomm (NASDAQ:QCOM). When it came into the year, expectations for mobile growth was relatively strong, however, various issues pertaining to recognition of handset volumes in China, competitive threats, and the loss of market share in the high end of the smartphone segment negatively impacted earnings. However, the company is rich with cash and also announced a $15 billion share buyback program earlier in the year. Of course, this only impacts corporate level earnings, but at the same time, Qualcomm will have a much better year in 2016, as global handset volumes should offset weaknesses in the product portfolio, and Samsung's (OTC:SSNLF) upcoming flagship device may have a combination of Snapdragon and Exynos chips. Furthermore, the company trades at 14.8 times trailing 12-month earnings and pays a 1.92% dividend yield.
Tech stocks to avoid
For the time being, there are a couple technology stocks that investors should avoid. One of them being Groupon (NASDAQ:GRPN). The stock has continued to decline due to weakness in terms of audience metrics, which correspondingly resulted in underwhelming revenue growth over the course of the current fiscal year. In fact revenue declined year over year, which was attributable to foreign currencies. The company should have generated much more substantial growth to offset the currency impact. Various efforts to develop the marketplace have slowed considerably, and as a result, the company is extremely out of favor amongst growth-oriented investors. On the other hand, the stock does trade at 0.8 times sales, which is pretty cheap when compared to social media names, but is mostly driven by weakness in projected revenue and earnings amongst analysts.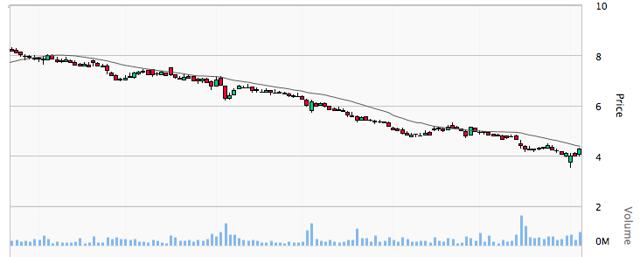 Source: Amigobulls
The next technology stock that I would avoid is Yahoo (YHOO). While, I do acknowledge that the company does trade at a very compelling value right now, the stock's performance isn't really contingent on the shareholder value creation the current management team is trying to implement. In fact, the stock primarily trades on the basis of Alibaba's (NYSE:BABA) price action, but hasn't proven to be a very effective way to trade Alibaba shares, as the spinoff of Alibaba holdings will only defer taxes on capital gains at the corporate level, and there's no indication that investors will pay a higher premium for the SpinCo relative to the market value of Alibaba shares. In other words, Yahoo itself could be undervalued, but the holdings company will most likely trade at a discount relative to Alibaba's valuation. Furthermore, BABA has expressed very little interest in buying shares in Yahoo's SpinCo, which reduces speculation of an early exit for investors that currently own Yahoo shares.
Finally, I would avoid Samsung as the company recently reported weakening financial metrics across revenue, margins, and net profits. The company is also out-investing Intel (NASDAQ:INTC) in fabs in order to gain a competitive lead in node shrink. While, also facing competitive issues in flash memory and smartphone devices. The transition to 4K TVs will give Samsung some breathing room as the company does anticipate meaningful growth in the high end of the television segment driven by Chinese demand and shift to new technologies. Also, Samsung does anticipate that its fabs will generate higher profitability on higher utilization, and optimization of the 14nm process.
Currently, the bad outweighs the good, as leadership is absent, as the chairman of Samsung is currently ill (Lee Kun-hee), and the successor doesn't really have a very compelling track record. There's very little confidence in his ability to take over and manage Samsung in Lee's place. Currently, Samsung is managed by a committee as it currently has three co-CEOs, which creates bureaucracy at the highest level of the company. Going forward, I anticipate this corporate structure to prove very inefficient as Samsung strives to compete and balance investment in a broad spectrum of very competitive markets.
Momentum stocks to keep track of
I also think that investors should consider buying some of the more expensive technology stocks, such as Facebook (NASDAQ:FB), Alibaba, Netflix (NASDAQ:NFLX), and Google (NASDAQ:GOOG) (NASDAQ:GOOGL).
In the case of Facebook, the company continues to sustain relatively strong user growth as it continues to monetize more efficiently on both a per impression and engagement basis. This company also has a pretty compelling portfolio of mobile products that seem relatively well positioned, and has a couple other moonshot projects of its own.
Analysts on a consensus basis anticipate Facebook to grow its earnings per share at 28.91% per year over the next five years. The stock trades at a pretty reasonable price to earnings growth ratio of 1.48, which implies that investors are still getting decent value and momentum at the same time.
In stark contrast to what I had mentioned earlier before about Yahoo, I really like the long-term growth potential of Alibaba. It seems that the company is relatively well positioned in comparison to JD.com (NASDAQ:JD), and the gross merchandise volume growth is very robust when compared to domestic companies like eBay (NASDAQ:EBAY) or Amazon.
Alibaba does trade at a bit of a discount, due to its variable interest entity structure, and lingering concerns over Chinese deceleration of GDP, which is reducing the expectations of growth on more of an aggregate scale for Chinese consumption. Of course, Alibaba combats this by releasing new product categories, new services, and investment into its delivery network infrastructure. Analysts are anticipating BABA to grow its earnings by 27.37% per year over the next five years. For the most part, those projections seem pretty realistic, as the company has various cost levers and revenue levers in which it can sustain earnings growth at a much higher rate.
Netflix is perhaps the most expensive stock that I'm recommending out of the group; however, the company seems really well positioned to compete away dollars from traditional broadcast television and has equally compelling growth potential due to its overseas expansion. I anticipate that the company's content cost structure will improve quite considerably once revenues exceed $10 billion. Furthermore, the company has transitioned much more of its content spend into its own in-house productions, which gives it much more operating leverage when expanding overseas.
Furthermore, Netflix is expected to report negative free cash flow metrics for the foreseeable year; however, I don't anticipate that the cash burn to significantly damage the company's solvency metrics, as much of the long-term off-balance-sheet liabilities are figured into future cost of revenue. In other words, as long as Netflix is able to sustain subscriber growth, the company will meet its content obligations going forward.
Google is another stock that I really like, this is mostly driven by the company's ability to consistently innovate and out-execute in areas in which there is very little competition. Furthermore, the recent transition to Alphabet, a holding company of all Google properties, will give the company much more scalability across the various product verticals in which it competes in. I anticipate the company's cost structure will improve based on the recent comments on being more disciplined with costs, and its ability to sustain a high rate of revenue growth on the back of better-than-expected ad monetization on both mobile and desktop.
Conclusion
I put this article together so investors can get a basic idea on what kind of ideas they should look for in the tech space in the current market environment. For the most part, investors have to be much more selective as we are reaching the last five years stretch of a prolonged bull market; the best way to maximize gains is to look for opportunities in which the stock is either devalued or has substantial growth potential in which investors have not fully-valued into the stock
Hopefully, this article helps in the due diligence process of finding solid tech stocks. Having some diversity in assets will reduce portfolio volatility, and while I'm not an advocate of over-diversification, I do admit that some diversification can reduce the potential drawdown from having a high concentration of cash in a small number of stocks.
Disclosure: I/we have no positions in any stocks mentioned, and no plans to initiate any positions within the next 72 hours.
I wrote this article myself, and it expresses my own opinions. I am not receiving compensation for it (other than from Seeking Alpha). I have no business relationship with any company whose stock is mentioned in this article.
Editor's Note: This article discusses one or more securities that do not trade on a major U.S. exchange. Please be aware of the risks associated with these stocks.