Imagine you're at the mall and you come across two items that you'd love to take home with you. You only have $60 left to spend so you're probably only going to be able to buy one of them. The first one has a regular price of $100 but is on sale today for 50% off!! The second item, unfortunately, is $60 and there is no sign on the rack that it too is on sale. Hopeful that someone has forgotten to display the 50% off sign, you walk up to the counter and ask the sales clerk. With a big bright smile, she says, "Isn't that so cute?", right before tells you that it's no mistake it doesn't have a sale sign on it. It's selling for $60.
The first item is 50% off which sounds like a great deal while the second item is fully priced and is popular enough not to be available long enough to go on sale. Which one is the better buy? Most shoppers I know would buy the item that is 50% off because, hey, they got a great deal.
But let's suppose its early June and the first item is a lamb's wool cable knit sweater. You don't have any plans to travel to the Southern Hemisphere, where it will soon be winter, so if you buy the sweater, there's a good chance it will sit in your closet until late October or early November, if you're lucky. It doesn't get cold in Palm Beach Florida until even later in the year.
The second item is a cute two piece bathing suit that, after you try it on, makes you magically look like you're 10 pounds lighter. It's summer and you already know you're going to be spending lots of time on the beach.
Which item is the better buy now?
Not All REITs are Good Buys
After the recent selloff in equity markets, smart investors have been combing through the rubbish looking for stocks on sale. It's a great approach to add positions to your portfolio but just because something is cheaper than it was last week, doesn't make it a good investment, and REITs are no exception.
The RMZ index has underperformed the S&P 500 from August 18th to the 26th with a decline of 10.2% compared to a decline of 8.9% for the S&P 500.
I calculated NAV for the REITs I follow by using a proprietary method to determine the market value of assets and the market value of liabilities to determine a base NAV. I then added/detracted a premium/discount based on my assessment of management value-add to determine the final NAV for each REIT. The average premium/discount to NAV based on 'intangibles' was roughly 11% up/down depending on the adjustment made.
The top 10 REITs that trade at the biggest discounts to NAV and have potential 12 month returns of 20% are: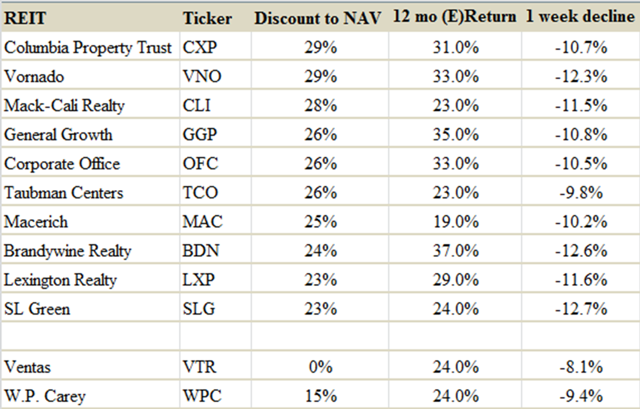 Brandywine Realty (NYSE:BDN), which had the biggest 7-day decline of the REITs shown, is currently trading at a 24% discount to its NAV and has a potential return over the next 12 months of 37%, which includes a dividend yield of 4.8%.
Vornado (NYSE:VNO) is currently trading at a 29% discount to NAV and it too dropped more than 12%.
Ventas (NYSE:VTR), on the other hand, highly touted as a premier healthcare REIT and which recently spun off its risky portfolio into Care Capital Properties (CCP) doesn't look to be traded cheaply even after it dropped 8.1% recently. Could this be the sweater purchase in June scenario?
I have been bullish on mall REITs as a play on the consumer and have Simon Property Group (NYSE:SPG) in the PM101 REIT portfolio, but its closest competitor, General Growth Properties (GGP) made the list, with a 26% discount to NAV and a potential return of 35%.
Shopping is an Art Just Like Investing
Before you go diving in to the REIT supermarket and buying everything that looks to be on sale, take a quick assessment of the surrounding climate to determine if the weather (REIT sub-sector) is hot or cold and whether some purchases need to be completed sooner while others can be delayed.
Sometimes when things go on sale, it's because no one wanted it to begin with. In the case of many REITs, they certainly got thrown out with the bath water and there are good deals to be had. And probably, by the time this article has been published, many of them would have already recovered. But that doesn't mean they still aren't good deals.
Other REITs mentioned: Columbia Property Trust (NYSE:CXP), Mack-Cali Realty (NYSE:CLI), Corporate Office (NYSE:OFC), Taubman Centers (NYSE:TCO), Macerich (NYSE:MAC), Lexington Realty (NYSE:LXP), SL Green (NYSE:SLG), W.P. Carey (NYSE:WPC)
Disclosure: I am/we are long SPG.
I wrote this article myself, and it expresses my own opinions. I am not receiving compensation for it (other than from Seeking Alpha). I have no business relationship with any company whose stock is mentioned in this article.