"Irrational lenders come and go - mostly they go."

- John Stumpf, Chairman & CEO of Wells Fargo
In generating short ideas, The Friendly Bear has one golden rule. Find companies that look "too good to be true". Once you find such a candidate, diligence the hell out of them to figure out whether there is a "secret sauce", or whether you're looking at yet another example of Wall Street trying to convince you that something is "disruptive", when it already failed in the past.
In many ways, BoFI Holding (NASDAQ:BOFI) is perhaps the textbook example of this phenomenon. This has been one of the best-performing bank stocks on the planet over the past several years. It boasts industry-leading metrics on about every front - net interest margin, return on assets, return on equity, efficiency ratio, and of course, stock price return.
And the company's CEO (and his cult-like shareholders) would have you believe that BOFI is doing all these things while taking zero risk. The sell-side defenders, such as Bob Ramsey from FBR, are quick to point to trailing charge-off data as further evidence of BOFI's exemplary underwriting abilities.
So kudos to Peter Eavis over at The New York Times for beginning to uncover what lies beneath BOFI's loan book.
If, after reading the NYT article, you continue to believe that BOFI's "competitive advantage" is its "branchless business model" and "data-driven analytical abilities", then you are in great luck. We know of a rich and generous prince from the nation of Zamunda who inherited $100 million and has decided to dole out $20 million to the first five people that respond to his email offer. All you have to do to claim your money is wire him $1 million today so that he can establish a financial relationship with you, and after that you will be on your way to riches...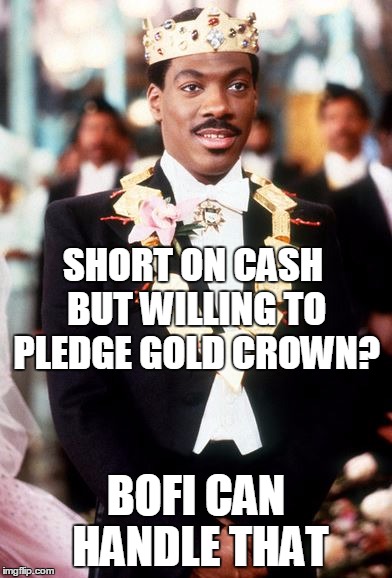 The Friendly Bear has now pored through hundreds of loans that BOFI has written over the past several years, and is highly confident that the company's loans are anything BUT low-risk.
Our analysis of these loans lead us to believe that BOFI is:
The lender of choice to home flippers and other speculators - a behavior that resulted in the failure of its "predecessors" Indymac and Thornburg (i.e., allowing borrowers to borrow against existing properties, regardless of current lien status, in order to buy additional investment properties).
Making loans to foreign nationals that hail from countries that other US banks have put on the "Do not Touch" list for various geopolitical risk reasons.
Making loans to individuals who are "unsavory" in nature and hardly appear credit-worthy for multi-million dollar loans.
Utilizing complex "pledge" arrangements to massage its LTVs.
Using a network of brokers to originate these loans that is just asking for trouble down the line.
Based on our review of hundreds of BOFI's loans, there is also a 90% probability that this mysterious foreign national Zamundan prince is financed by a BOFI loan, as he fits right into their "Common Sense Underwriting" niche.
The niche includes individuals who claim to be sitting on robust offshore assets, have an ability to put down millions of dollars towards a home purchase in the United States, are looking to borrow at only a 50% LTV (or lower), yet are willing to pay a 5%+ interest rate (~2x the market rate) on a 5/1 ARM for this privilege.
How could this loan make any economic sense to anyone? An individual looking to buy a $10M home, cash-rich to the tune of $5M (i.e., with that kind of cash, he probably has a real bank account with a relationship bank such as HSBC or JPMorgan (NYSE:JPM)), yet his relationship bank (that knows him because he keeps his primary bank account there) won't provide financing for a 50% LTV loan at a 2.5% rate, so he ends up going to a mortgage broker who puts him into a BOFI loan at a 5% rate (because yes, contrary to what you may believe, almost all of BOFI's on-balance sheet loans are sourced through mortgage brokers, which becomes abundantly clear when you sift through county records).
So either his mortgage broker is:
Terrible at his job (unlikely, but maybe - in which case, the borrower should immediately refinance this awful loan)
Getting paid extra by BOFI to originate loans (this would be a real compliance problem, but we doubt this)
Or, there is something so unsavory about this borrower's profile that his relationship bank would not touch him as a credit
In other words, BOFI's supposedly low-LTV loans at extremely high interest rates are, by definition, economically irrational. Unless, of course, there is more to the story...
"Economically Irrational" Loans
In the NYT piece, the CEO of BOFI finally publicly admitted that the average rate BOFI earns on its mortgage is ~5%, which is a 200bps spread to First Republic Bank (NYSE:FRC) (we actually think First Republic rates can be even more competitive than the 3% quoted in the NYT on an LTV apples-to-apples basis). This is the only metric that really matters on BOFI in terms of its outperformance versus peers.
In other words, this is not Bank of Internet. This is Bank of Non-QM Mortgages.
BOFI earns more because it gets juicier yields on its mortgages. Not because of its branchless model (the branchless cost savings are offset by its higher cost of deposits. The "secret sauce" is ALL ABOUT THE LOANS... but in the case of BOFI, the secret sauce is spoiled and mildewed.
Despite getting these juicier yields and growing at a reckless pace, BOFI reserves as if its loans are higher-quality than First Republic's. So who are these "risk-free suckers" paying a massive premium for a lower-LTV loan?
If BOFI's loan book had a soundtrack, it would be Sarah McLachlan's hit song "Building a Mystery". Because as we analyze the company's loans one by one, by digging through county records, almost every single loan leads us to ask more questions.
In some instances, we wonder how BOFI could have ever thought someone with heaps of existing debt, tax liens, gambling debt, an inability to put up more cash at closing, or a history of bankruptcy/foreclosure could have ever been credit-worthy for a multi-million dollar loan.
In other instances, we wonder why borrowers able to make very large cash down payments on homes in excess of $5MM in value would turn to BOFI for loans at rates 2x above market, despite the very low LTVs on their properties.
The former type of borrower is less of a mystery - BOFI is just rolling the dice and claiming its protection is a low LTV. Are those LTVs really as rock-solid for properties in excess of $5MM in value? And for all the cash-out refinancing transactions BOFI does (where an appraisal value of a home cannot be tied to the purchase price), how is the company getting comfortable on LTVs? What appraisal value is it relying on? When you make a $5+ million loan against a property such as this one, you have to wonder how BOFI was able to get comfortable with the underlying asset value, given that this property has been on and off the market since 2013, and no one has been willing to buy it.
The latter type of borrower is more of a mystery, as it suggests there is some compliance reason that these borrowers are unpalatable to traditional high net worth lenders such as First Republic. One potential reason is that other banks do not want to take the risk of opening a bank account for these clients, but BOFI is willing to step in to do so.
Both categories suggest that the company is taking a lot of risk in its book. Yet, the NYT points out that BOFI reserves at a lower rate than First Republic, a bank that The New York Times suggests has a better borrower base. So, what gives?
We can't help but wonder how at least half of the loans that cross the desk of the BOFI origination team do not immediately trigger suspicious activity reports.
Is BOFI just willing to underwrite "off-the-books" income that other lenders won't consider? This would help explain how the company has made so many loans to so many unsavory characters (as outlined in the NYT piece). Unsavory characters likely have many reasons for "complex" finances that preclude them from qualifying for mortgages on an income basis. If you're running a ponzi scheme, you probably don't have "straightforward" finances.
Of course, this type of "asset-based" lending is also the basis for how mortgage fraud takes place - when unsavory characters that lack traditional documentation are able to qualify for loans that they have no intention of ever paying off. This type of lending is subject to various forms of mortgage fraud that often goes undetected until the tide goes out on a housing market.
We are NOT claiming this is happening to BOFI (although, given the company's pace of growth, it seems unavoidable). We simply point out that "asset depletion"-style loans and cash-out refinancing loans are subject to far more fraud risks (appraisal fraud, etc.) than a straightforward purchase financing, ESPECIALLY when the lender is using "alt doc" methods.
With an efficiency ratio of <35%, we doubt there is even enough staff at BOFI to properly review the suspicious activity reports that should (in our view) accompany almost every loan the bank is holding on its balance sheet. We think there are at most 10-12 people working in compliance at this company. Relationship banks that have far less "know your customer" (KYC) risk staff compliance organizations in the 100+ person range.
Internal Auditor Turnover Highly Problematic
Recent developments in the company's internal regulatory compliance division give us even more pause in light of our findings. We think this stock has become one of the most dangerous ones in the market today. We believe that long-term shareholders are sitting on massive capital gains, and therefore, are unwilling to part with their shares. We think these shareholders should pay close attention to the recent NYT article written on the company that highlights damning turnover at the organization and that suggest trouble is on the way.
In the recent NYT piece, we noted that two members of the company's internal audit team appear to have left in recent months. Based on our review of LinkedIn job profiles and postings, one of them appears to be the former head of the internal audit department, and the other appears to be a former FINRA regulator and also a former member of the internal audit department, suggesting that this individual should have a pretty good sense of when wrongdoing is taking place in a financial institution. The department appears to span ~4-5 individuals, based on our LinkedIn checks.
Keep in mind that these departures did not occur in a vacuum - instead, they occurred after short reports have questioned the bank's disclosures, lending activities, business practices, and shift in auditor back in 2013.
We were particularly troubled by the commentary in the NYT article that suggested one of the former internal auditors (who, we again note, was formerly a regulator at FINRA) has hired an employment attorney (who lists whistleblowing as one of her practice areas). Even more concerning is that this attorney claims to be communicating with federal government bank regulators in the NYT piece.
Why would half of the internal audit team turn over around the same time BOFI would have been going through its bank exam process? And why did one of the former audit employees who left see the need to hire an employment attorney who then contacted the Federal government? This fact pattern is so damning, yet seems to have been missed by the BOFI bulls.
Given our review of BOFI's loan book, its "economically irrational loans", and the nature of its borrowers, we think that the departure of key audit staff suggests there may be trouble brewing within the management controls at this organization.
At the very least, we would not be surprised if regulators have already asked BOFI to slow down its growth as part of providing it approval on the H&R Block (NYSE:HRB) deal. If this is the case, given BOFI's lofty bank multiple, expect the valuation to meaningfully correct in the coming quarters, as it will also need to slow growth in order to safely absorb the influx of deposits from the H&R Block deal. We therefore think it is an opportune time for existing shareholders to get out of the way before any public revelations are made regarding the claims of these internal audit staff members.
We can only speculate on what may have led a former regulator and audit staff member to hire an employment attorney to approach the OCC. One of the most glaring risks we could think of is that BOFI has made a loan to someone on the OFAC list through its foreign national lending program. Our review of loan documents suggests the company has a high degree of willingness to lend to limited liability companies ("LLC"), which creates an added layer of uncertainty, as BOFI may not be sure who is behind the LLC.
Given the bank's reserves are also a joke (we would have been more professional with our characterization if it were not for the fact that management appears to use the rather "rigorous" approach of holding reserves flat at the same absolute number every quarter, despite the massive loan growth), there is also some chance that internal auditors found issues with this metric.
Regardless of reason, we think that the departure of two auditors, combined with the hiring of an employment attorney should terrify any BOFI long investor, given the nature of the company's business practices that are slowly beginning to emerge.
Based on our review of public records, conversations with mortgage brokers, and review of online materials, we strongly suspect that BOFI's foreign national program includes countries such as Russia and the Ukraine that are currently under US sanctions. For example, we found evidence in public records that BOFI does business with this broker in South Florida, which lists the flags it covers under its foreign national lending practice on its website:

These types of loans are at high risk of inadvertently running afoul of banking laws. Such loans require extensive upfront due diligence and ongoing monitoring - something we think BOFI is understaffed to handle. So we think the risks inherent at this company today are grave for anyone long at a valuation of 22.5x trailing earnings.
As Garrabrants claims in the NYT article, there is nothing inherently sinister about making foreign national loans. We wonder, then, why the company continues to insist that its loan book consists of mostly Western Europeans and Canadians, rather than admitting that it is regularly dabbling in loans to borrowers from exceptionally high-risk jurisdictions.
Other banks indeed engage in foreign national lending, such as BAC Florida. However, we note that BAC Florida appears to be staying clear of making loans to many of the jurisdictions that BOFI has recently been emphasizing: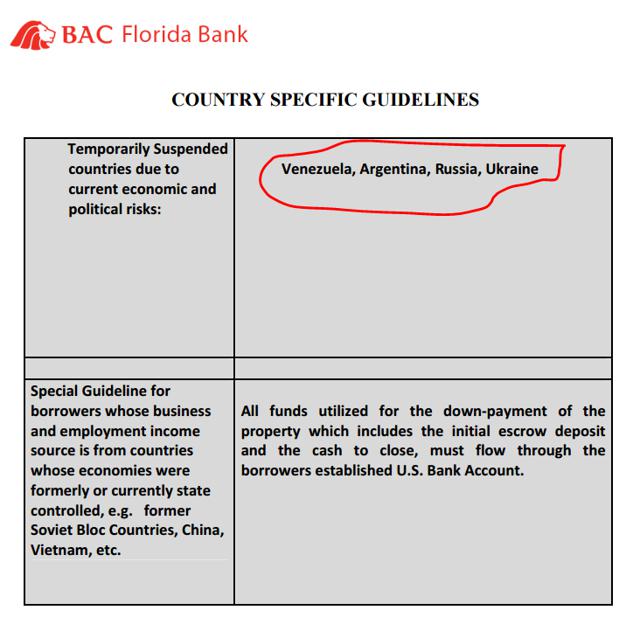 Source: BAC Florida Bank
SEC FOIA Response Related to Investigations
We have one more piece of evidence which suggests that another government agency may have issues with BOFI. FOIA requests have been submitted to the SEC over the past few months, requesting any documentation pertaining to SEC investigations of BOFI. The response had come back as null and void all the way up until August 2015, at which time the SEC exercised the "Law Enforcement Exemption", in which it indicated that it DID have documents responsive to the FOIA request, but that providing said documents would potentially interfere with ongoing law enforcement pertaining to BOFI.
Direct Excerpt from SEC FOIA Request:
We are withholding records that may be responsive to your request under 5 U.S.C. § 552(7), 17 CFR § 200.80(7)(i). This exemption protects from disclosure records compiled for law enforcement purposes, the release of which could reasonably be expected to interfere with enforcement activities. Since Exemption 7 protects the records from disclosure, we have not determined if other exemptions apply. Therefore, we reserve the right to assert other exemptions when Exemption 7 no longer applies.
While the SEC's response in no way confirms or denies the existence of an investigation, the SEC FOIA was pinged frequently enough that we suspect the shift in language from "there are no records responsive to your request" to "Exemption 7" suggests that there is potentially an ongoing SEC investigation of BOFI.
We can think of a myriad of reasons the SEC would be looking into BOFI, i.e., how the company presents its LTVs (we discuss this below), its lack of disclosures around its non-QM lending risk factors, or maybe even potentially issues that were flagged by former internal audit staff and reported by their attorneys to the SEC.
The combination of an opaque loan book and disclosures, the questionable departure of internal audit staff, the hiring of an employment attorney, and the SEC FOIA response all suggest to us that trouble is brewing at BOFI.
The Fundamental Short Case Revisited
The overarching short case around BOFI is, at this point, well known (high-risk loans, disloyal depositors, interest rate sensitivity, and massive BSA/AML risks in both the loan book and now the prepaid business). We will not rehash the short case.
Garrabrants's defense at this point appears to be BOFI's low LTVs (which we already question, given the evidence we found of numerous "pledged collateral" loans).
It would be one thing to rely on low-LTVs if BOFI were lending to high-quality borrowers. But when you're lending to individuals with liens, other homes, and a history of defaults, you have to wonder how the company will make good on paying interest to all of its depositors, should borrowers decide to stop paying their mortgages. There are so many second homes and investment properties in this portfolio that it will not take much of a shock for borrowers to walk away from these mortgages.
Primary residences are stickier in that people likely want to stay in their own homes. But investment properties that were acquired for the purposes of flipping tend to not be very good loans when housing prices start turning - and these loans constitute a significant portion of BOFI's loan book, based on our review of the company's loans.
BOFI has been able to turn itself into a massive mortgage-backed securities hedge fund over the past two years (really starting in January 2014 - prior to that date, this bank was just a well-timed purchase of a securities book).
The problem with this model (like with any "hedge fund" model) is that it faces severe liquidity constraints in the face of asset shocks. For BOFI, this would be a shock to California housing prices. So how do housing shocks occur?
The Friendly Bear is just a bear, not an economist, so he will not attempt to answer the question today. However, he does point readers to the recent volatility in the stock markets as a sign that maybe we're getting closer to a housing correction - yet another fact that should terrify any BOFI shareholder. Even FX volatility has meaningful repercussions for the company, given that it is lending to borrowers whose primary assets are likely denominated in rubles and yuan.
It is quite shocking to us that it took a series of short reports to finally get BOFI to fess up to its lending activities publicly. It is even more shocking that the CEO has been willing to go on the record with The New York Times and admit to his lending activities, yet still remains unwilling to do so in his SEC filings.
The company's 10-K is one for the ages, leaving readers with almost no clue as to BOFI's business model (non-QM lending, low/no-doc lending, foreign national lending, lending to house flippers, "investment" property lending, heavy proportion of refinancing transactions, so-called "pledged asset" loans, etc.).
Prior to this NYT piece, BOFI would have had you believe that its loan book consists of "actors and musicians, investment bankers, and self-employed people with volatile income".
The volatile income part is certainly true. For example, one loan we dug up includes this man who, according to legal records, had a $4.2M loan with BOFI at the time of his bankruptcy. The man was reported to have had $37.4M of debt at the time of his bankruptcy filing (the full amount was unknown, due to a number of pending litigation claims against him), and also lost his medical license in 2006 for cocaine use (something that was public record prior to BOFI making a loan to him and would have likely been caught in any due diligence check). The article is worth a read, as it paints a story of a rather sordid set of personal financials. Again, while Garrabrants would have you believe that the loans identified in the NYT piece are "one-off" in nature, our work suggests there is a pattern to BOFI's lending.
We even question the bank's so-called "Business Checking Accounts" - as it is abundantly clear, based on call reports filed with the FFIEC, that almost all of BOFI's deposits are good old-fashioned interest-bearing, NON-TRANSACTION money market and savings accounts (i.e., the kinds of accounts people use to earn high interest). Non-transaction accounts, by definition, cannot be "checking" account in nature, due to limitations on how frequently you can transact within them: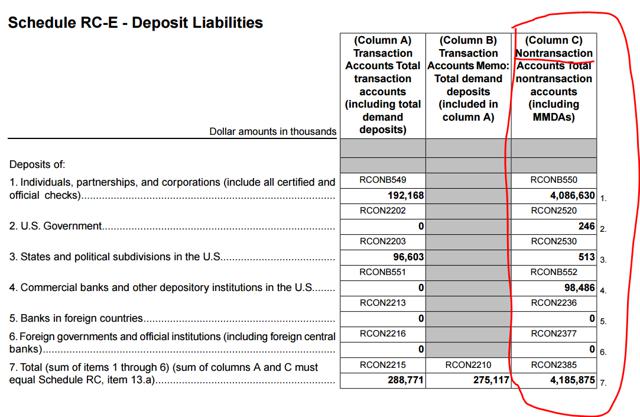 Loan-to-Values - A Tale of Pledges
The other thing that concerns us tremendously about BOFI is how the bank is presenting its LTVs.
On the company's most recent earnings call, the CEO claimed the following:
"At June, 30, 2015, the weighted average loan-to-value of our entire portfolio of real estate loans was 56%. The very low average loan-to-value ratios in our loan book are not obscuring risk in the tails of our portfolio. For example, in the bank's entire single-family loan portfolio, both jumbo size and below, excluding loans originated for sale to the government sponsored entities, there is only one loan that was originated at greater than 80% loan-to-value without a direct pledge of liquid collateral that would reduce the collateral exposure levels below 80%."
In other words, Garrabrants claimed that the bank is currently holding only one loan that was originated at a greater-than-80% LTV that did not have LIQUID collateral held against it (the definition of liquid collateral should be cash or cash equivalents to any reasonable person).
In a quick review of recent loans BOFI wrote, we believe we have found 3 separate examples of situations in which the company wrote > 80% LTV loans that appear to have lacked any mention of liquid collateral in the mortgage documents recorded with the county. These are all very high interest rate jumbo loans, suggesting they are all non-QM and would have been held on balance sheet.
We did not see any mentions within the loan documents of any sort of liquid collateral arrangement in any of these loans. If these purported arrangements do actually exist, we think management should be reporting these arrangements in SEC filings. However, we suspect that these arrangements are likely off-balance sheet in nature for good reason - they are only in place to make BOFI's LTVs look stronger than they really are.
To provide hard evidence of our findings, all loans referenced below are included in the link above.
Loan A - Home purchased for $1.17M in January 2014; BOFI provided $1.05M loan against it (90% LTV)
Loan B - Home tax assessment was last $799,876; according to Zillow (NASDAQ:Z), BOFI wrote them mortgage for $1.135M (suggests well north of 100% LTV). The home has no record of being sold - this one appears to be a pure "cash-out" refinancing transaction, where the borrower just wanted to take money out against a home owned outright - so we have no way to know how BOFI determined appraisal value for purposes of LTV calculation, and can only rely on the tax assessment. On that basis, the LTV looks crazy. Oh, and by the way, Zillow's estimate for the home value is far below the tax assessment.
Loan C - Home purchased for $1.843M in August 2014; BOFI provided $1.61M loan against it (87% LTV). We believe BOFI will attempt to defend the LTV on this loan by pointing people to a "pledged collateral" arrangement associated with the loan. We scoured county records and found another property (a condo) owned by the same borrower in which BOFI took out a lien against their condo at the same time as issuing this 87% LTV loan. The size of the lien applied to the condo is identical to the purchase mortgage provided on the $1.843M home, and the lien occurred around the same time. We therefore believe this is an example of a "pledged collateral" loan in which the company asks borrowers to "pledge collateral" in exchange for juicing its LTV.
We note that the condo that appears to be wrapped into this convoluted "pledge" agreement appears to already have at least one lien against it from a different bank. We further note that there is nothing "liquid" about collateral pledged in the form of a house (that may even have a preexisting lien against it!). A home is one of the most illiquid forms of collateral... so we again question the claims BOFI is making regarding its supposedly "liquid" pledged collateral.
Can anyone help us understand how the accounting worked on this loan? We are not questioning the credit profile of any of these borrowers, as we have no idea what their credit profiles looked like - we are simply using these loans as examples of instances in which LTVs appear to be far higher than 80% and where there appears to be no public record suggesting any liquid pledged collateral arrangement exists.
BOFI is letting borrowers leverage the equity in one home to go and buy a second home... and disclosing none of this to investors. Sounds a lot like the go-go lending standards of 2007 to us. What would stop these borrowers from defaulting on the high-LTV loan in a downturn, but sticking with the original property? In this instance, wouldn't BOFI take a loss on the high-LTV property until the second home is sold? Does BOFI have the right to force people to sell down homes? This seems highly unenforceable in the California court system...
We are quite sure that within these 3 examples alone, we have refuted BOFI's claim that it has only made one loan at a greater-than-80% LTV without liquid collateral, given there is no mention of liquid collateral in any of these documents. Furthermore, even if a liquid collateral agreement was included in these loans, we will never know if the agreements allowed the borrowers eventual release, in which case, the agreements defeat the purpose of reducing LTV.
Keep in mind that we found many other loans just like these, and if we were able to so quickly find >80% LTV loans, we do question the CEO's comment on the call that only one has ever been made in the absence of liquid collateral - collateral that, mind you, BOFI shareholders may very well have no control over, as we outline below...
This excerpt below is taken directly from a BOFI loan, and appears to highlight the problems with taking "pledged collateral"... in this instance, the borrowers initially pledged a home they owned (the home identified as Parcel II) in order to qualify for a mortgage on the home identified in Parcel I.
Keep in mind that Parcel II happens to be a property that already has a BOFI lien against it (we found records of a $1.762M loan made by BOFI to the borrowers against Parcel II dating back to November 2013)... in other words, the company was letting these borrowers pledge the equity in a home with an existing BOFI lien to go out and buy another home using - you guessed it - BOFI financing. But even more absurd than that is that BOFI's custody over the collateral in Parcel II was set to expire after the borrower made 6 on-time payments… in other words, after six months of on-time payments, BOFI shareholders would have had no collateral backing up this loan: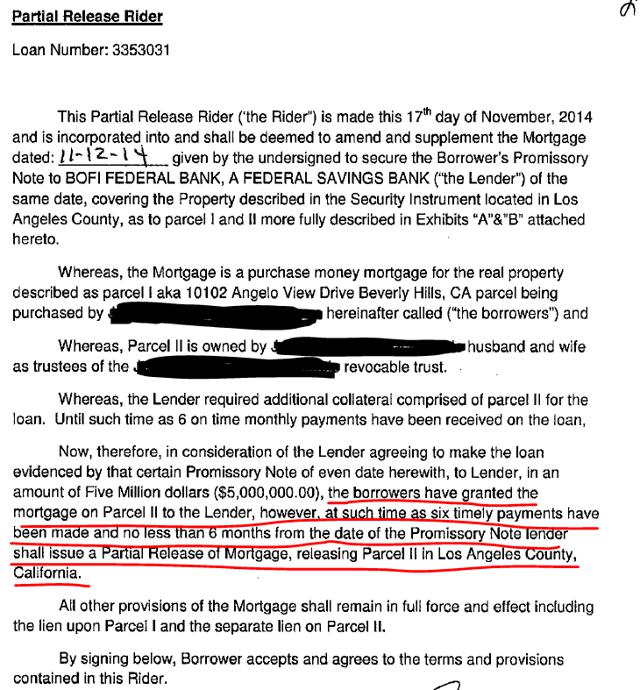 If you are as confused as we are by this, don't feel bad. The complexity embedded in these loans gave us the spins, and speaks to the problems in this loan book.
Weren't complex structured loans the reason for the last housing crisis? We should have also mentioned that these same borrowers appear to have one more lien outstanding with BOFI on a home purchased back in early 2013.
Again, we come back to the opening quote in this article regarding irrational lenders. Why was there ever a need for this complex set of transactions?
Where Does BOFI Find its Borrowers?
Perhaps it is the source of BOFI's loans that creates all these mysteries. In the NYT piece, Garrabrants defended BOFI's practices saying that "you would easily be able to find lawsuits and an occasional legal issue if you scanned First Republic or another bank with high-net worth borrowers as well".
While we are purely speculating here, we are pretty sure that First Republic is not doing business with brokers such as Drop Mortgage. Keep reading to find out why...
We came across Drop Mortgage while reading this article in The Wall Street Journal. The title of the article is "Call it a Comeback for Risky Home Buyers". In the article, a borrower named Malcolm Davies is profiled. This borrower claims to have received a mortgage from a firm called Drop Mortgage that is run by an individual named Jonathan Maddux. Somehow, BOFI managed to keep its name out of the WSJ article, and we have no idea how that happened, because... you guessed it - according to county records, BOFI is the lender of record on the Davies loan, with Drop Mortgage acting purely as the mortgage broker.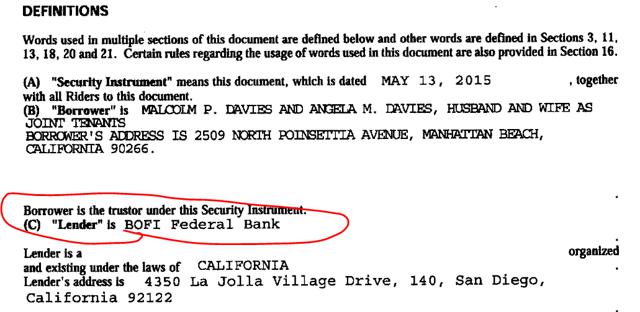 Mr. Maddux makes an appearance in multiple BOFI loans that we have gone through spanning several years. For example, Loan C profiled above is also a Maddux-originated loan (you can see this on the broker origination signature portion of the page).
So what is the relevance of Mr. Maddux ?
In addition to running Drop Mortgage, Mr. Maddux earned fame some years ago by forming the company Youwalkaway.com. The purpose of this website is to help homeowners conduct a strategic default.
According to his website (that may or may not currently be live), "you will immediately know the exact amount of days you have to live in your house payment free. We stay on top of your walk away plan and keep you up to date with weekly progress emails. We also will notify you if the lender is taking longer than expected subsequently giving you more time in your home payment free."
Sounds like the exact type of broker that an esteemed institution such as First Republic would want to be doing business with, right? A broker who started a website dedicated to helping individuals default on mortgages? Isn't a "Youwalkaway" philosophy exactly the philosophy any rational banker would want to align himself with?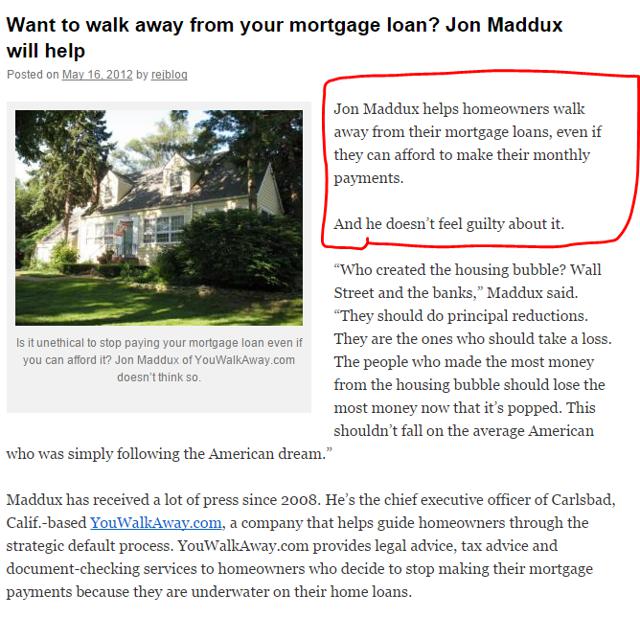 Source: REJblog
Again, we bring you back to the first quote in this article: "Irrational lenders come and go - mostly, they go!"
Why short BOFI when others have lost money so far?
So what has changed that makes the Friendly Bear think that the short is going to finally work? As the bank's CEO astutely points out in the recent NYT piece, short sellers have taken pretty serious losses on their BOFI positions. He went as far as describing his bank as an "earnings juggernaut".
Describing your bank as an earnings juggernaut is pretty much music to the ears of any bank short seller (see the quote at the end of this article, which we think really captures the spirit of this type of aggressive posturing).
Bank executives who try to juice the earnings at all costs don't just hit the wall - they fall hard, and spectacularly so.
Management has now run out of bogeymen to use as tactics to scare short sellers. The bag of tricks is now empty. The Block deal is closed. Reserves can't be taken down any further. Juicing fee income to beat the quarter will eventually fail as a tactic. It is highly unlikely loan growth accelerates from here, unless the bank is really looking to draw more attention from regulators. These are the obvious reasons why any long should be selling - what else is left to play for now?
Some people (including, in our view, management) viewed the closing of the H&R Block deal as the "end of the short thesis" on BOFI. We think it is just the beginning.
We are guessing that there has been little to no short covering since the H&R Block deal closed. In fact, we think short interest may actually increase in the stock as a result of this deal.
What the regulators have gone and done is taken a very high-risk bank with very illiquid loans, and mixed into it a very high-risk prepaid product that is fraught with BSA/AML risks. In many ways, the regulators have turned BOFI into an even better short candidate - because there are, unfortunately, so many ways for the bank to make a mistake at this stage.
BOFI had historically, in our view, benefited from a form of "regulatory arbitrage". While big banks such as Citi (NYSE:C), HSBC, JPMorgan, and Bank of America (NYSE:BAC) are under the microscope with respect to their activities (even sneezing in the wrong direction can end them in regulatory hot water), BOFI was small enough and irrelevant enough that it managed to very rapidly grow itself into what is now a ~$6B asset bank, and do so without drawing much attention from regulators. We think the regulatory approval of the H&R Block deal accomplished two tasks.
First, it puts BOFI more squarely under the microscope of regulators due to the high-risk prepaid product. Second, it let H&R Block shed this rather idiosyncratic bank asset that had no business being part of a tax prep company. This was a regulatory win in some respects. A high-risk asset that the regulators have had long-standing issues with was tucked into a bank that has a matching risk profile, but is simultaneously systemically unimportant.
As a condition for closing the recent H&R Block deal, BOFI publicly admitted that it was subject to capital standards imposed by the OCC. We suspect that the bank has likely been provided other non-public stipulations as part of this deal (including guidance around tightening up borrower standards, reducing the bank's sky-high loan-to-deposit ratio, and potential controls on the bank's unhinged recent growth rates). Either way, BOFI will need to slow down growth in upcoming months if it wants to avoid losing the Durbin Act exemption that provides it with distinct economic advantages (these advantages are generally lost once a bank exceeds $10B in assets, and BOFI is not far off from that level today)
Summary
We are intentionally refraining from providing a target price on BOFI shares, as we ultimately believe that this is not even a business, but rather a massive levered mortgage trade that is sitting on toxic assets with no reserves in place to guard against a turn in the housing market.
A "valuation" for this company would be $40 per share (note, we wouldn't call this a reasonable valuation, just a valuation that might be defensible in some benign economic environment), representing a modest discount to other bank stocks, given the nature of the loans and interest rate sensitivity. However, we think BOFI is likely to trade well below these levels over time.
In the near term, the legal issues surrounding this company provide the short position with a series of potential catalysts that we believe will cause a re-rating in the multiple, due to a stepwise function down in growth. We would also not be surprised if the New York Times article encourages other BOFI employees to step forward and approach regulators with their concerns. Generally speaking, where there is smoke, there is fire. From what we can see at BOFI today, the fire is already burning, and the question now is only how much of the forest will turn to ashes. We think the NYT piece opened up a Pandora's box, and there will be many more negative surprises to come.
We leave readers with this rather poignant quote that came to our minds after reading the New York Times piece.
"Banks fail in the vast majority of cases because their managements seek growth at all costs, reach for profits without due regard to risk, give privileged treatment to insiders, or gamble on the future course of interest rates. Some simply have dishonest management that loots the bank."

- Irvine Sprague, former chairman of the Federal Deposit Insurance Corporation, and author of Bailout: An Insider's Account of Bank Failures and Rescues
Disclosure: I am/we are short BOFI.
I wrote this article myself, and it expresses my own opinions. I am not receiving compensation for it (other than from Seeking Alpha). I have no business relationship with any company whose stock is mentioned in this article.
Additional disclosure: The author of this article is a private fund manager. At the time of publication, funds and accounts managed by the author were short BofI Holding (BOFI). Such funds and accounts may buy and sell securities of BOFI (and other companies mentioned in this article), including by covering short positions in BOFI and/or changing to long positions in BOFI, both before and after the publication of this article and without giving further notice to any party. The information set forth in this article does not constitute a recommendation to buy or sell any security. This article represents the opinion of the author as of the date of this article. This article contains certain "forward-looking statements," which may be identified by the use of such words as "believe," "expect," "anticipate," "should," "planned," "estimated," "potential," "outlook," "forecast," "plan" and other similar terms. All are subject to various factors, any or all of which could cause actual events to differ materially from projected events. This article is based upon information reasonably available to the author and obtained from sources the author believes to be reliable; however, such information and sources cannot be guaranteed as to their accuracy or completeness. The author makes no representation as to the accuracy or completeness of the information set forth in this article and undertakes no duty to update its contents.