As we quickly approach the end of a rough August we must look ahead and see what September has brought about seasonally from a historic perspective.

Image courtesy of Chad Gassaway, CMT.
September has historically been an extremely weak month. Since 1950 it has shown to be the worst performing month on both an average return and win percentage basis. September has fallen by -0.48% on average with a win rate of 45.31%. Moreover, when negative, it has averaged the third lowest returns in comparison to other months, only to be beaten by August and January.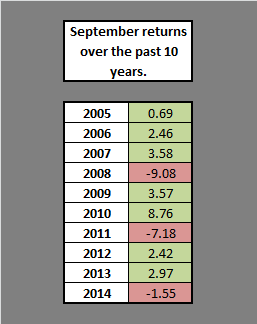 Image courtesy of Chad Gassaway, CMT.
The past ten years though have fared far better though with average returns of 0.67% and a 70% win rate. One thing to note is the years that were negative tended to be extremely negative.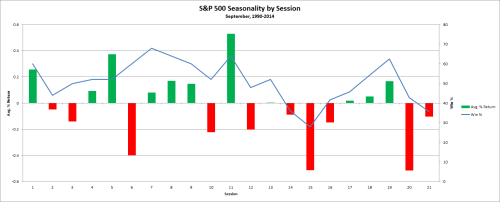 Image courtesy of Chad Gassaway, CMT.
Digging further, since 1990 the first half of the month tends to be relatively strong before falling off in the later half as can be seen above in the chart of returns based on individual sessions.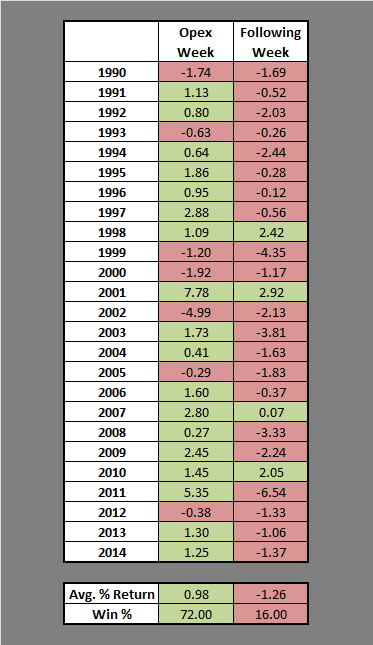 Image courtesy of Chad Gassaway, CMT.
This can be further broken down into pre and post OpEx. The week of OpEx the S&P 500 has risen by 0.98% since 1990 with a 72% win rate. Over the past ten years this has risen to 1.58% and 80% respectively. Following OpEx is where things fall apart. The following five days have only been higher four of twenty five times (16%) with average returns of -1.26%. Since the bear market of 2008 and the following bull market began this week has only gotten worse. Over that seven year span the week returned -1.98% on average with six of seven ending lower.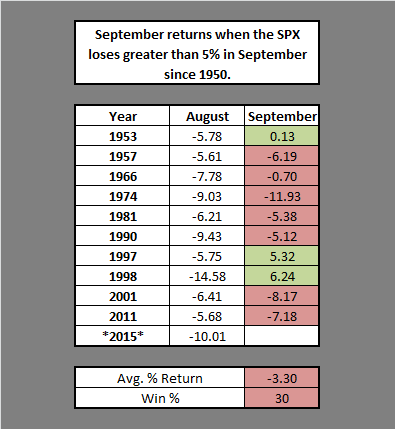 Image courtesy of Chad Gassaway, CMT.
Furthermore, as of writing this, the S&P 500 is down 6.02% for the month of August though this could drastically change before month end. There have been ten occasions that greater than 5% losses took place. This led to negative returns in August 7 of 10 times. Only 30% of the time was the month positive with average returns of -3.30%.
In conclusion, September has been extremely rocky. Particularly in the back half of the month. Also, a negative August has shown to be a precursor to further losses in September more often than not. While seasonality is only one factor in an investment approach, this is a significantly negative headwind for the market.
Disclosure: I am/we are long ES_F.
I wrote this article myself, and it expresses my own opinions. I am not receiving compensation for it (other than from Seeking Alpha). I have no business relationship with any company whose stock is mentioned in this article.