For those who follow the "MLM" industry, the FTC recently filed a complaint and obtained a preliminary injunction against Vemma, member of the Direct Selling Association (DSA) for running a massive pyramid scheme. You can read the complaint here. On September 3, the FTC will be in a court room seeking a judge's decision to uphold the injunction during legal proceedings. Many would agree the outcome of this hearing will set the tone for what's in store for the remainder of the MLM industry. Many are also speculating that a victory against Vemma on September 3 will set the precedent for an injunction against Herbalife (NYSE:HLF) to be upheld if the FTC files a complaint when they conclude their investigation into the company. Not out of scope is whether the remainder of regulatory inquiries by the SEC, IL and NY Attorneys General, and DOJ will result in action against Herbalife. There's a clear pattern with Vemma and prior pyramid schemes which have been brought to court by the FTC, it's always included the assistance of State Attorneys General and it's always resulted in a victory for the FTC.
Now that we have a little background, let's get into why Herbalife could be in its final days, considering the enormous similarities between Herbalife and Vemma's CEO and top distributors (including one of Herbalife's very own board members). First and foremost, fund managers invested in Herbalife have a fiduciary responsibility to review www.herbalifepyramidscheme.com and compare and contrast the content to that of the FTC complaint against Vemma, and position their funds accordingly for the possibility Herbalife's operations could be halted overnight as Vemma's has. We've all seen specifics in prior articles, so for the sake of this article I'll remind investors of the heavy hitters, as well as some new, recent content exhibited by Herbalife Board Member John Tartol's own nephew.
Zachary Tartol's Facebook wall is a large bundle of trouble. His mother (Herbalife Board Member John Tartol's sister) recently posted a video from Herbalife's Facebook page posted in 2009, touting the business opportunity. It is titled "Why Herbalife? Why Now?" and it includes the following:
CEO Johnson with his famous tag-line of "We have the solution to these tough economic times"
"You can finally earn what you're worth"
"Take your family on vacations" and "Give your family all the extras that they deserve"
It concludes with countless people asking "What are you waiting for?" Then CEO Johnson himself stating "So why are you waiting? Come on, at Herbalife we've got the answer to these tough economic times."
In summary, Herbalife posted a video clip with countless testimonies saying in a rough economy, this is your solution. Despite Herbalife's 2014 statement of average compensation staying otherwise, misrepresentation of earnings potential is the very thing Vemma is now facing shutdown for. Posting the statement of average compensation alone doesn't protect the company, because on countless occasions, Herbalife board member John Tartol, his sister and nephew, CEO Johnson and Herbalife distributors alike frequently distort earnings potential with irresponsible income claims.
Moving on, Zachary Tartol posts a video clip on August 26, 2015 which can be summarized by the following:
Think 2-5 years in advance. Chart out activities, goals and action plans so you can get over "the now." Focus on rewards of the future and never mind if things aren't working out in the current. Have the chart plotted out to getting to the Chairmain's Club. If you focus on the past, change is extremely difficult. He goes on to describe a situation with an individual he once opened a nutrition club with. This individual (Louis) lived nearly 2 hours away from the nutrition club, and recently had a newborn child. One of his original goals was that he wanted to be a better dad for his kid than his dad was for him. This was tough because he had to make the sacrifice away from his son so he could in turn, give his son the things and lifestyle he never had. He made the commitment, woke up before his son woke up, got home when his son was already in bed for several months until one day Louis walked in and started crying. He claimed he hadn't seen his son until they opened the nutrition club. Zachary stated he then started talking to Louis as to his "why he's doing this in the first place." Essentially, Zachary Tartol talked Louis into continuing to neglect his son in pursuit of the Herbalife business so he could at a later point have the money to buy his son (who he never sees) material things he himself never received as a child.
This type of story is likely the subculture the FTC is (in part) studying with Herbalife, as they studied with Vemma. It can also explain why many have complained that Herbalife resulted in their family falling apart, losses of friendship and more.
Perhaps the largest issue I've seen is Zachary Tartol's next post on August 20, 2015. It is a short video clip of Zachary driving an expensive boat shouting "20-50 invites a day so you can live your dreams!"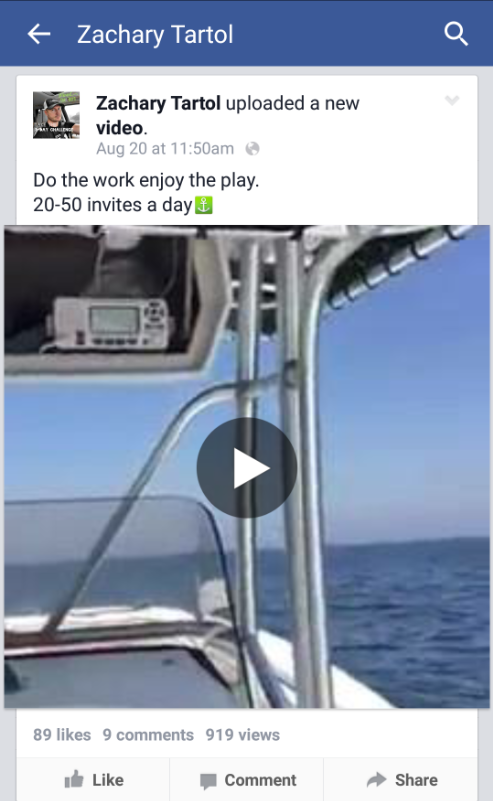 Does this not highlight a similar complaint the FTC filed against Vemma, misrepresenting the ease of your ability to "make it big" with multilevel marketing? The FTC released a blog post on August 26, which outlines the case against Vemma. Specifically worth a look after seeing Herbalife's board member's nephew's promises:
"Count II challenges as false the defendants' claim that participants are likely to make substantial income. According to count III, they failed to disclose - or failed to adequately disclose - that Vemma's structure pretty much ensures that most people who sign up won't earn big bucks."
Are Zachary Tartol's claims consistent with the fact that Herbalife's statement of average compensation would reflect that far less than 1% of individuals who pursue Herbalife's business opportunity would be able to afford that nice boat? Let's see a little more from the FTC's blog post:
"Count IV focuses on the promotional materials the defendants gave their affiliates to recruit more affiliates. Because they included claims the FTC says are false and misleading, the complaint charges that the defendants provided others with the "means and instrumentalities" to violate the law."
Does that remind you of Herbalife's promotional video mentioned earlier? Also see Herbalife Board Member John Tartol's famous claims:
"How many of you would like to make at least a million dollars a year? Every extra million dollars, I find, comes in handy. 2 million? 5 million?"
If there's one thing I'm sure of, John Tartol's income claims will be highlighted if and when the FTC files a complaint against Herbalife. Herbalife's CEO consistently states "We have the solution to these tough economic times," yet neglects to leave out the fact that this only applies to fewer than 5% of those who try, whereas at least 95% make a sufficient income to get by with normal employment. I believe there's a high probability CEO Johnson will face trouble for distorting the true income potential of a Herbalife distributor as well.
I'm very pleased with the FTC for looking at subcultural and sociological motivators for joining pyramid schemes, as the expensive boat enticement is a prime example of the things going on at Herbalife, all the way up to John Tartol, board member of Herbalife. Not to mention presence of another board member at a presentation admitting Herbalife is an eventual deception, most won't make it, success dependent on distributor volume (purchases) and not retail sales, hope to see family and friends fail quickly.
www.herbalifepyramidscheme.com is not a joke. It's a reality of what distributors face when prompted with whether they want to try and make it big. To this day, Herbalife maintains on its website that you can "earn what you're worth" and "live the lifestyle of your dreams." Investors shouldn't write off Bill Ackman's efforts as a reason to pad his pockets, because it isn't about Bill Ackman. It's about the misrepresentations made by CEO Johnson, Board Member John Tartol and family, who lead by example for Herbalife distributors everywhere. Reading the FTC complaint filed against Vemma, Herbalife appears to have exhibited far more evidence of wrongdoing than Vemma ever has.
It's worth examining a "business opportunity" which has a substantially lower success rate than a normal small business. Even using Herbalife's claim that only 27% of distributors seek the business opportunity, 50% of them fail in their first year, whereas 50% of normal small businesses fail by the 5 year mark.
Yet CEO Johnson says on national TV to Jim Cramer when asked how many jobs Herbalife creates - "Millions." Essentially CEO Johnson stated on national TV the "jobs" he creates offer an average income of far less than minimum wage. Not to mention distributors who choose to be part of nutrition clubs, making shakes and scrubbing toilets for free. Defining a nutrition club as a club versus a retail business won't hide the fact that Herbalife essentially employs slave labor fed by false hopes of one day recruiting enough and opening enough clubs to buy a boat like the one Board Member John Tartol's nephew touts nearly each day on social media accounts.
Whitney Tilson recently made an interesting finding; Herbalife's 10-K regulatory inquiry verbiage recently changed which would imply additional regulators are now looking at the company. Combine this with the fact that Herbalife's costs associated with defending its business model and regulatory inquiries has gone up 70% from Q1 to Q2 (with no public attacks from Pershing Square), as well as the fact that the FTC just filed a complaint against Vemma, I believe we're sitting on the verge of regulatory action against Herbalife.
As always, everyone should perform their own due diligence, but I believe investors should position themselves for the possibility of a complete shutdown of Herbalife's operations overnight, considering the action the FTC has just taken against Vemma, a company which I believe has demonstrated similar, yet less severe traits of operating a pyramid scheme. Experts predicted the FTC's inquiry into Herbalife would conclude within 18 months and we're approaching the 18 month mark. Another date of interest is FTC Chairperson Edith Ramirez's term coming to an end next month. Ultimately, nobody can time regulatory investigations, however I believe Herbalife investors are now at a greater risk than ever.
Disclosure: I am/we are short HLF.
I wrote this article myself, and it expresses my own opinions. I am not receiving compensation for it (other than from Seeking Alpha). I have no business relationship with any company whose stock is mentioned in this article.