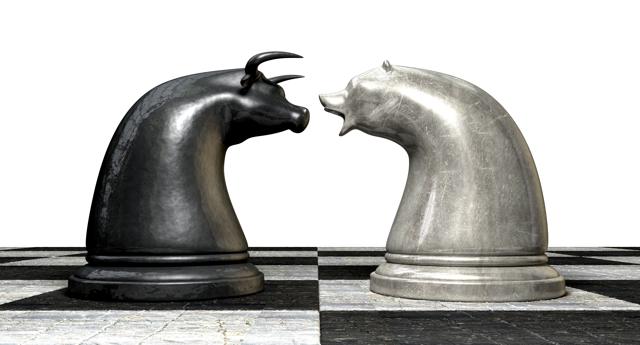 Investors have been on a bit of a rollercoaster ride the past several days as the markets dipped down and back up by hundreds of points. Volatility rocketed up with the VIX ending Thursday the 20th at 19.14 and reaching a staggering high of 53.29 intraday on Monday the 24th - an increase of more than 178% in less than two trading days.
The massive selloff that sent the S&P 500 spiraling down almost 235 points from the 17th to the 25th before making the turn back north was ostensibly triggered by the Chinese stock market crash. Assets across the board were being sold off en masse sending Wall Street into a panic with many fearing that the long awaited correction and launch of a recessionary phase had finally begun. The brief collapse was brought to a screeching halt after China announced its fifth rate cut since November, with many analysts now expecting to see further government action through a QE program by the People's Bank of China.
The Chinese economy has recovered some of its losses and Wall Street has seemingly renewed its bullish outlook for the future. However, China isn't the trigger for a major correction nor is the rate cut enough to justify the sudden reversal in price movement.
The true bear that will take down financial markets still lies sleeping but could pounce at any moment. The slight dip in the broader indices certainly wasn't enough to correct for the long bull run that has built up over the years, and the recovery might only make the fall that much harder when it finally hits. This isn't the big market correction we've all been expecting and investors would do well to take this past week as a warning.
The Bear will Attack from Several Fronts
The VIX ended the day on Wednesday just north of 30 - a signal that markets are still reeling from the recent activity. Although that figure might come down over the next week or two, investors shouldn't take that as a sign that all is well with stocks and the global economy. Underneath the seemingly calming water lies a bearish current that's likely to drag down unwary traders.
China might be the biggest threat to the global economy that investors see right now and part of that concern is justified. The Chinese economy has been slowing down for quite a while now, but stocks have risen to record highs regardless. It's an unsustainable growth rate that finally collapsed in on itself when the Chinese stock market crashed and assets began to selloff in a panic. The correction from China is well warranted and part of the normal economic cycle.
The Chinese economy is in a state of slowing growth, a natural occurrence as its economy grows larger. An estimated GDP growth rate of 7% cannot be sustained forever as the size of the country's economy increases. However, the slowdown is primarily due to external factors such as overall global health, not internal contributors such as wage and earnings, which continue to grow. Higher wages lead to more consumption and buying power, which will allow China to remain a dominant force globally. Aggressive central bank action would likely not be able to stimulate the economy for 7% GDP growth year-after-year but could ease the slowdown for a softer landing.
The Blind Spots are what will Take Down Markets
The Chinese market pullback is just the tip of the iceberg. It's the larger chunk underneath that poses the real threat to domestic markets. Some of the weakness should be apparent but isn't while another is a silent and insidious doomsday bomb waiting to go off.
1) Stock Valuations
The first threat that could bring down markets should be an obvious one, especially considering what we've just learned from the Chinese fallout. Stock valuations are just too high for the current economic environment and the relatively low growth rate. It's a simple thing, and yet the longer it gets ignored, the harder markets will take negative news.
As of August 27, 2015, the P/E ratio of the S&P 500 is estimated at 19.55 - around 28% higher than its historical average of 15.55. That premium should mean that stocks are valued at higher multiples because of higher-than-average growth expectations, but growth is actually heading lower, making it impossible to support higher multiples for an extended period of time.
Inflation is telling us all we need to know about growth. July registered the highest inflation rate yet this year at just 0.2%. A month prior was only 0.1% and before that we either had no inflation or deflation for 2015. It's a far cry from the 2% target rate set by the Fed and factoring in the Chinese debacle, we could very well be faced with deflation again before the end of the year.
There's been no real data to support a strong economy worthy of these kinds of higher valuations. Most indicators are right on the line at best and any dip could be an indication that the economy is headed into a recessionary phase. If we just look at the Manufacturing ISM, we can see that for the month of July, the PMI stood at 52.7%. Any move below 50% is a strong bearish signal that could trigger a major market correction of at least 10% or more.
The Fed's role in artificially propping up valuations can't be ignored either. Investors haven't seemed to take into account that years of growth in stocks came on the back of a quantitative easing program that infused the economy with billions every month. Since QE officially ended late last year, the broader indices are actually down.
2) Strong Dollar
The other negative influence that's been slowly hurting the economy is the strength of the U.S. dollar relative to other currencies. Its effect has been seen in slowing domestic manufacturing and lower earnings by U.S. companies who have to account for foreign exchange risks.
Considering the lack of positive economic data and the threat of deflation, a Fed rate hike is the last thing the U.S. economy needs. In fact, it might need more QE instead to help stave off deflation and water down the value of the dollar.
In the past year, the dollar has gained about 14% against the euro, at one point even threatening to trade at parity with it, and more than 15% against the yen. If the dollar stays strong or grows even stronger with both foreign central banks enacting QE programs, U.S. manufacturing will suffer to the point of triggering a recession and corporate earnings will continue to struggle.
A Fed rate hike would almost be a death knell for the U.S. economy right now but inaction might also eventually cause it as well. Once again, the Fed might be the key to escaping or at least lessening the coming market correction.
3) Liquidity
Liquidity has been the central theme in almost every recession in U.S. history. As of July, margin debt levels were at $487.354 billion. The last time we saw margin debt levels reach new highs was back in 2007 - before the financial crisis in 2008 wiped out stocks across all indices and triggered panicked selling.
As investors keep buying stocks and ramping up margin levels to keep buying, markets face a growing liquidity risk. Computer based trading algorithms have made the problem worse by way of automation which is creating an unsustainable atmosphere of buying. Eventually, there won't be enough positive buying pressure to sustain the markets and a massive move to the downside, a taste of what we experienced over the past week, could happen.
Once we reach that critical point, there won't be enough free cash flow for buyers to step in and prop up a falling market. It's a dangerous scenario and one that could happen even if no other negative catalysts occur in the global economy. It's the unseen threat that investors aren't watching that could absolutely pull the rug out from under the feet of Wall Street and send markets lower by 20% or more.
What to Watch For
The broader indices have made moves higher following the momentary collapse triggered by a Chinese selloff, but this market doesn't have a solid foundation to build off of. What we're seeing might not be a dead-cat bounce, but the pullback was hardly the big correction we've all been waiting for.
The big correction still lies ahead although the warning signs are flashing all around us. Investors should pay close attention to the Fed right now as to what they say regarding interest rates although it's probably still too early to expect any kind of new QE program. Without more stimulating economic data, stock valuations cannot possibly stay as high as they are. It's only a matter of time before broad based buying and unrealistic expectations finally catches up with this market and we see the jump off point for a recessionary cycle to begin.
Fariba Ronnasi
CEO, Elite Wealth Management
Full Disclosures: http://elitewm.com/disclosures/
This article is not intended as investment advice. Elite Wealth Management or its subsidiaries may hold long or short positions in the companies mentioned through stocks, options or other securities.
Disclosure: I/we have no positions in any stocks mentioned, and no plans to initiate any positions within the next 72 hours.
I wrote this article myself, and it expresses my own opinions. I am not receiving compensation for it (other than from Seeking Alpha). I have no business relationship with any company whose stock is mentioned in this article.