In our last missive, we discussed the trade weighted dollar's increase, the petrodollar's decrease, and their effects on oil and commodities. Today, we discuss mostly shale production costs.
I appreciate James Kunstler's and John Mauldin's missives and respect their opinions, but it doesn't mean I agree with them all the time. Of late, these authors have been in a kerfuffle where both may have been ensnared by some potential misinformation.
From John Mauldin's Aug. 14 missive, Riding the Energy Wave to the Future:
"I used to get the occasional letter from James Howard Kunstler, who would tell me that whatever letter I had just written was completely bass-ackwards, and how his books explained that we were going to run out of energy and then collapse. His books and dozens of others warned us of Peak Oil. I have written for years that Peak Oil is nonsense. Longtime readers know that I'm a believer in ever-accelerating technological transformation, but I have to admit I did not see the exponential transformation of the drilling business as it is currently unfolding. Right now, some US shale operators can break even at $10/barrel. Costs for the "expensive" ones run around $55 per barrel but are falling fast. With massive quantities of oil and gas still in the ground, there is no economic reason these companies can't make big money even if energy prices stay in the $40s."
From James Kunstler's Aug. 17 missive, True Believers:
"There is a special species of idiot at large in the financial media space who believe absolutely in the desperate and tragic public relations bullshit that this society churns out to convince itself that the techno-industrial high life can continue indefinitely, despite the mandates of reality - in particular, the fairy tales about oil. The PR shills at Cambridge Energy Research (Dan Yergin's propaganda mill for the oil industry) must have pumped a five-gallon jug of Kool-Aid down poor John's craw. He believes every whopper they spin out - e.g. that "Right now, some US shale operators can break even at $10/barrel." The truth is the shale oil industry couldn't make a profit at $100/barrel."
All dissing aside, to summarize, Mauldin's "Believers":
"Right now, some US shale operators can break even at $10/barrel... there is no economic reason these companies can't make big money even if energy prices stay in the $40s."
Kunstler's "Theorists":
"...the shale oil industry couldn't make a profit at $100/bbl"
Alrighty then, let's put those two sides and this row to the test. July 2015 from one of our SA favorites, Christopher Aublinger:
"From both a bottom-up and a top-down approach, I found no significant evidence that shale oil could be profitable at a price level of $60 per barrel. It is clearly evident that big progresses in terms of costs have been made and more is expected to come... I think, Schlumberger was not so far off when it estimated shale production costs to be around $75 per barrel."
Let's dig a little deeper. From Business Insider:
"[O]n a reserve weighted basis, the average breakeven for unconventional plays in the US is $76- 77/bbl, at an asset level," Morgan Stanley's Martijn Rats, Haythem Rashed and Sasikanth Chilukuru write."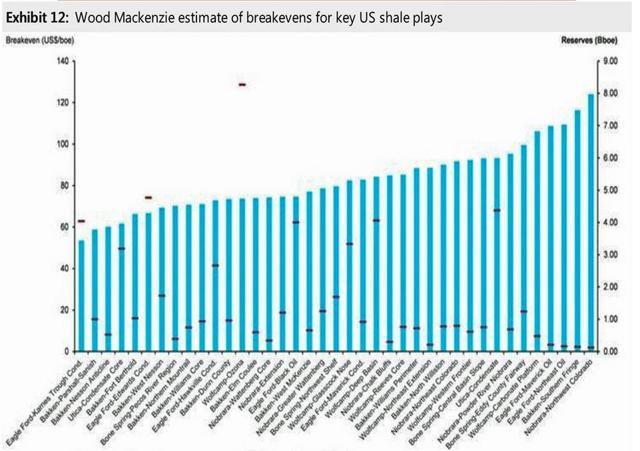 Above note, October 2014, Wood MacKenzie estimates that the breakeven for most major shale oil plays ranges from $55 to $120/bbl. Let's dig even deeper...
Wood MacKenzie, May 2015: "We estimate that American Eagle Energy's (4th to file BK) sub-play breakeven is $64/bbl, roughly 10% lower than the sub-play average... according to the North Dakota Industrial Commission"
Now we know that American Eagle (NYSEMKT:AMZG) (OTCPK:AMZGQ) went bankrupt with a sub-play breakeven of $64. Digging still deeper... February 2015 from Institutional Investor:
"The Robert W. Baird equity research team has calculated the breakeven point for Bakken oil at $61/bbl. Credit Suisse and UBS have estimated breakeven at $65/bbl, whereas Goldman Sachs Group sets it even higher, at $70 to $90. By contrast, the Paris-based International Energy Agency has said the Bakken is profitable at $42/bbl."
Need to dig deeper... February 2015, Bloomberg:
"Last month, Wood Mackenzie, an energy research organization, found that of 2,222 oil fields surveyed worldwide, only 1.6 percent would have negative cash flow at $40/bbl. Keep in mind that the marginal cost for efficient U.S. shale oil producers is about $10 to $20/bbl in the Permian Basin in Texas and about the same for oil produced in the Persian Gulf."
And digging deeper....
August 16th USA Today: "North Dakota oil production typically sells at a discount to WTI because of the state's remote location and the cost of shipping crude to markets for refining (we Nattered about that here). Despite that difference, the breakeven price for Bakken production is under $30 a barrel in some places."
Double sourcing to confirm the above from the Twin Cities StarTribune:
"North Dakota's crude oil trades at a discount to the Oklahoma benchmark because of the higher cost of shipping most of it by rail. Lynn Helms, director of the state's Division of Mineral Resources, said Friday's North Dakota wellhead price estimate was $28.50/bbl, down nearly $11 from last month."
NOW, let's finish digging... Again from Institutional Investor:
"Some of the home-state confidence stems from the fact that North Dakota calculates that the statewide average cost for new production to be only $15/bbl for its 11,000 existing oil wells. Further, North Dakota reports that even new drilling has a cost advantage, averaging $33 per barrel statewide... Even if oil prices fall and hover below $45, it's economic to continue to drill, and it's economic to continue to produce. The view on the ground in North Dakota is fairly positive. The sky is not falling, there is some gloom but no doom, says Alison Ritter, public information officer in the oil and gas division of the North Dakota Industrial Commission."
Art Imitates Life?
We've done a lot of digging, so let's start backfilling the hole. Again, Mr. Kunstler's Theorists' artful claim:
"The truth is the shale oil industry couldn't make a profit at $100/bbl."
All other data mining above aside:
"...of 2,222 oil fields surveyed worldwide, only 1.6 percent would have negative cash flow at $40/bbl."
Thus, 98.4% of the surveyed oil fields would have positive cash flow at $40/bbl. That covers regular producers. Believers 0, Theorists 0
Upon further review, it would appear, with regard to shale producers, the $100/bbl claim by the Theorists took a major dump from $100 to $75-$55 industry average; to $42-40 average to $33-30 North Dakota average, to $15/bbl for new production; to Permian Basin marginal costs at $15-10.
If one charted the pricing path above, it mimics what inflated oil market prices have done and could still do in the real world. Funny how the deflation of Mr. Kunstler's Theorists' "$100" claim imitates life. Believers 1, Theorists 0
Filling in some more, as Mr. Kunstler correctly asserts, Mr. Mauldin's Believers made the artful claim:
"Right now, some US shale operators can break even at $10/barrel."
Based on our data mining, at best some new production in the Permian Basin might break even at $10. So Mr. Mauldin's statement could only hold true for an efficient new producer in the Permian whose overall costs were in line. Does such a producer currently exist? Doubtful. In this case, Mr. Mauldin's Believers' art does not imitate life. Believers 1, Theorists 1
More backfill... What of shale oil producers? Mr. Mauldin's Believers' 2nd claim:
"...there is no economic reason these companies can't make big money even if energy prices stay in the $40s."
From our data mining:
"Even if oil prices fall and hover below $45, its economic to continue to drill, and its economic to continue to produce."
Ceteris paribus, in the $40s, efficient shale producers should be able to "Carry on my Wayward Son". In this case, Mr. Mauldin's Believers' art does imitate life. Believers 2, Theorists 1.
Simple question: Hubba, Hubba, Who Do You Trust? Kunstler's Theorists OR Mauldin's Believers? We data mined Aublinger, Schlumberger, Morgan Stanley, Robert Baird, Credit Suisse, UBS, Goldman Sachs, the IEA, Wood MacKenzie, Bloomberg, USA Today, North Dakotas Division of Mineral Resources and the OG Division of North Dakotas Industrial Commission; all of which posited breakeven and marginal costs below the "oil fairy tale" $100/bbl Theorist claim. What are the odds that all of the above are lying or misinformed? It's possible, but not likely.
Covering up the conspiracy, er, hole and smoothing out the surface... Mr. Kunstler wrote:
"There is a special species of idiot at large".
In the markets, this may be the case in more ways than one:
"There are idiots out there, look around." - Larry Summers.
There exists much propaganda in the form of mis- and disinformation for human consumption, wrought with intellectual dishonesty and false claims, as many providers have ulterior sponsor driven agendas.
Our moniker, penned by William Safire, spoken by an inarticulate and later disgraced Agnew, comes from a distrust of big media, business, banks and brother. As an investor, if one knows or can manage to move closer to the truth, one can more accurately gauge the broader markets' (the herd) potential actions and reactions in advance, increasing our profit potential or mitigating loss risk.
With intellectually dishonest claims constantly sailing just a bit outside, or wide right and failing to score, what else can these teams do? Keep moving those goal posts while cheering go team! As for the case in point, the truth is out there, and at the moment, can be found not at the extremes, but somewhere in the middle.
AT THE MOMENT is the key phrase because, like anything else subject to technological advances - information, communication, geopolitics, macroeconomics, supply and demand theories, critical variables can change rapidly, much like goalposts suddenly moving. There's another game about to start, so let's dust off, clean up and get off this field.
More from Mr. Kunstler:
"Some additional uncomfortable truths should temper the manic fantasies of hypsters like Mauldin."
We might just come back for a Part 2 to examine Shale 2.0 and those "uncomfortable truths" and whence they came from.
Investing is an inherently risky activity, and investors must always be prepared to potentially lose some or all of an investment's value. Past performance is, of course, no guarantee of future results.
Before investing, investors should consider carefully the investment objectives, risks, charges and expenses of an investment vehicle. This and other important information are contained in the prospectus and summary prospectus, which can be obtained from the principal or a financial advisor. Prospective investors should read the prospectus carefully before investing.
Below, recommended reading for those invested in funds, ETFs, HY, leveraged, EM, oil, energy, bonds and the broader markets. Why? There are many macroeconomic cross sector and market asset correlations involved that effect your investments. Economic conditions, the eurodollar, global dollar debt and monetary policy, all influence the valuation of the above and market plays below, via the dollar's value, credit spreads, market making, liquidity, monetary supply and velocity, just to name a few.
Market Warning: Reading not only those listed below, but every installment of these multi-part missives could lead to a better understanding of the market forces in play and how to profit from them.
For a complete missive series listing click here.
These global economic developments could affect numerous markets, sectors, indexes, commodities, forex, bonds, mutual funds, ETFs and stocks.
A List of Market Plays
SPDR Dow Jones Industrial Average ETF (NYSEARCA:DIA)
S&P 500 Trust ETF (NYSEARCA:SPY)
iShares S&P 500 Value ETF (NYSEARCA:IVE)
iShares Core S&P 500 ETF (NYSEARCA:IVV)
Vanguard S&P 500 ETF (NYSEARCA:VOO)
iShares Select Dividend ETF (NASDAQ:DVY)
Vanguard Total Stock Market ETF (NYSEARCA:VTI)
The United States Oil ETF, LP (NYSEARCA:USO)
iPath S&P Crude Oil Total Return Index ETN (NYSEARCA:OIL)
Energy Select Sector SPDR ETF (NYSEARCA:XLE)
ProShares Ultra Bloomberg Crude Oil ETF (NYSEARCA:UCO)
VelocityShares 3x Long Crude Oil ETN (NYSEARCA:UWTI)
Market Vectors Oil Services ETF (NYSEARCA:OIH)
Dreyfus High Yield Strategies Fund (NYSE:DHF)
Apache Corporation (NYSE:APA)
CSX Corp. (NASDAQ:CSX)
Norfolk Southern Corporation (NYSE:NSC)
Union Pacific Corporation (NYSE:UNP)
Encana Corp. (NYSE:ECA)
Gazprom (OTCPK:OGZPY)
Pacific Ethanol (NASDAQ:PEIX)
US Silica (NYSE:SLCA)
Triangle Petroleum (OTC:TPLM)
TransCanada (NYSE:TRP)
US Natural Gas ETF (NYSEARCA:UNG)
Baker Hughes (BHI)
Carrizo O&G (NASDAQ:CRZO)
Dominion Resources (NYSE:D)
Exelon (NYSE:EXC)
Freeport McMoRan (NYSE:FCX)
Kinder Morgan (NYSE:KMI)
Linn Energy (LINE)
LinnCo LLC (LNCO)
Maxwell Technologies (NASDAQ:MXWL)
Phillips 66 (NYSE:PSX)
Chevron (NYSE:CVX)
Exxon Mobil (NYSE:XOM)
ConocoPhillips (NYSE:COP)
Occidental (NYSE:OXY)
British Petroleum (NYSE:BP)
Anadarko (NYSE:APC)
Devon Energy (NYSE:DVN)
Hess (NYSE:HES)
EOG Resources (NYSE:EOG)
Marathon (NYSE:MRO)
Chesapeake Energy (NYSE:CHK)
Sanchez Energy (SN)
Oasis Petroleum (NYSE:OAS)
Schlumberger (NYSE:SLB)
Valero Energy (NYSE:VLO)
Core Laboratories (NYSE:CLB)
Callon Petroleum (NYSE:CPE)
Emerald Oil (NYSEMKT:EOX)
Energy XXI Bermuda (EXXI)
Halcon Resources (HK)
Magnum Hunter (MHR)
Disclosure: I/we have no positions in any stocks mentioned, and no plans to initiate any positions within the next 72 hours. I wrote this article myself, and it expresses my own opinions. I am not receiving compensation for it (other than from Seeking Alpha). I have no business relationship with any company whose stock is mentioned in this article.
Editor's Note: This article covers one or more microcap stocks. Please be aware of the risks associated with these stocks.